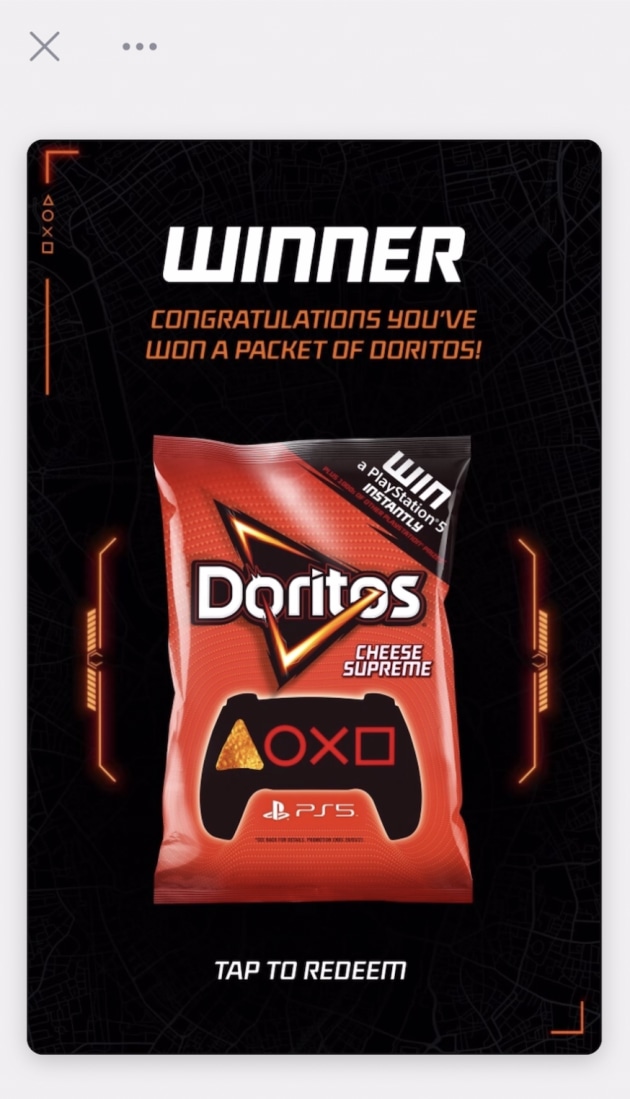 RYOT Studio combined virtual objects with augmented reality and blockchain technology to bring the digital experience to life.
Doritos has teamed up with Verizon Media's branded content division RYOT Studio for a new augmented reality (AR) game, Doritos Quest.
Players must hunt around their local area to collect all four virtual 'PlayStation Shapes' in order to win the highly coveted PlayStation5 Console prize.
There's also a pool of instant-win rewards up for grabs including free packs of Doritos.
RYOT Studio combined virtual objects (Vatoms) with augmented reality and blockchain technology to bring the digital experience to life, providing access via a mobile-only website for players Australia-wide.
The digital campaign is the latest cutting-edge execution to come out of the RYOT Studio's innovation arm as they look to launch a new extended reality (XR) toolset called Verizon Media Immersive, an XR platform for creating augmented, mixed, and virtual reality advertising and branded content with an emphasis on next-generation 5G experiences.
To promote the game locally RYOT Studio has developed a native ad campaign that will feature across Verizon Media's suite of editorial brands including Yahoo News, Yahoo Finance, Yahoo Sport, and Yahoo Entertainment as well as across Doritos' social channels.
Doritos Quest is part of a wider global campaign being featured in international markets including Belgium, Ireland, the Netherlands, Spain, and the UK.
"RYOT Studio is all about delivering new, innovative ways of storytelling to build brand love," says Zoe Cocker, head of brand and RYOT Studio ANZ.
"Doritos Quest follows the trail of strong demand we're seeing for our next generation of AR formats as more brands look for exciting ways to tell their stories and connect with new audiences.
"This campaign not only allows users to interact with a brand in their own physical world but also drives tangible sales results here in Australia. It's a great example of how RYOT Studio creates new ways of engaging with consumers and innovative experiences that connect with them on the path to purchase."
Sam O'Donnell, brand manager, Doritos at PepsiCo, says Doritos Quest will give Australians the chance to win gaming prizes.
"We know Doritos fans are always looking for bold new ways to enjoy themselves and we wanted to encapsulate that in a tangible gaming experience," O'Donnell says.
"RYOT Studio has been imperative in enabling us to bring this vision to life and we look forward to seeing Aussies engage with Doritos like never before."
Credits
PepsiCo
Marketing Manager – Lynn Rutherford
Brand Manager, Doritos - Sam O'Donnell
Verizon Media AU
Head of RYOT - Zoe Cocker
Head of Strategic Solutions - Julia Edwards
Group Sales Manager - Alex Lane
Senior Sales Manager - Lewis Pentelow
Senior Project Manager - Leah Yeung
Verizon Media EMEA
Creative Director - Christopher Womersley
International Sales Lead - Ben Savage
EMEA Project Management - Ash O'Brien
Creative Technologist - Roy Rodenhäuser
BlockV
Head of Partnerships - Jon Knight
Partnerships Manager – Sophie Conway
Head of Client Delivery – Marcelo Faro
Hive Marketing Group
Business Director - Rochelle Cooper
Owner & Director - Richard Woods