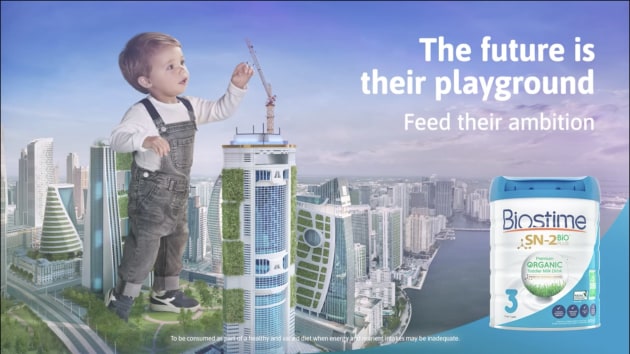 The partnership was announced in a new campaign created by Noisy Beast.
Children's nutrition brand Biostime Nutrition has unveiled a new campaign, Future Playground, through full-service international communications agency Noisy Beast.
The new social and digital campaign draws on the pillars of science, nature, nutrition and optimism for the future; and utilises resources and research from Biostime Nutrition's partnership with the University of Canberra's internationally renowned STEM (Science, Technology, Engineering and Mathematics) Education Research Centre, SERC.
Celebrating the next generation of thinkers, doers, makers and creators, Future Playground uses some of the innovative technology from their partnership with SERC to drive the future of early childhood learning.
As part of their collaboration, the two will work together on engaging parents with science backed STEM activities delivered through digital channels, allowing Biostime Nutrition to highlight the importance of education and nutrition in childhood development.
The campaign will launch across social, digital display and content partnerships, with three key visuals and a launch video featuring Biostime Nutrition ambassadors from around the globe including Miranda Kerr and Lorinska Merrington.
All resources and content topics such as nutrition, nature, mindset and science, will be housed on the Biostime Nutrition website with additional resources seeded through their owned channels.
Launch activity will also include a partnership with Australia's number one parenting platform, Kidspot, bringing parents a free event on October 21; 'Parenting the Future – Building Blocks to an Optimistic Future', with global ambassador Miranda Kerr, Australia ambassador Lorinska Merrington, journalist and Biostime Nutrition partner Elle Halliwell as well as SERC expert, Tracy Logan. 
"Future Playground dramatises the insight that our children will be the problem solvers and innovators of tomorrow," says Noisy Beast global creative director Murray Bransgrove.
"As an onlooking parent, this campaign reinforces the need to give them great nutritional support to help them with their journey ahead."

Credits
Noisy Beast
Murray Bransgrove, Global Creative Director
Gareth Sweet, Senior Creative
Mick Bakos, Senior Creative
Ben Lynch, Group Media Director
Christina Dess, Producer
Jordy Cochrane & Yada Santibhut, Account Director
Vicky Keeler, Head of Social & Content
Mia Saffer, Social Media & Content Manager
Josh Sharpe, Media Account Manager

Photography Studio: Hell Studios
Photographer: Carlos Alcaide
Photographers Producer: Nicky Finlay and Julie Rutherford

Biostime Nutrition
Evan Scicluna, Senior Manager Sales & Marketing ANZ BNC