It is increasingly difficult for brands to connect with consumers using the traditional paid media channels. 10 years ago we talked about banner blindness. Today people are talking about "paid advertising blindness". Audiences like millennials simply don't see or connect with traditional paid ads as they used to. Trust in messages from brands is rapidly decreasing.
Australian consumer trust in businesses has also dropped in the past 12 months to well below the global average according to new research from Edelman.
This shift has not gone unnoticed. CEOs from leading media agencies have also reported a rapid shift in marketing practices. Peter Vogel from MEC said in the AdNews magazine that the ad inventory of the past 50 years no longer works and that technology and digital can help create differentiation. Starcom's Chris Nolan says the shift in budget from paid to earned media calls for a structural change in Adnews last month. UM's Max Baxter doesn't want to be called a media agency anymore and is reorganising the business away from traditional channels and moving towards earned and owned media, simultaneously positioning themselves as a "creative connections agency".
The one thing they all agree on is that the focus should no longer be entirely on paid media. We need to find new and effective ways to connect with the consumers in 2015.
Is User Generated Content the future of marketing?
Consumers have many ways of getting credible non-biased information and content from peers in the digital space. This begs the question, why should consumers listen to brands when they can get the same information and content from their peers who they trust?
User generated content (UGC) from peers is on the rise and is the most effective marketing weapon in the marketing toolbox for brands who know how to use it effectively. Peers is the most trusted source of information across all categories in Australia. Furthermore, 92% trust recommendations from peers according to Nielsen.
It can be unclear what UGC actually is. IAB US defines UGC as "content created by an individual or peers that has the potential to drive engagement and conversation". User generated content can be videos, photos, reviews, social media posts and blog posts. The users can't be professionals and they can't be paid to generate the content.
A new comprehensive scientific study comparing UGC with marketer-generated-content showed that Persuasion was 22 times higher for UGC than content created by marketers in social media (this is not a typo). So why aren't more brands using it?
2008 saw a wave of articles calling UGC the future of marketing, but this waned. The challenge many brands faced was reaching large audiences due to a lack of appropriate channels to distribute the content. For example, brands were relying on UGC videos to "go viral" to achieve the reach needed, but it rarely happened. UGC therefore developed a reputation as incapable of delivering continuous high ROI and business results for brands. But things have changed!
With over 50% of the Australian media consumption now in the digital space, marketers now have the tool kit to deliver ads and guarantee a high reach. Native advertising (defined as ads that are cohesive with the platform), such as Facebook newsfeed ads, Outbrain and YouTube TrueView can deliver reach to over 12 million people in Australia in a short amount of time. The question is if the UGC can maintain its credibility and authenticity in the paid native advertising channels?
Social Soup has conducted rigorous research to test if different types of UGC formats' are able to maintain the credibility and authenticity in native advertising environments with the research agency Pollinate.
UGC Has a Higher Impact than Traditional TVC
To prove the power of UGC, Social Soup put a UCG video up against a strong TVC for a household snack brand.
We tested both videos in a native Facebook environment with a research questionnaire, using 350 respondents recruited from Facebook. It was a strong TVC that showed 25% uplift in purchase intent to the control group. However, the UGC video from a 14 year old boy generated 33% uplift in purchase intent to the control group and performed better than the TVC in the Facebook environment. The target audience was 33% more likely to buy the product after seeing the UGC video.
The research also found respondents three times more likely to see the snack brand as the "pinnacle of cool" after viewing the UGC video than the TVC.
Social Soup will be doing more research into UGC in the native advertising space over the coming months, but the overall conclusion is clear. When UGC is used the right way, it has the power to have a significantly higher impact on purchase intent than traditional modes of advertising. UGC through native advertising is less intrusive than traditional paid advertising because the formats are cohesive with the platforms and the content is considered as more relevant by the consumers as it is created by peers. UGC through native advertising is pull marketing whereas traditional paid advertising is push marketing. UGC in native advertising will go from being niche to mainstream in a short amount of time.
3 Factors for Nailing UGC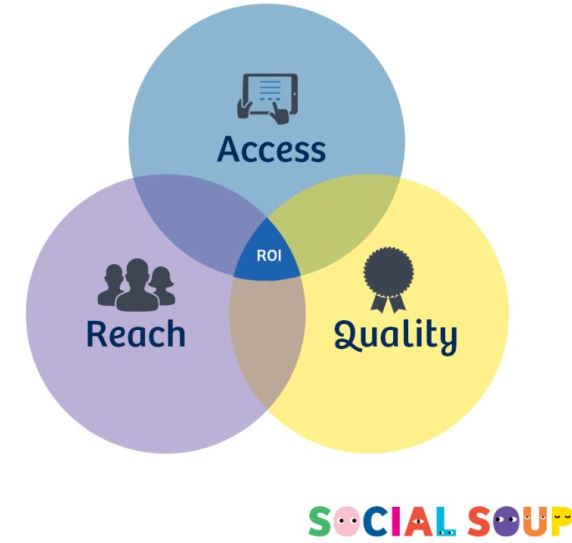 The biggest concern for marketers in dealing with UGC is the numerous risks involved. Social Soup's focus on Premium user generated content was developed as a consequence of the large amount of low quality UGC. We presented three key factors to eliminate risk and high ROI for clients at Adtech last week:
1. Access to the right people (content creators)
2. Ensuring high quality content
3. Reaching audiences at scale through native platforms
We have established UGC can have a big impact on purchase intent (ROI) and brands are now able to eliminate risk if they have access to the right people, ensure high quality of content and reach large audiences in native channels. UGC is the future of marketing.
As Bill Quiseng put it:
"If you (the brand) tells the story, that's advertising. If a consumer tells the story, it's the truth to everyone who hears it"
Thomas Lyngsfeldt
Head of digital & business development
Social Soup