Adrian Romeo, manager, consumer intelligence, Ground Control
If your social media feels like a continuous feed of doom and gloom between press conferences, hospital and laboratory footage and a spice of civil unrest in-between, it is likely with good reason.  
Research from GWI has shown that we are spending more time online than ever before with 10.6% more Australians spending greater than two hours online on their mobile phones in 2021 compared to 2019.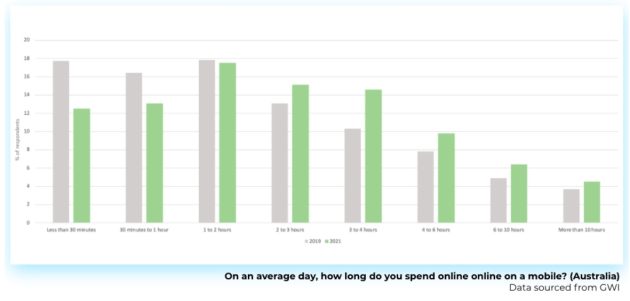 What we are seeing as a result of now being further buried in our devices, is a change in the way we are spending time online.  As we look to be connected with our friends, our communities, our brands - products, services and news, we've been making new decisions on which platforms we use and trust to be informed, educated and entertained.  
In particular, we are seeing this play out on social media.  New digital channels have emerged as old ones, alongside old attitudes, haven't evolved to the needs of users.  Social media channels, more distinctly now than ever before, play differing roles in our lives.
Authenticity in content is becoming ever increasingly important in social media today.  The rise of short-form video app TikTok, the most downloaded app in the Apple App store in 2021, is evidence of this. TikTok's global growth has been rapid; in September 2021, TikTok announced it had 1 billion active users, more than both Reddit and Twitter combined, and fast approaching the scale of the likes of Instagram.  
According to data from GWI, during the first 9 months of 2021, TikTok grew its Australian user base by 7.9%.  This growth was also reflected in a 24% increase since 2019.  Amongst users are some influencers with impressive global audiences.  Whilst you may recognise Khabane Lame, have you heard of 20 year old Perth native Hannah Balanay, Australia's most followed TikTok influencer with an impressive 17.4 million followers?  Or are you amongst the commanding 1.1 billion likes on the content produced by 20 year old Queenslander Sarah Magusara, alongside her 17.1 million followers?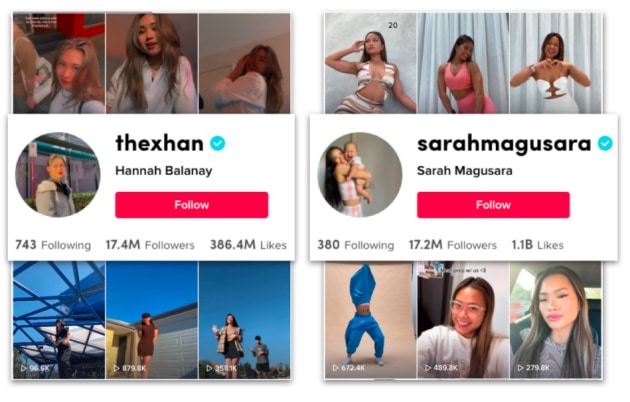 Screenshots from TikTok, Dec 2021
GWI's annual Connecting the Dots 2022 shows daily use of TikTok globally has increased 54%. Growth in day-to-day use in Australia has been much slower.  Recent data from GWI suggests a 1.2% increase in daily use, with a 2.5% uplift in shared or created content.  Whilst TikTok is uncharted waters for many Australian brands, early adopters are either taking advantage of the new everyday influencer, becoming one themselves, even leaving stoic political institutions behind to appeal to a whole new generation.   
In a single internet minute, an incredible 167 million videos are watched by TikTok users.  If content is king then short-form video is now the kingmaker.  This is evident in the rush of TikTok clones we're seeing such as Instagram Reels, Snapchat Spotlight and YouTube Shorts, with providers desperately seeking to entice TikTok's valuable and fast-growing army of Generation Z onto their own platforms. 
Live data from Brandwatch Consumer Research shows that Australians sharing links to TikTok across other social media platforms has increased a staggering 1043% post-pandemic (138,702 video links 2020-21), a 411% year-on-year increase in 2020 alone.  That doesn't even include all those TikTok videos recycled natively into other platforms!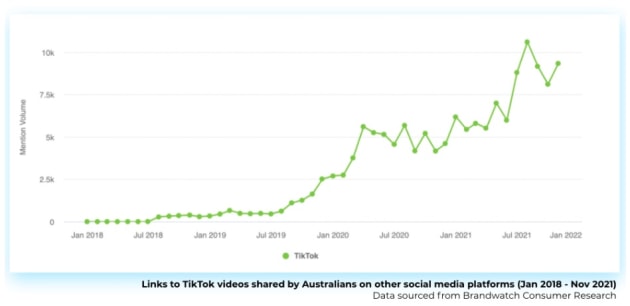 Despite the changing landscape, we are still seeing the vast majority of brand content distributed across all channels with consistency.  Many agencies and in-house teams are not recognising, or perhaps accurately capturing the opportunity which exists.  Audiences differ from platform to platform in response, needs and desires.  A  one-size approach of content and personality to fit-all social media channels does not work.  Each channel plays a different, and interconnected role in amplifying and generating content.    
We are however experiencing some brands adapting.  There is a growing strategic emphasis from marketers to meet and shape audience needs by mixing different elements of brand personality, imagery and messaging into different recipes for channel-specific content plans.  To continue to drive meaningful engagement online we need to see more brands evolving their strategies.  No longer serving up the same types of content they would on other channels, but more conscious decisions to be present in dedicated ways on carefully selected social media.  
TikTok gets it.