There's no doubt the FIFA World Cup in Russia has been a roaring success on the field. The tournament was full of entertaining football, upsets and underdogs punching well above their own weight, including our own Socceroos.
While the tournament will rightly be remembered for its on-field splendour, the same cannot be said of FIFA's commercial program.
Most people who watched the month-long spectacle on TV would struggle to name but a few FIFA World Cup sponsors. And the poor brand recall levels were similar for those lucky enough to attend the event, including myself.
Not only was the presence of several sponsors and partners largely anonymous at official FIFA venues, but the fan experience of interacting with brands was often uninspiring.
This beggars the question, what is the value proposition for big brands to back FIFA's showpiece event?
First, a bit of context. Running World Cups is an expensive ordeal. The Financial Times estimates it costs around $2 billion (A$2.7 billion) and sponsorship revenue is vital to help offset these costs. These costs will balloon when the competition moves away from a 36-team competition to 48 teams in 2026.
There's no doubt FIFA is still reeling from the corruption and bribery scandal under previous president Sepp Blatter with authorities in the US, Switzerland and France still investigating allegations of misconduct.
Large western companies have distanced themselves from football's scandal-hit governing body and it is starting to show in their financials.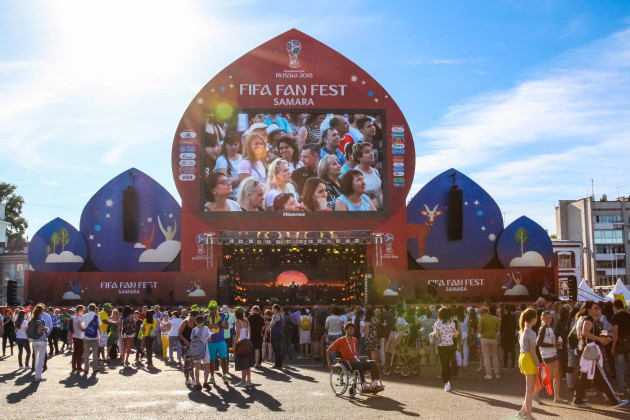 The FIFA Fanfest in Samara. All photos: A. Hickman.
According to Nielsen Sports' research, FIFA sponsor revenue fell from $1.64 billion at the 2014 Brazil World Cup to around $1.45 billion at 2018 Russia World Cup. It is the first time World Cup sponsorship revenue has fallen.
The number of sponsors FIFA has been able to attract has also taken a nosedive, with 20 in Brazil falling to 12 in Russia.
Several major brands, such as Johnson & Johnson, Castrol and Continental, ended their relationship with FIFA after Brazil. There are rumours that some of the big brands left are considering their investment beyond Qatar, including Visa.
FIFA's financial situation would have been much more precarious had several Chinese brands not come to the rescue in the months leading up to the tournament.
Brands like mobile phone company Vivo, electronics manufacturer Hisense, a Mongolian yoghurt maker, an electronic scooter brand and real estate giant Wanda have fuelled a multi-billion dollar surge in investment into this World Cup, and some of deals should carry into Qatar 2022.
China has its eyes on hosting its own World Cup in the not too distant future and the government has encouraged companies to get involved.
But the value Chinese brands will get out of a World Cup varies. Some like fridge and TV manufacturer Hisense already have a global footprint and sponsor several big ticket events across the world.
It's difficult, however, to see what value a domestic Chinese dairy and sweet drinks maker like Mengniu gets out of it, particularly as China failed to even qualify for the World Cup.
Of course, there's more to sponsorship than merely exposure – tickets and hospitality­ are a big part of it and there is still prestige for a brand to be associated with football's premier competition, even with a tarnished governing body. Chinese business culture is probably more forgiving to scandals in the past, particularly as the corruption happened under the watch of the previous FIFA president.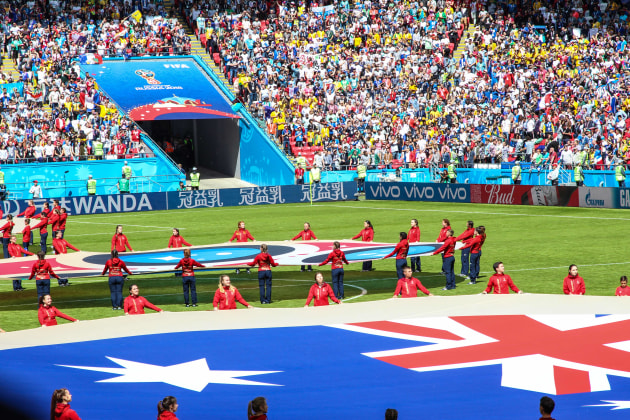 New Chinese sponsors Wanda and Vivo had a clean presence at the Kazan Arena
for the France vs Australia game. 
The fan experience
As this was my first World Cup since Germany in 2006, I was genuinely interested to see what the 'festival of football' atmosphere would offer fans outside of games, and how brands were integrated into the mix, and how this might compare to Australian sports events like the Ashes and Australian Open.
I attended Socceroos games in Kazan (against France) and Samara (Denmark) and visited both official FIFA fan communal areas, known as FIFA Fanzones, as well as stadiums on match day.
The two brands with the most obvious presence at both were Coca-Cola and Budweiser.
As official beer sponsor, Budweiser was often the only amber drop you could buy within FIFA zones.
It's fair to say most fans I socialised with (Aussies and Danes) found Budweiser an uninspired choice as an official beer, particularly when Samara brews some of the best lager I have tasted – Zhigulevskoye – however, beer is beer in these situations.
Aside from serving it in collectable souvenir cups that Aussies dutifully turned into beer snakes at every given opportunity, there was little else Bud offered at the venues I attended, aside from long queues.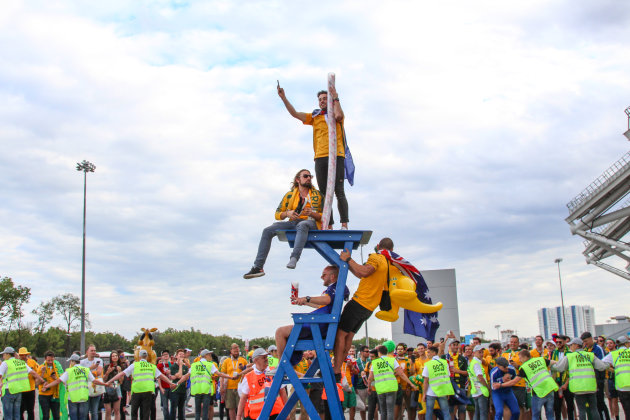 Russian security cordons off fans while Aussies work on an epic beer snake in Samara.
Coca-Cola, the other beverage sponsor, had an awesome integration in Samara, holding a mini three-a-side football tournament for young fans from different countries. This was a great way to engage fans beyond serving sugary drinks. Hyundai had marquee with a car on display, but nothing more.
According to FIFA's website, McDonald's is an official partner, but there wasn't any Maccas available at the venues I attended, which would have been a welcome upgrade on the other food options.
The other brand that was noticeable, but not is a good way, was Visa. FIFA's policy of only accepting Visa cards at venues is incredibly frustrating. They had a similar policy for ticket sales. Bullying consumers into a specific payment provider does Visa no favours and I believe is counter-productive. Sure, have a priority line for Visa cardholders, but don't shut everyone else out.
In the stadiums, advertising boards were immaculately presented and ads were run on the big screens during breaks, as you'd expect.
Aside from that there wasn't a noticeable presence of commercial partners at official FIFA venues.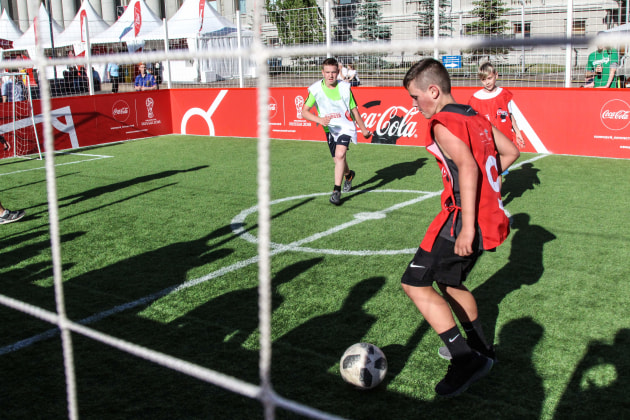 Coca-Cola's mini football tournament was the pick of the brand integrations that I found.
Although most fans are there for the football and booze-fueled banter, it felt like an opportunity missed, particularly when you consider the outstanding festival of tennis atmosphere and brand integrations at the Australian Open.
I'm not sure if FIFA tightly controls brand integrations or if there just wasn't the appetite for it, but as FIFA looks to repair its tarnished reputation and attract more commercial partners, it's an area they might want to look at.
The football, the Russian hospitality, hanging out with Danes in the Volga and the mighty support of the Green and Gold Army is something I will never forget, but FIFA's commercial partners will need to do much more if they want to be remembered.
FIFA partners: Adidas, Coca-Cola, Wanda, Gazprom, Hyundai Group, Qatar Airways, Visa.
FIFA World Cup sponsors: Budweiser, Hisense, McDonald's, Mengniu, Vivo.
Regional supporters (Russia): RZD (trains), Alfa Banks, ALROSA (Diamond producer), Rostelecom.
Australia came closer to upsetting eventural World Cup winners France than most other teams.