I had no idea what to expect at the Adland Bail Out, but was running late. Taxi drivers that rely on sat navs rather than knowing where they are going really do my head. First world problems.
Randomly bumped into Mark Frain, Nick Young and group he drove in at the entrance. Felt a level of safety in numbers, particularly running 15 minutes late.
Upon arrival, inmates were lined up, interrogated and, occasionally, humiliated by 'detention centre guards' to try and simulate the real thing.
Latecomers were sent to a wall and ordered to do push ups. Great start. 'Just keep your head down and shut up, the singing punishment is far worse', I thought.
Although nobody was under any illusions all of this was all an elaborate act, it was designed to make us feel uncomfortable, if not confronted, to an evening that would dish out plenty of emotion, including heart-wrenching insights into other people's struggles, some of the worst dance moves adland has ever seen, and a 'unique contribution' from MediaCom's Nicole Turley.
From the get go, it was pretty obvious Omnicom Media Group boss Peter Horgan was going to be trouble, ably supported by OMD's Aimee Buchanan, who had a marginally better singing voice but equally shit moves.
Horgs getting on all fours was a common theme at the event.
After asking a prison guard if he could get a tattoo (which MCN's Mark Frain was singled out to receive) old twinkle toes got under the skin of guards with some backchat and questionable Napoleon Dynamite-inspired shapes on the courtyard.
Just in case his dignity was not already smashed to bits, Horgs bellowed out Happy Birthday to one of the guards.
During processing, inmates got to spend few minutes in a mobile solitary confinement unit and acquainted themselves to counting bricks on several walls along the journey. Solid star jumping technique got you somewhere in this joint.
After being rushed through, the group assembled for dinner with Frainy, Lucy Formosa, Emily Perrett and Mitch Waters also sporting tough stickers.
Inmates were fed 'meat and a few veg' before the real part of the night began.
Steve Cain shares his moving story about homelessness and how he changed his life.
The serious side of the event  
Post-dinner random groups of inmates were taken to different sessions where we got hear from a lawyer, counsellor, a youth recruitment agent, Whitelion staff and the harrowing story of Jane – a young homeless girl who died in a Gold Coast park after a tragic series of unfortunate events.
Whitelion outreach team leader Daniel Ayalew previously shared his story with AdNews prior to the event and was on hand with Christie White to share more details about Whitelion's outreach and coffee social enterprise.
He explained how more than 90% of young homeless people who end up on Sydney's streets are taken away from their families and almost all of them are dealing with mental illness as well as drug and alcohol problems.
Roger Antochi of Talent Rise, explained how he was previously homeless and what helped him escape the vicious cycle was providing young people with a meaningful job.
Lawyer Jilly Field, who one adlander said should be our next Prime Minister, worked with young disadvantaged people going through the juvenile detention system.
Her moving story was summed up by one point: 'the children she dealt with are no less special than her own child, they're no less talented or beautiful or important.'
She said as a society we need to fix this by offering alternatives to locking up our kids. Community service programs should replace incarceration, in other words, helping young, lost people escape criminality and hopelessness though support, kindness and opportunity.
It was a point reinforced in another session by a mental health expert and counsellor Melissa Clifford, who provide psychological help for young homeless people.
She said that to fix the problem we need to stop treating these kids as bad kids, because they're not bad, they're just hurt, and often lack the guidance and support structures to make sensible decisions. And, they're just children.
Jane's story, which was presented by an actor, put a human face to the suffering. It also really brought home how this could to happen to anyone. The actors who helped bring this session and event to life were organised by Lisa Peers from Peers and Players.
There was also a short presentation by Tania Montesin from Schweppes, who provides a lot of support to Whitelion.
Whitelion CEO Mark Watt then questioned participants about what they could do to help.
At the end we also got to hear from Steve Cain of Empathy not Sympathy, who has been homeless and sleeping rough for much of his life, when he wasn't a ward of the state, until one day he woke up from under a South Australian bridge and took the steps needed to break out of the cycle.
Everyone had given up on him except for his mother. He's now been clean for more than 20 years and devotes his life to helping others.
Whitelion chair ambassador of NSW Jamie Lobina also shared his story about how he had to leave an abusive household to his own Whitelions, his uncle and aunty.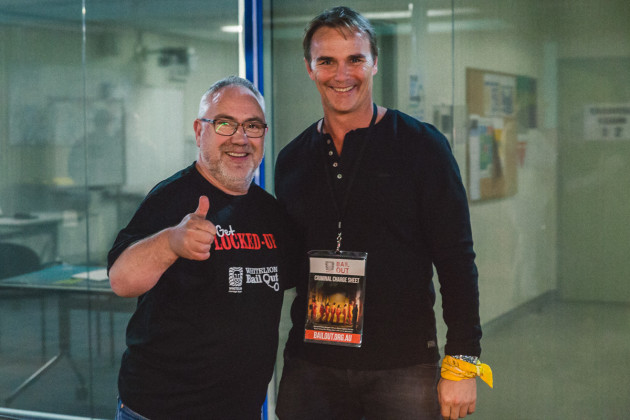 Happy birthday Kurt and Mark.
After the talks the group celebrated the birthdays of Burnette and Watt before being 'locked in' for the night.
A small amount of contraband had been smuggled in to keep adland's voices well lubricated into the early hours of the morning.
The next day was a 6.30am start, followed by breakfast, a group photo and one last chance to humiliate us.
Turley, who had been agitating the prison guards from the moment she set foot on the Yasmar Juvenile Detention Centre, demanded that remaining inmates, several sporting hangovers, should do a chicken walk around the yard when a more merciful conclusion was on the table.
Watt and Cain closed the event by thanking everyone for not only raising money, but also becoming a part of the Whitelion family as ambassadors.
Cane said that when we walked out of the Yasmar Juvenile Detention facility, we should all feel a sense of pride for the incredible fundraising effort.
Personally, I couldn't help but feel a sense of shame and sadness as I walked down that driveway towards Chandos St.
Sadness that I live in one of the richest countries on the planet and we treat our poor, disadvantaged young people so disgustingly.
Every school should send their students to a Bail Out event because we really need to get better at educating our society about this problem and holding our politicians to account, rather than turning a blind eye.
But I also felt a sense of empowerment and hope. There are ways that I now know I can help beyond giving money that can make a genuine difference.
I'm sure there are many industry leaders today who feel the same and I hope this inspires a meaningful change.
A big thank you must go to all of the people who took part (listed below) and also to everyone who donate to this great cause.
Bail Out was a remarkable experience that raised $140,000 in much needed funding, but the real work starts now.
The Adland Bail Out 2018 inmates 
Media Owner Gang
Adam Sadler, SBS
Adam Thorn, Mumbrella
Arvind Hickman, AdNews
Brendon Cook, oOh!
Dave Roddick, Adshel
Kurt Burnette, Channel 7
Lou Barrett, News Corp
Mark Frain, MCN
Nick Young, MCN
Oliver Newton, JCDecaux
Peter Charlton, Nova
Rob Atkinson, ARN
Rod Prosser, Network Ten
Stuart Parker, Car Advice
Susie Bayes, The Guardian
Tony Bell, The Guardian
Tony Kendall, HT&E
Media Agency Gang
Aimee Buchanan, OMD
Andy Antoniou, Orchard
Cameron Swan, Active International
Craig Jepsen, The Media Store
Danny Bass, IPG Media Brands
Kerry Field, Mindshare
Kristiaan Kroon, OMG
Lucy Formosa, PHD
Mark Lollback, Group M
Mel Hey, OMD
Nick Behr, Kaimera
Nicole Turley, Mediacom
Peter Horgan, OMG
Sophie Madden, MFA
Sue Squillace, Spark Foundry
Toby Barbour, Starcom
Venessa Hunt, Group M
Yvette Mayer, OMD
Creative Gang
Chris Austin, 3rd Space
David Park, Maud
Denise Shrivell, Mediascope
Emily Perrett, Clemenger
John Broome, AANA
Jules Hall, The Hallway
Karen Halligan, KPMG
Kim Portrate, ThinkTV
Max Learmont, Ikon
Nolan Yu, UM
Penny Davy-Whyte, Tilt Media
Rob Logan, 3rd Space
Rowena Newman, ThinkTV
Toby Hemming, Bold PR
Anita Lyons, Yahoo!7
Adam Wade, Amobee
Fiona Harrop, Big W
Mary Waite, Unicef
Tech Gang
Adam Furness, Impact
Craig Bonser, Quantcast
Damein Thomson, Sizmek
Fiona Roberts, InMobi
Guy Burbidge, Quantcast
Matt Fahd, REA Group
Mitch Waters, The Trade Desk
Nicole Gardner, Quantcast
Pete Hong, Storyful
Ryan Linahan, Quantcast
Sam Adams-Nye, Folo
Sarah Wyse, Wyse Women
Will Easton, Facebook