Augmented Reality (AR) is changing the rules of brand engagement.
The number of mobile AR users is estimated to hit 900 million users globally by the end of the year, and 3.5 billion by 2022 . Similarly, AR advertising is expected to generate over $13 billion in global revenue by 2022, accounting for over 12% of all mobile ad revenue by that year.
In order to secure an advantage, brands will need to leverage this growth early. Yet, in Australia (and other markets), there are some misconceptions about the technology and its benefits to marketers.
MYTH #1: AR is the future of marketing
It's commonly touted that AR is the future of marketing, but this thinking ignores the fact that AR is already being created and consumed at scale in Australia.
Just this year, retail chain Big W partnered with Snap Inc. Australia to create an AR experience featuring the brand's toy catalogue. The campaign provided Big W's audience with an opportunity to creatively connect with a traditional sales tool, the toy catalogue, adding an element of fun and play within the overall advertising experience.
Brands such as Big W, McDonald's, and Activision are embracing AR to help engage and convert their target audience. This shows that we don't need to wait for AR marketing to become a reality – it's already here.
MYTH #2: AR audiences lack buying power
Gen Z - digital natives aged 13-22 - are the ones leading the adoption of AR at scale. AR is naturally part of their everyday media life, and a source of endless creative possibilities. The rise of AR technology adds an extra dimension to the creative toolkit and provides high engagement levels.
What is inaccurate is the thought that this audience isn't worth targeting.
While many see Gen Z as tech-obsessed teenagers, this audience's influence should not be overlooked. In the U.S. for example, the National Retail Federation places Gen Z's buying power at USD$44 billion. Australian figures are comparable on a per capita basis. As more brands begin to harness the buying power of Gen Z, we predict further growth in AR experiences to engage them.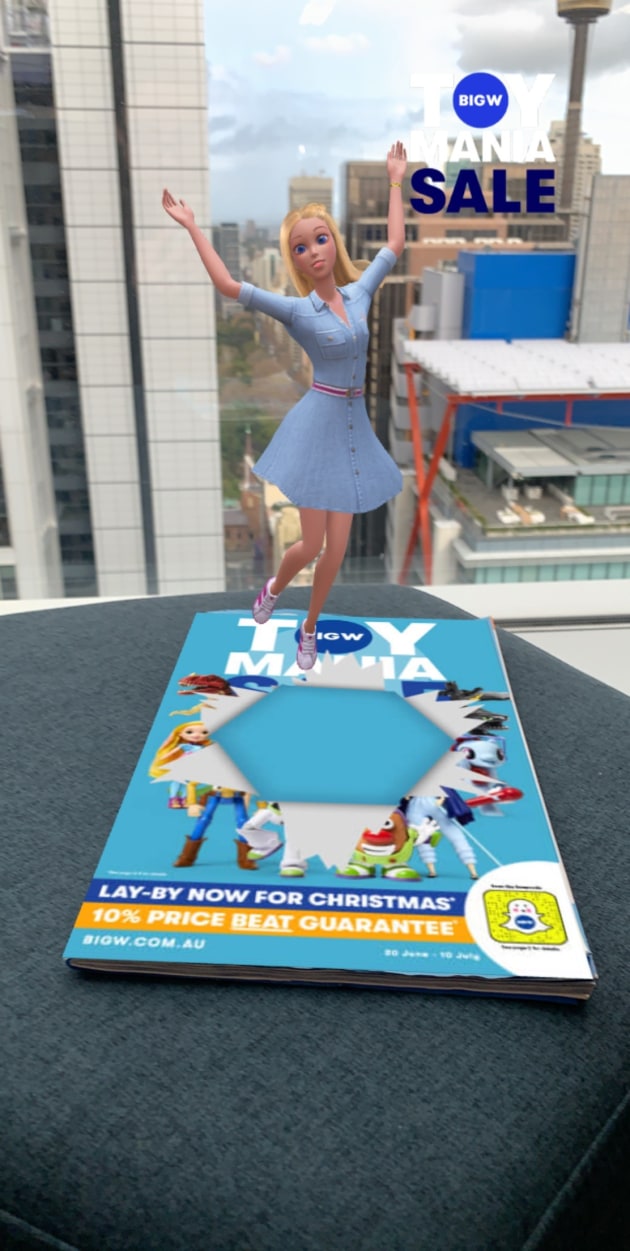 Big W's AR experience 
MYTH #3: AR users don't engage with advertising
The fleeting attention of Gen Z is another myth that needs dispelling.
Attention has simply diversified and people, including Gen Z, are choosing to spend time paying attention to content and brands in new and ever more interesting ways. It's about engagement vs passive consumption.
That in some respects is the power of AR. It gives brands the opportunity to create hyper-relevant, hyper-personalised content that features the audience itself and is distributed by them within their own networks, which in turn means it becomes incredibly authentic.
As an example, Activision and OMD recently ran an out of home (OOH) campaign which gave fans of Call of Duty: Modern Warfare an AR experience via over 450 OOH placements across the country. Snapchatters who scanned the Snapcode on each placement were able to activate an AR experience which featured a helicopter inspired by Call of Duty flying out of the poster, and the sky darkens above them, connecting their real-world environment with computer-generated digital content. They were then able to purchase the game through an in-app "Order Now" button.
This is just one example showing how AR technology adds an extra dimension to the creative toolkit and provides off-the-scale engagement levels.
Call of Duty: Modern Warfare an AR experience
Final notes
The power of AR lies in its ability to allow the audience to engage with and personalise a brand narrative. Where previously brand advocacy has been driven by social metrics such as likes and retweets, AR gives us the opportunity to create hyper-relevant, hyper-personalised content.
As AR is adopted by more people, the camera, and the attention it's given, will become an increasingly important tool in the marketing mix of advertisers. Indeed in some respects the camera itself should be considered a new channel. While people have adopted AR at scale we are only at the beginning of what is possible.