Georgina Wall is activation director at Resolution Digital
As Australians come to terms with being physically isolated they are spending more time connecting on digital media. The best way to reach your audience during COVID-19 is through relevant messaging via your digital channels.
Messaging that talks to consumers' changing perspectives and behaviours will bring the most value. Global Web Index research indicates that 27% of Australians believe the impact will last at least 6 months, yet only 7% are delaying purchasing products like household appliances.
Maintaining – or even increasing – your advertising spend is crucial for future proofing your success.
3 key areas in your COVID-19 advertising strategy
50% of Aussies expect brands to advertise as normal. When advertising is done right brand perception remains positive. So, address these three areas and get it right:
1. Media mix - which channels should you spend with? Overall, 50% of the population are streaming more in general, 45% of people are devoting more time to social media, 15% are actively uploading content and 51% of 'baby boomers' are spending more time using Broadcast Video-On-Demand (BVOD) services (Global Web Index data). March also saw an increase in news related media views, a 40% increase in connected TV use, and more audio being consumed. Despite ongoing demand, less competition has resulted in reduced CPC and CPMs, with Amobee reporting BVOD -11% and Facebook -15-20%. Use data led insights to optimise and allocate budget within your media mix.
2. Message - how can you support your consumer? Brand messaging tailored to your consumers' current needs will command reassurance in your brand and service. Depending on your industry, your approach will vary.
But, Amobee insights found search interest has spiked across three areas:
a. Supplies for home office and schooling scenarios
Search has recently soared by 1200%. Associated brands can minimise negative
b. Meal and grocery delivery options
Panic buying and closed venues have led consumers to lean on grocery and meal delivery options.
c. Gym supplies
Since the closure of fitness centres, online equipment suppliers have been selling out.
The increased demand for contactless home delivery options across the board also places e-commerce at the forefront of priorities.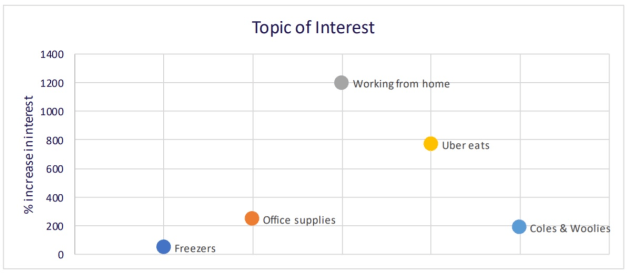 In addition, ensure you have optimal foundational hygiene across:
● Business listings on search entities
● Your overall user experience
● e-commerce options
These are all key to driving the strongest return on investment.
3. Metrics - How should you measure your success?
Remaining present is crucial, yet the metrics you benchmark performance on are likely to change based on how your business offering has had to adapt.
Two important considerations for advertisers:
• External influences have a direct impact on:
o The data you receive
o The perception of your messaging and strategy
o The way you optimise
• Changing user behaviour can skew data analysis and impact machine learning. So, adopt an additional layer of assurance to advertising management. This will help to mitigate the impact to performance and future proof your business for success.
Aligning your KPIs to strategic direction at this time and focussing on the measuring the metrics that matter, will ensure you are best placed for a return to business as usual.
Why is advertising during hardship more important than ever?
Henry Ford once said "A man who stops advertising to save money is like a man who stops a clock to save time."
Dettol recently used Tik Tok to educate people on handwashing, gaining 9 billion views in just four days and quick service giant McDonald's adapted all social and BVOD creative to reflect the new 'contactless' delivery and 'everyday essentials' offerings.
Similar brands have proven this same theory in the past. Kellogg's notoriously doubled ad spend during the Great Depression as competitor Post pulled back. Kellogg's profits boosted 30% and they commanded their position as the market leader to this day.
How struggling and booming industries can increase their success
Industries such as travel, auto, events and hospitality are heavily impacted by lockdown measures across the globe. Many companies in the hospitality sector have had to adapt. For example, many pubs have transformed into bottle shops overnight. 
If your business has been negatively affected by COVID-19 consider focusing on:
● Increased eyeballs
Social channels and home entertainment platforms pose a strong opportunity to drive loyalty and remain front of mind to drive future lifetime value from your media investment.
● Tailoring your messaging
Speak to your audience's 'new normal' situation while underpinning your core brand values to maintain dominance in the consumer mindset.
On the other hand, healthcare, fitness/wellbeing, online delivery options and entertainment platforms are answering all the consumer calls. Stand out from your competitors by:
● Reducing friction in the user journey
This is crucial for driving e-commerce action or customer acquisition
● Adjusting the placement of your targeting
To sustain presence whilst competition for these services is rife you must do this. For example, out-of-home (OOH) messaging which previously dominated the commuter period, is now less penetrative.
Adopting an audience-first approach with platforms like social or programmatic OOH offers a way to reach valuable audiences in their new routines; as they shop for groceries or browse the latest Tik Tok challenge. 
Whilst the landscape is positive for some industries, it's vital to remain aware and supportive of the current climate in messaging. Focus on the needs of the audience and avoid coming across as opportunistic.