Independent agencies AFFINITY, Hatched and Half Dome have all made it into the top five in the media and marketing category of this year's AFR Best Places to Work list.
Full service agency AFFINITY jumped from ninth last year to number one in 2022; Hatched moved up to #2 from #7 in 2021; and Half Dome held on to #4 against tough competition. 
One key theme that emerged, when AdNews spoke to the agencies, was providing a safe space for employees to give feedback and then acting on those ideas and suggestions. 
Another area of focus was ensuring agency culture was one that prioritised mental health. Whether through meeting-free days, flexible working practices or dedicated teams and resources to support wellbeing, it's clear that a people-first approach has paid off. 
Read on to find out why AFFINITY, Hatched and Half Dome were selected as best places to work in the media and markering space in Australia. 
Angela Smith, cofounder and chief brand officer of AFFINITY:
What makes AFFINITY the best place to work?  
As a brand agency, we understand that a brand needs to be more than a strong and clear vision, it has to be lived on a daily basis, and that's what we've focused on most. Your north star needs to be more than lip service to ensure your team feels truly inspired and engaged. Our vision at AFFINITY is to relentlessly champion the power of thinking.
All that we do is focused on enabling a great quality of thinking, including providing time to think. It seems simple, but today, unadulterated time to think is probably our rarest commodity. We work hard to give our team not just time but to create a conscious culture – permission and encouragement to take time to reflect, consider and share. It's a real gift. 
In talking recently with some of our newer "Bright Sparks" at AFFINITY, the most critical element is offering an encouraging and safe environment where all feedback is welcome, good and bad, actively listening, and implementing new thinking, wherever it comes from. Most of our workplace initiatives have come from the broader team - not only are the ideas fantastic, but it also helps to ensure they're actually taken up and appreciated! 
Was AFFINITY surprised being named #1 or was this a goal the company was actively working towards?  
We were thrilled with achieving a ranking of #9 in 2021, but we used it as encouragement that we were on the right path. Almost immediately we set ourselves a goal of going one better for this year; what more could we do to help build a better culture?
We had no idea it would lead to being named the Best Place to Work in media & marketing, as well as receiving Most Outstanding Practice – Employee Wellbeing. It's important to us that these kinds of awards aren't an end in themselves, but act as a catalyst for continually improving what we practice. 
A big part of why AFFINITY won came down to its Thinking Thursday initiative. What are some of the successes you've seen from this?  
Overall, I think Thinking Thursday, alongside other Thinking initiatives like Library Hour (a mandated hour of learning every week) and Ted Talk Tuesdays, sends a really clear signal to everyone here at AFFINITY that we're serious about creating a culture of world-class thinking. 
Specifically after launching Thinking Thursday, we checked in with our team through a short, anonymous survey to understand its impact: 
91% of the team felt more supported through the initiative

 

84% reported higher focus levels

 

100% were interrupted less

 

83% reported improved

mental

wellbeing at work

 
What's next for AFFINITY?  
The next six months will see significant growth in the size of our team at AFFINITY. One of our biggest challenges will be to ensure we stay true to our brand purpose as our team grows.
We'll be working really hard to provide a great onboarding experience for our newest Bright Sparks and support them in relearning how to make and invest plenty of time in critical thinking and feeling comfortable to share their thinking early and often – not something that, in the past, everyone has experienced when they first join us. 
Virginia Scully, people and culture director:
We listen and prioritise what makes our people happy. Our Hatchlings are the most important asset to the business and we invest consistently to ensure they are supported and able to perform at their very best. That includes empowering staff to shape the way we work.
We do this through a number of initiatives including our Shadow Board who act as advisors to our Exec team and a Belongings & Connection team which focuses on diversity and inclusion. The secret is in the fact that we don't rely on a HR team to deliver culture; everyone at Hatched is passionate about our culture. We also offer strengths, values and life coaching, which helps staff to be the best people they can be.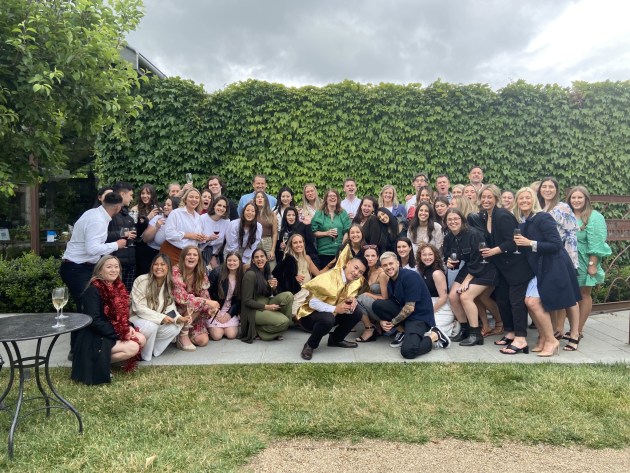 Was Hatched surprised to be listed #2 or was this a goal the company was actively working towards?  
Culture is the number one differentiator for businesses within the media industry and it is a major focus for us at Hatched. Between this and the high churn rate in the industry, being a great place to work is a huge motivator for us. We were stoked to place second on the list and move up the rankings from last year, but that doesn't mean we will be resting on our laurels.  
A big part of why Hatched ranked so highly was the Shadow Board. What are some of the successes you've seen from this initiative?  
The Shadow Board is an advisory team made up of a group of future leaders from every department in our business. They lead decisions within the business such as working for home policies. The team utilises the employee experience platform Culture Amp to source engagement data and focus efforts on areas of positive impact.
We have seen an incredible lift in engagement during tough times, based on the Shadow Board's access to insights and strategies they have designed to impact our people positively. 
Through their work, the Shadow Board recommended the implementation of five additional days of leave dedicated to employee wellbeing, we put pitching on hold and let go of some legacy clients.  
The experience is also leading to success for the members of the Shadow Board who are gaining skills and experience to make them future leaders of the business. 
We are keen to lift our eyes and broaden our impact outside of our organisation, as well as use our learnings and success to benefit others. 
We have also launched our 4Cs wellbeing team, focused on our mentally healthy practices and innovations. We empower our Hatchlings with Control, Choice over their ways of working, and support them with Commitment and Care at a leadership level.  
Lisa Lie, head of people and culture at Half Dome:
What makes Half Dome one of the best places to work? 
Relentless curiosity, determination, and commitment to just do what's right by people.
We never rest on our laurels, and continuously seek and act on team feedback with the best intentions at heart. 
We love to question the way things have been done previously to learn and find better ways and this interest and motivation exists throughout the team, which is reflected in our results. 
Was Half Dome surprised it made it into the top 5 of the list or was this a goal the company was actively working towards? 
It's no secret that our people's happiness and engagement is one of our core business goals. We don't just care about culture and people experience – we obsess over it. To us, culture doesn't just help in attracting and retaining great people, it amplifies their abilities and helps them do their best work. 
We know client and team happiness are our leading indicators of success, so we actively put a lot of effort and energy into ensuring every person that works at Half Dome feels positively challenged, supported, and has fun along the way. 
We're proud of the recognition we received, and the results provided by AFR BOSS are validation of the hard work, unwavering commitment, and focus we have on our people experience at Half Dome. 
What internal initiatives were key to Half Dome ranking so highly on the list?
We're well known for our approach to trust-based working and flexibility, and the stats from our AFR BOSS Best Places to Work staff survey really show this: 
100% of Half Dome people believe they are free to do their job the way they think it can best be done

 

100% of Half Dome people believe their

mental

health is a priority for the business

 

0% of Half Dome people believe they're expected to respond to emails outside of working hours

 
Half Dome outranked other businesses in the media and marketing category in multiple categories, with our highest scores coming from the choice, challenge, and democracy we provide to our people. 
What's next for Half Dome? 
In the aftermath of the last two years, people are searching for meaning and re-evaluating the role they want work to play in their lives. 
Work provides us with a source of structure, belonging and meaning, but there has been a fundamental mindset shift where work is now one part of life, it's no longer the singular identity it used to be. 
Because of this, autonomy, choice, and feeling completely valued are what people are prioritising more than ever before – and that's where our priority lies. 
Curiosity and experimentation drive everyone at Half Dome, so we'll continue to question the status quo and push the boundaries on what a great people experience looks like this year. That doesn't mean more bells and whistles for people, it means doing the things that are incredibly valuable, really well. 
We've taken the time to reflect on our work and in 2022 we will build on what we know people want and need to be motivated, engaged, and happy. This will include:
Just as we don't have a 9-5 policy, we won't have a capped leave policy. We will evolve our existing market-leading flexibility offering to go beyond location and hours and included leave. In our industry most employment contracts specify a 38-hour week, but it's not unusual to work a 50-hour week. It's not good for anyone and it's one of the big reasons people leave the industry. They start to feel like they're doing unpaid overtime continuously, get worn out or even burnt out, which no doubt

has an effect on

mental

health, productivity, effectiveness, and turnover. Capping annual leave but not capping hours doesn't make sense so we'll experiment and trial an evolved, flexible leave position.

 

Our DE&I journey will be multi-faceted and focus on bringing your whole self to work, no matter what that means for you. We know work is just one part of people's lives and identity and we want to learn from and know about all the other parts that make our people who they are too.

 

According to the World Economic Forum's Future of Work Report, 50% of the global workforce will need to be reskilled

by 2025. We're focusing on learning and developing the skills that will make the biggest difference in the future, today - skills that will future-proof our people, allow them to work smarter, foster the right mindset, and think differently about how they approach their work and lives.

 
Have something to say on this? Share your views in the comments section below. Or if you have a news story or tip-off, drop us a line at adnews@yaffa.com.au
Sign up to the AdNews newsletter, like us on Facebook or follow us on Twitter for breaking stories and campaigns throughout the day.