Unilever revealed its #UnStereotype initiative in Cannes today – a company-wide movement to actively move away from using stereotyped gender images in its brand marketing.
It's a global ambition for all of its brands and it hopes to inspire the industry to follow suit with campaigns that show a less outdated view of women in domestic roles, lacking depth and character. 
It's an acknowledgement that advertising perpetuates outdated ideas of women's role in the family, culture and society, and while it is focusing on women first up – Santos tells AdNews that it is applicable to all stereotypes and it won't be merely replacing women with men in ads for laundry detergent or showing men cleaning the house.
Speaking to AdNews in Cannes, Aline Santos, executive vice president of global marketing for Unilever, who took over the role in December last year following Marc Mathieu's move to Samsung as CMO, said: "From all the research, and there's a lot, it's showing significant differences in terms of impact, talkability and effectiveness. Engagement and awareness goes through the roof when there is a more progressive portrayal of women in ads. It's not only a moral and social issue it's a business issue, so it's going to be a fantastic vehicle for us to do good and to do good business as well."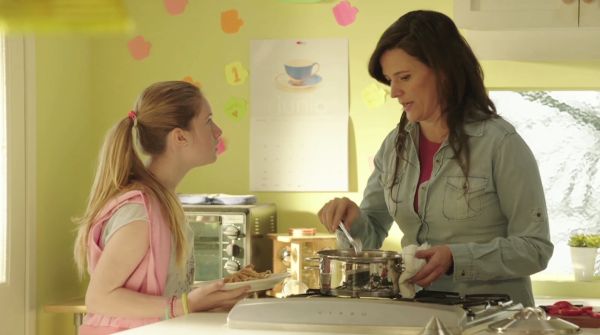 Above: New #UnStereotype image
Thinking in the most positive way
Unilever is doing workshops across the business and with agencies and Santos says it has structured it in a way that every time there is a brief, "we stop, and ask if we are thinking in the most positive way. It's not only bout women, but women are the biggest gap in how much we stereotype. We don't want to 'unstereotype' women and create a stereotype for men."
"We're at the start of a journey, its very difficult to change over night, but we hope there's  nothing in the company stopping us.
Unilever carried out a number of research projects with Millward Brown to find out the impact of stereotypes in advertising and explore the 'evolution" of women's indenity. It found that 40% of women didn't recognise themselves in ads. Analysis of females in ads showed only 3% demonstrated intelligence, and 0.3% were funny, Santos added. The research also found that using a more "progressive" portrayal of women and their roles had better business outcomes, greater "talkability, engagement and brand impact".
To achieve it, Unilever's brand teams will actively tackle three areas: the role of women in ads beyond he product use, more authentic and deeper personalities and a non-critical approach to appearance.
Santos also told AdNews that Unilever encourages its agencies to build gender diverse teams – which means having more than one token female working on an account.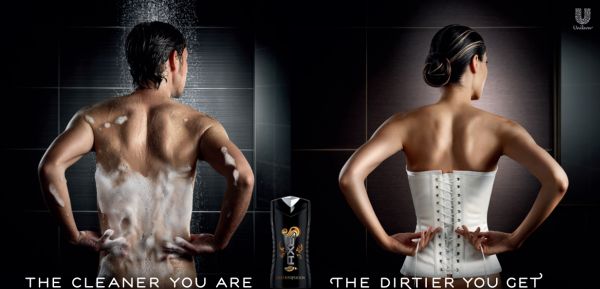 Above: An older example of an  Axe ad 
Replacing conquests with 'connections
It has already tasked agency partners including BBH, 72andSunny, JWT, DDB, MullenLowe and Ogilvy to adopt the approach in briefs and has already begun the process with a handful of brands. The recent Axe (Lynx) brand positioning 'Find your magic' has replaced conquest with 'connection' between men and women picturing them as equals - a departure from its former positioning which depicted women as sex objects, beholden to men using Axe. Santos says it has improved the way both men and women regard the brand.
Food brand Knorr has also steered away from just using exclusively women preparing food, to include divorced dads, groups of students and millennials, while Lifebuoy soap ads have included a pregnant female doctor to depict an authoritative female voice.
In a statement, Unilever global CMO Keith Weed said: "The time is right for us as an industry to challenge and change how we portray gender in our advertising. Our industry spends billions of dollars annually shaping perceptions and we have a responsibility to use this power in a positive manner."
Behind the news:
Unilever has long been an organisation which placed purpose at the heart of marketing for its brands to drive outcomes, which is one reason I've always been fascinated by its brands, marketing and business strategies. But this goes a step further and publicly puts purpose at the heart of advertising as a discipline.
It's a public articulation of what all clients and agencies should be doing anyway – but the reality is they're not. It shouldn't be confused with the 'femvertsing' trend and the spate of recent female empowerment ads either, although it all shows that it really is about time advertising across the board was more reflected of real women.
There are brands that do it well. MLA's recent beef campaign got it licked and Medibank's latest effort was an excellent depiction of the diversity of people, while ANZ Bank's Equal Future positioning lays a great foundation. This initiative should hopefully make the rest of industry aware that it needs to become the norm – not the exception.
Unilever is also acknowledging that as the owner of a large number of largely domestic brands – laundry, cooking, beauty – it is partly to blame for these stereotypes in the first place, something that Aline did concede. It's an example where doing the right thing, is doing the right thing for a business and with a bit of conscious thought, before long it will be hygiene factor for all brands and we can wave goodbye to the dreary housebound mum whose only pleasure is getting mud stains out of white football shorts once and for all.
Have something to say on this? Share your views in the comments section below. Or if you have a news story or tip-off, drop me a line at rosiebaker@yaffa.com.au
Sign up to the AdNews newsletter, like us on Facebook or follow us on Twitter for breaking stories and campaigns throughout the day. Need a job? Visit adnewsjobs.com.au.