More than three out of every four TV ads feature all white casts and only 3% feature no Caucasian talent at all, an analysis of Australian advertising has found.
The study, carried out by Ebiquity in partnership with SBS, found that the proportion of whitewashed TVCs has only decreased by one percentage point, a damning indictment on the lack of cultural diversity on Australian TV screens.
The research assessed 4,156 ads between 1 February and 9 June this year on the primary channels of SBS, Seven, Nine and Ten.
It found that 76% of creative contains all-white casts, 14% starred Caucasian and one other ethnic actor, 5% had Caucasian and two or more ethnic actors, and only 5% featured no Caucasian actors at all.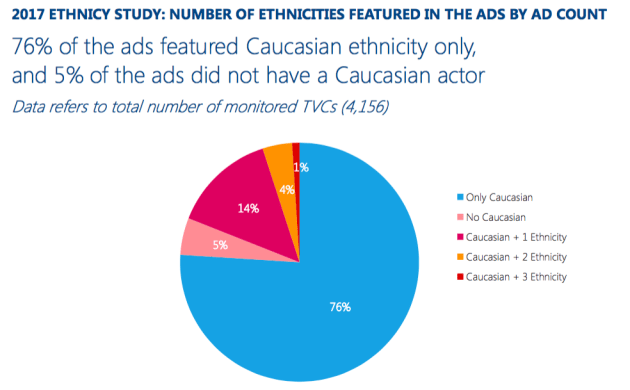 Source: Ebiquity Ad Monitoring and SBS.
Asian and black actors were the most popular non-Caucasian casting choices, featuring in 8% and 5% of creative respectively.
The study also analysed the frequency of ads, which amounts to 2,150,159 spots over the same period.
It found that 77% of ads running on TV feature all-white casts – in other words media brands with Caucasian casts received slightly more of a run.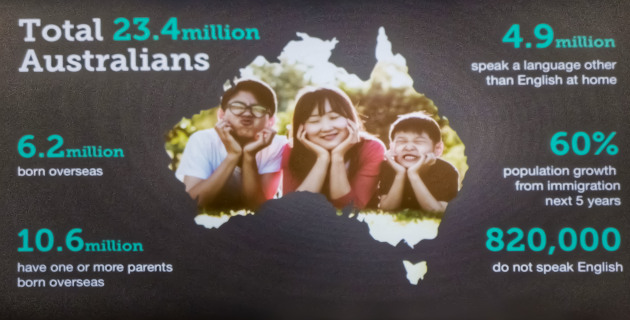 Here are some facts about Australia's cultural make-up and future. Source: SBS.
All-white casts at odds with reality
The representation of Australians in TV advertising is in stark contrast to Australia's actual cultural footprint. Last year's census found that 49% of the population are either born overseas or have parents born abroad.
"When you apply the 10 characteristics of ordinary Australians, there are only 5,782 Australians that fit this description," SBS director of media sales Andrew Cook said at the TV network's upfronts events.
"Our industry is moving at a snail's pace when it comes to showing diversity on our screens. At this rate of change, it will take another 100 years before we see only half of all ads on TV reflect Australia's diverse population. There is no doubt we need to speed up this change."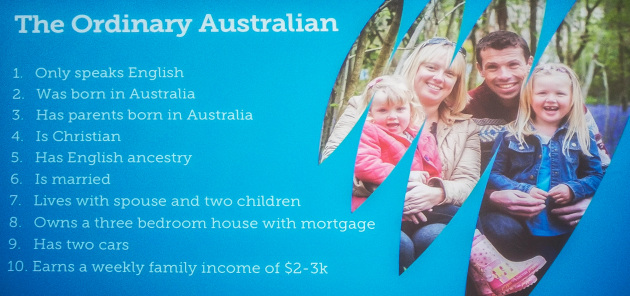 The 'ordinary Australian' stereotype is a myth, so why do marketers keep pandering to it?
The pace of change Cook speaks about can be seen when comparing this year's study to a similar one carried out in 2013.
In 2017, ethnicities other than Caucasian were represented in 4% more creative than in 2013. However, when frequency is considered, there is only a one percentage point difference; Caucasian casts were in 78% of ads in 2013 compared to 77% in 2017.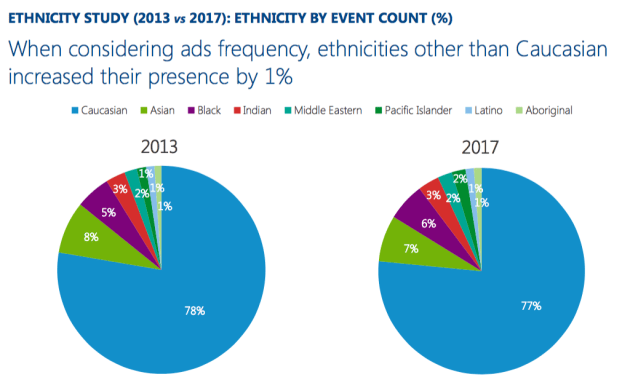 Source: Ebiquity Ad Monitoring and SBS.
The ageism problem
Another area of diversity that SBS would like to address is a lack of targeting to Australia's rapidly greying nation.
Today, over-50s represent 43% of the population, control 60% of the nation's wealth and have discretionary spending power of $218 billion.
"We also support the need to rethink how clients are targeting the outdated TV demo 25-54 when 72% of people aged 50-plus are trying new brands and 76% say quality is more important than price," Cook adds.
He says that SBS can help brands target specific ethnic communities and demographics across its TV, digital and radio assets.
"We want clients to think about diversity and the true make up of Australia. It costs no more and delivers better returns."
Why diversity matters
Diversity matters to brands because between 2012 and 2022 there will be at least 3 million immigrants arriving in Australia and most of these will be from India and China. It is estimated that immigrant families spend about $95 billion in their first decade of settlement.
Marketers will need to adapt to Australia's changing demographic footprint to remain relevant or risk alienating a significant proportion of the economy. 
SBS will launch a new study that helps marketers better understand the influences that affect immigrants and their purchasing habits.
The top 10 brands
The study also looked at the brands that had the most ethnically diverse casts in their TVCs. NAB had the most diverse casts covering eight ethnicities however SBS Viceland and Zyrtec ran the most number of culturally diverse ads.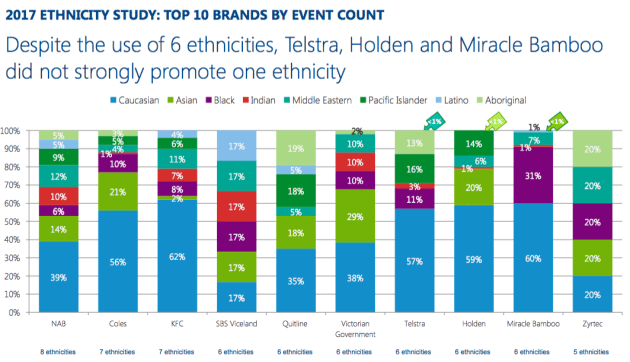 Source: Ebiquity Ad Monitoring and SBS.
Have something to say on this? Share your views in the comments section below. Or if you have a news story or tip-off, drop us a line at adnews@yaffa.com.au
Sign up to the AdNews newsletter, like us on Facebook or follow us on Twitter for breaking stories and campaigns throughout the day.