In a world of growing media fragmentation and competing agendas pulling marketing budgets apart, Zenith Australia CEO Nickie Scriven's philosophy is simple: "When you connect all three parties that's when magic happens".
This approach has served her well on all three sides of the media, agency and marketing triumvirate, particularly in her current role at Zenith.
Sitting down with AdNews at Zenith's Sydney HQ recently, Scriven opens up about her views on how competing agendas between agencies and clients, particularly around driving down cost, is damaging the agency business model and outcomes in marketing.
However, to properly understand Scriven's perspective, it's important to trace her journey from the high-pressure cauldron of elite sports into the cut-throat world of media. Each leg of this fascinating journey has built up the resourcefulness, determination, pragmatism and straight shooting that are now hallmarks of her approach to business and leadership style.
Born Nickie Gibson in the bayside suburb of Hampton, Melbourne. She is the middle of three children in a sports-obsessed family.
Her father, a bank manager, was the president of the Sandringham Little Athletics club and was always on hand to encourage his kids on the sporting field while her mum backed her in whatever she wanted to do. For Nickie, that was always on the running track or in a dance studio.
"I always loved it, it was never a chore for me. Running always made me feel free," Scriven recalls, adding that her kids are also keen runners.

Scriven with two of her biggest fans.
From dance to track
Scriven studied dance and drama at the Victorian University, which she describes as the "best time in my life where I met my life-long besties". 
Following university she ended up in professional sports when a rehabilitation program unearthed her talent for triathlon.
"I couldn't imagine that I would be good at triathlon. I used to be a reasonable runner but I couldn't swim for shit and hadn't really been on a bike," Scriven recalls, but by the end of her inaugural season, she had won her first series.
She then picked up a South Australian championship and won a national tour that qualified her to compete at the triathlon world championships in 1996.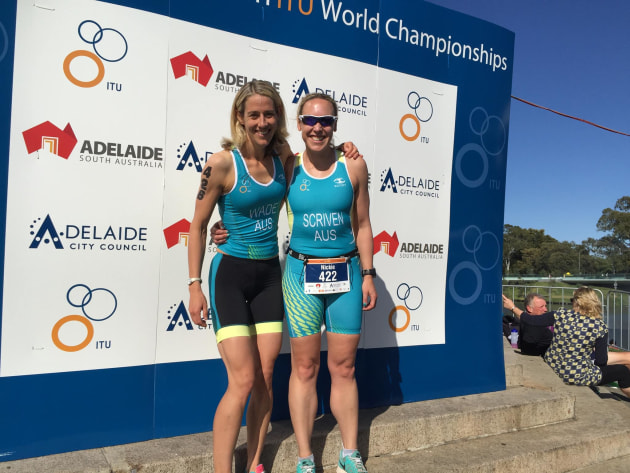 Scriven has represented Australia at several events over the years.
"The focus for me was racing pro. I was just pushing myself to be the best that I could be and [former world champion] Emma Carney was my inspiration. She was absolutely dominating the sport. I remember doing sessions on the velodrome thinking, 'I'm coming after you'."
Scriven raced professionally in Australia and was ranked among the leading triathletes for her age. She competed at a time when only a very few triathletes at the top could make serious money as a pro.
"After a while, I thought I'd had a good crack at it, but I needed to think about what my real career was," Scriven says.
From track to Myer roof
At the time, Scriven fell into sports modelling, which saw her land a swimwear sponsorship with Aussie Cossie, even though "I was such an average swimmer".
She was also a model at the launch of Myer Sport, which plastered images of her abs across the Melbourne flagship store's roof and Myer shopping bags at the time.
Scriven soon identified a gap in sports marketing and set up one of the country's first sports modelling agencies, Performance Promotion. In the years leading up to the Sydney Olympics, Scriven and her business partner grew the business to more than 100 athletes with work for major brands.
"It was such incredible fun. At one time, Nike needed 30 soccer players and were casting in Sydney the next day. So we literally booked flights to Sydney, went to a Socceroos training session and tried to recruit players for this ad. I had no idea who they all were because I didn't follow soccer," she says.
Eventually she moved into sales for Newsnet (now News Corp) after turning down another role at the National Basketball League, where she first met and was interviewed by her husband Matt Scriven (now Nine's director of sales in Melbourne).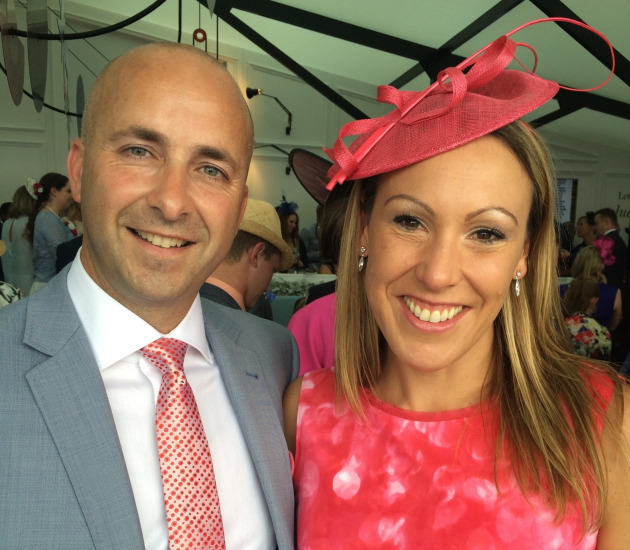 Matt and Nickie Scriven.
Scriven spent six years at News as group sales manager on NAB, Medibank and the Coles Myer Group, where she grew the account from $12 million to $50 million in two years.
"One of the most important things that I learned during that time was how people connect and engage in media across every channel," Scriven says.
"News taught me how to sell newspapers against other mediums, but also how to sell newspapers with other mediums and how to understand that consumer journey."
Scriven soon moved to client side at NAB and her first task was to convince her boss not to halve the agency's retainer to "recoup your salary and in-house media".
"I remember being quite horrified by what that retainer was because it was just way too low for the spend," she recalls.
"I said to him 'You should be doubling the retainer not halving it. If you pay peanuts you are going to get monkeys and you don't need to in-house media because that's going to cost you an absolute fortune'."
A question of value

Scriven took control of media negotiations with Zenith across the various NAB silos, acting as a conduit to help drive a consistent approach.
She also headed up marketing and brand at Australian Super before jumping into agency side after a discussion about why the agency model is broken with former Zenith boss Ian Perrin. She rose to national CEO in February this year.
"It's not so much about structure," she explains. "It's about agencies valuing what they do and clients wanting to pay for it.
"So I see this cycle at the moment where clients aren't overly happy with what they are getting with a lot of agencies, but I don't think they are prepared to pay for it because every client is being squeezed by their whole supply chain."
It's an industry issue Scriven speaks passionately about as she attempts to build a more sustainable media ecosystem around how Zenith operates.
Scriven candidly admits she doesn't know where this downwards spiral on cost is going to end because "procurement are involved and they are not congratulated for increasing their retainer, put it that way".
The talent gap
Today, Scriven is busy restructuring the agency's away from siloed channel media buying into integrated client account teams.
"I suppose the area that I'm focused on now is looking at addressable media and biddable media," she says. "So we've already integrated our online and offline teams, but the next step for me is looking within those teams to ensure we have the right people in place and become more analytical."
Talent is a perennial problem at media agencies and Zenith is no different, although Scriven's ambition is to make it a magnet to attract the brightest.
She explains that the talent gap is particularly pronounced in the middle levels because "people are promoted way too early because there just wasn't [experienced] people to put in the roles" and there is a limited pool of talent being coveted by too many agencies for a market the size of Australia.
"I want us to be the destination for the best media talent in the marketplace because the talent pool is shallow."
Her competitive spirit from her days in athletics have carried though into business and Scriven is determined Zenith is going to win the race.
She's also continued her passion for triathlete throughout and last weekend completed the 160km Bowral Classic with Starcom Australia chief executive Toby Barbour, raising $1,308 for adland industry charity body UnLtd.

Zenith's Nickie Scriven and Starcom's Toby Barbour at the Bowral Classic.
Have something to say on this? Share your views in the comments section below. Or if you have a news story or tip-off, drop us a line at adnews@yaffa.com.au
Sign up to the AdNews newsletter, like us on Facebook or follow us on Twitter for breaking stories and campaigns throughout the day.