Automation and generative artificial intelligence (AI) will mean smaller, yet more capable, advertising agencies, according to analysis by global consultancy Forrester.
The disruption to the industry will mean the destruction and rebirth of creativity. 
The Agency AI-Powered Workforce Forecast, 2030 reveals US advertising agencies and related services companies will lose 32,000 jobs to automation.
Creative problem-solving roles will thrive but process-oriented jobs will shrink due to the influence of automation, machine learning and generative AI. 
The global advertising groups are in a frenzy, a form of arms race, to adopt AI (artificial intelligence) in what's been described as a new industrial revolution.
"The meteoric rise of generative AI marks both a beginning and ending for marketing creativity as we know it," says Jay Pattisall, VP, principal analyst at Forrester.
"These technologies bring tremendous computing power, speed, and scale to the human act of creativity and ideation."
He says the benefits of generative AI to marketing are: Enhancing human intuition with machine intelligence; Amplifying creators' work; Adding scale and speed to creative quality.
"Yet artificial intelligence is also burdensome," he says.
"It forces us to rethink the nonlinear creative process to meet brands' exponential needs for volumes of efficient, fit-for-format content and advertising.
"It forces us to unlearn and relearn creativity. It presents challenges such as inaccuracy, bias, ethical, and legal liability for both brands and agencies.
"In effect, it's the destruction and rebirth of creativity — as we know it. When AI is combined with your brand's creative process, what emerges is intelligent creativity." 
The latest Forrester report, which focuses on the US market, also says generative AI will both account for nearly a third of automated advertising jobs and increase the productivity of higher-wage skillsets in agencies.
"Forrester assumes job losses from generative AI over the next two years will be modest — until questions around intellectual property rights, copyright, plagiarism, model refresh rate, bias, ethics, and accuracy are resolved," the study says.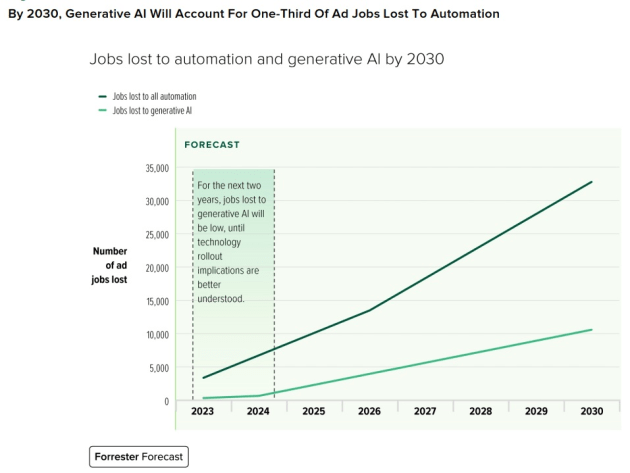 Forrester also assumes that generative AI job loss potential is low for jobs that require a physical presence, such as a chief executive or manager, even if generative AI influence is high.
"The marketing mindset on AI turns from fear to fascination as the post-pandemic services boom winds down and enthusiasm for generative AI kicks into overdrive," says Forrester.
By 2030, agency jobs most at risk from generative AI include clerical, secretarial, and administrative roles (28% of job losses); sales and connected roles (22% of job losses); and market research and connected roles (18% of job losses).
Despite automation potential, the share of agency jobs in management, public relations, creative roles, market research, software (including web and digital interface designers), and data science will grow.
And jobs for clerical, sales, finance, administrative and labor-intensive roles will decline.
Globally, digital marketing and strategy specialists will see more than 20% headcount growth in the next five years.
Fundraising and public relations will grow faster than the job market, and there will be double-digit growth to 2030 for market research and marketing specialists, computer and information system managers, editors and art directors.
Generative AI increases the productivity of higher-wage skill sets. Image generation software add speed and scale to the marketing process to lower the cost of creating content and reconfigure agency skill sets.
Higher-paid jobs most influenced by generative AI technology include editors, writers and authors, technical writers   and programmers.
"This suggests a coming inversion of the agency workforce composition, from legions of less-costly junior talent matched with senior managers to highly paid creator skill sets paired with generative AI assistants," says Forrester.
Aaron Kwittken, CEO of PRophet, and AI-driven SaaS platform for the PR community, says the fear and loathing phase has passed into curiosity and adoption. 
According to Forrester's 2023 data, 56% of US B2C marketing and advertising decision-makers (vice president or above) have already used generative AI in marketing, and another 40% are intrigued or exploring uses.
As a result, advertising and marketing use cases for AI and automation abound with, Forrester says, generative AI turbocharging creators and the creative development process.
The common uses include brainstorming creative concepts, authouring copy for campaigns, SEO keyword optimisation, versioning content designs and production assets, coding and script authouring.
AI-powered intelligence also sharpens media planning and activation.
Agency audience activation platforms, such as DEPT's Ada, GroupM Nexus, Havas Media Group's Converged, Omnicom Group's Omni, Publicis Groupe's Epsilon PeopleCloud, PMG's Alli, and Tinuiti's Bliss Point, each leverage machine learning models and (soon) generative AI authoring and knowledge management to power the audience-intelligence-based approach to media strategy and execution.
Have something to say on this? Share your views in the comments section below. Or if you have a news story or tip-off, drop us a line at adnews@yaffa.com.au
Sign up to the AdNews newsletter, like us on Facebook or follow us on Twitter for breaking stories and campaigns throughout the day.