This first appeared in the AdNews March edition. Subscribe here for your copy. 
Writing is an exercise in maybe. Maybe someone will read it. Maybe they won't. Maybe they will like it. Maybe they won't.
You won't know until words appear on paper (or pixels). And that's the thing — getting the words down, and in the right order. 
Sarah Bailey had always wanted to write a book and she set herself the goal of writing one by the time she hit 35. She was sick of talking about it and fantasising about it.
"I just want to do it," she told herself. 
Her first book, crime thriller The Dark Lake, was published the day after her 35th birthday in 2016. 
Bailey was appointed managing partner at VMLY&R Melbourne in February 2019. Her third book, Where the Dead Go, a crime thriller set in regional Australia, was published by Allen & Unwin less than six months later. 
Her first priority at VMLY&R was to hire 30 people in five weeks to work on the Defence Force Recruiting (DFR) account. 
"My initial task was to hit the ground running when the DFR contract began," she says. "The first few weeks I was here was just a total blur of speed-dating interviews and flying back and forth to Canberra trying to work out who was going to make this agency amazing."
The Dark Lake was a bestseller here, in the US and Canada. It won the 2018 Sisters in Crime Davitt Award for Best Crime Debut and the Ned Kelly Award for Best First Crime.
The Dream
Writing a book is a common one-day-soon desire in the advertising industry, many of whom studied the arts at university.
"I definitely know quite a lot of people who are writing books in the industry," says Bailey. "Once my first book was published, there was an influx of people who grabbed me at drinks saying, 'I've actually got this idea that I'd been working on'."
She studied media and communications at Swinburne University of Technology in Melbourne with journalism at top of mind. But to get a break into reporting, she would have had to work in regional Australia on a small country newspaper.
"I had zero interest in moving away from Melbourne back then and I discovered I really liked all the marketing subjects so I started to consider a different career path," says Bailey.
"I did an internship at the Herald Sun, at Channel 10 and then at a marketing agency, and I ended up liking the marketing more."
Story
The most used excuse for not writing is that there's too much to do carrying the weighty chains of daily life — the demanding job, family commitments, the dog who needs walking, the weeds excised — squeezing creativity into a cul de sac.
Bailey writes whenever she can: early mornings; over a coffee on the weekend; late at night; whenever she can fit in a burst of words.
"It is a bit of a messy, non-structured approach because it is more around fitting it in around what I do," she says.
Bailey writes without a detailed plan. "It's kind of in my head as a bit of a loose plan, but it's fairly vague with a start, middle, end, plus characters, a few key, interesting ideas," she says.
"I find that anything else that I do is just procrastinating. So it's better if I get writing and then it figures itself out as I'm going along.
"And then I edit. I go back and fix things, add in the clues and make the characters make more sense.
I spend a lot of time rewriting."
She had no idea how long a book should be but got to 100,000 words and thought that felt about right.
Holding all the threads
The size and complexity of a book means the entire story won't fit in your head at any one time.
It gets to a tipping point at around 50,000 words. It's hard to stand back and decide: "Is this working?"
Self-doubt, the nemesis of every writer, kicks in.
"It's a weird process because the art you are creating is so unwieldy and big," says Bailey.
She thought her third book was strong. "And then I had really quite brutal editorial feedback, which I found hard to address. And it wasn't because I was disagreeing with them necessarily, it was more because I was like, 'Oh, god, I just don't know how I'm going to do this'."
Bailey has liked the crime genre since she was a kid. She names Michael Robotham and, when she was young, Patricia Cornwell, who kicked off the forensic investigative crime genre.
"I read The Godfather [Mario Puzo] when I was nine years old and just loved that whole analysis of good and bad," she says.
"I find the psychology of crime really interesting.
"I think crime's got higher stakes. It challenges all of the human emotions. When I'm reading a crime book, I know if I like it or not." 
But Bailey believes her ability to be objective about her own work is low. She gets to a point in the writing process where she has no idea if what she has done is good or not.
"I don't actually think I'm that good at writing," she says. "I love it, and I think I'm good at storytelling, but I'm not strong grammatically or structurally. I have to work really hard at my writing. It drives me absolutely crazy, it's really hard.
"Whereas I'm really good with people and spreadsheets and management and presentations and selling and in relationships. Plus, I also get bored if I'm just writing."
Finding time
Too much time can take its toll. When Bailey took time off to write,
she struggled.
"I think I'm much better when I'm juggling lots of things and I don't get too bogged down in the writing stuff," she says. "I can just turn it on and off, do it for an hour and not sit there all day stressing about how it's not coming together properly."
Bailey started her career at DDB as an account executive and stayed there, working her way up to a managing partner over 13 years, including two stints of maternity leave.
She started working on a book in her last year at DDB and left to get it finished, using up eight weeks of long service leave, then went freelance before landing stints at Ogilvy and a production company called Mr Smith.
With a draft done, she went looking for a way to get the book published. She pitched to Lyn Tranter at ALM (Australian Literary Management), the first stop on her list of prospects (it started with the first letter of the alphabet).
"It was a very clean manuscript," says Tranter. "It also had an
absolutely fantastic opening. I went out widely with it as I had such faith in it and set an auction date."
The opening to the book: "When I think back to that summer something comes loose in my head. It's like a marble is bouncing around in there, like my brain is a pinball machine."
A publisher came back with a pre-emptive bid: "We really want to go ahead and publish this book and here's the offer."
A couple of weeks after that, the rights to the book sold internationally.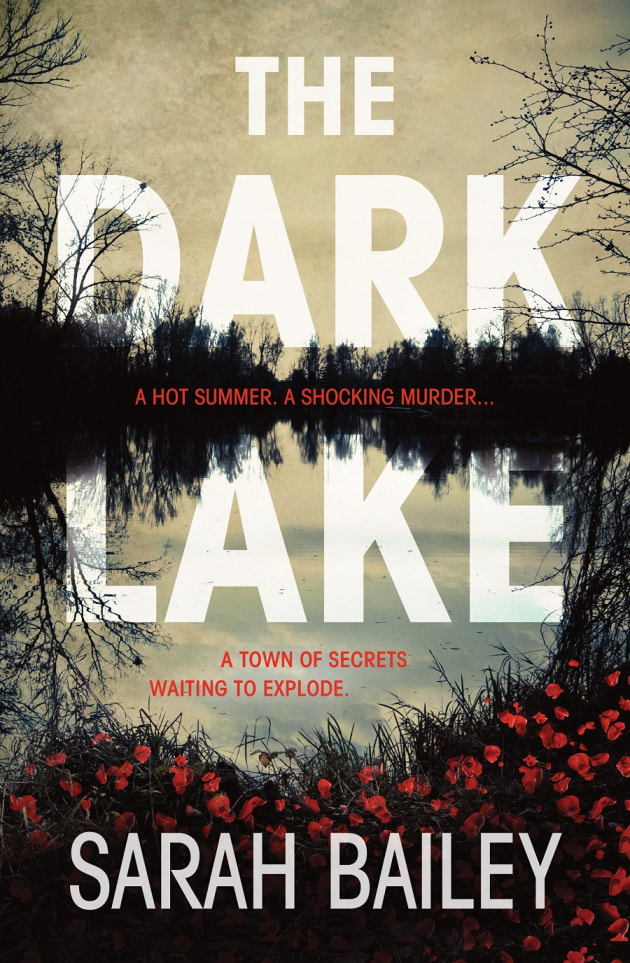 Tranter called: "The Americans want it, the English want it, but also they want another book in 10 months. Can you do it?"
Bailey said: "Yep, I can do it, let's do it."
She felt she had to say yes. "I'd already written one, so I guess I could probably make another one happen."
With the deal behind her, she thought the writing for her first book was over. If the publisher bought the book, they must love it. Right?
But she was told, "Yeah, we love it but we still need you to change
a whole bunch of stuff in it."
That can be frustrating. If you change one bit of a crime novel, with seven or eight subplots, then there's a cascading effect with many parts needing fixing and rewriting.
"If you pull out something, you have to check structurally that everything else still makes sense," she says. "I find editing sort of tedious but a rewarding kind of tedious, like undoing a massive knot in a necklace, which is frustrating, but once you do it you're happy."
The bestseller
The Dark Lake came out in March 2018, featuring Gemma Woodstock, a detective sergeant who investigates a murder whose victim she has connections to.
New York Journal of Books: "The Dark Lake is a thrilling psychological police procedural as well as a leap into the mind of a woman engulfed with guilt."
The detective is a complex character, something of a star, bagging her first serial killer early in her career. She is a good cop but her personal life has falsehoods, including cheating on her partner with a colleague.
The plot has layers upon darker layers. We read that Gemma knew her victim, Rosalind, at school. And it was as a teacher at the same school in rural Victoria that Rosalind became a victim. We are also told of Gemma's boyfriend from school. His death is a mystery to the reader.
The second book, Into the Night, also with Gemma Woodstock, materialised while Bailey was working a main job at Mr Smith. "It was a small production company with two great guys. We were running this little independent shop together. I worked with them and did the writing; that was a bit more flexible than a full-time agency management job."
The third book, Where the Dead Go, came out in August 2019.
The money
"Unless you sell internationally, it's really hard to make a living off just writing and selling books," says Bailey. "The market here is just not big enough. We're 24 million people, and the proportion of them who read regularly is not high. Then only
a percentage of them read crime
fiction, leaving a small universe of potential sales and audience.
"Everyone hears of the big
success stories but there's so few of them who make big bucks.
And then there's this chunk in the middle who have done really well and have international deals and make some decent money.
"After that, there's a crazy long tail of people who have written
a book and done all of the same amount of effort as someone else but they only sell a thousand copies and make nothing.
"I'm not at the top but I've sold internationally and I am in a fortunate position to have a series and people have read all three books."
The advertising industry pays well for those who've built a career. And, Bailey says, it's almost impossible to match that from writing books.
What next?
"I'm working away on another crime book," she says. "I've also got a contract with Amazon for an audiobook."
For an audiobook, the process is the same as print. "I just have to write a book they'll turn into an audiobook. Basically it's just a different distribution method."
Ben Naparstek, director, content Australia, Audible, says
mystery/thriller is one of the top three genres.
"It seemed like a no-brainer to commission one of Australia's leading new crime novelists for our Audible Originals program," he says. 
"Audible Originals are specifically created to be listened to and they build upon the 400,000+ titles we offer in Australia.
Inspired by the boom in audiobook and podcast listening, writers are increasingly publishing their work audio-first to increase their audience.
"Before joining Audible, I led the digital and content businesses for Edelman Australia, so I was excited by Sarah's commitment to a career combining agency-side brand marketing with writing for consumers of audio entertainment and novels." 
Have something to say on this? Share your views in the comments section below. Or if you have a news story or tip-off, drop us a line at adnews@yaffa.com.au
Sign up to the AdNews newsletter, like us on Facebook or follow us on Twitter for breaking stories and campaigns throughout the day.