Competition watchdog the ACCC crunched through thousands of pages of media industry submissions to produce an interim report of the digital advertising services inquiry.
One of the areas investigated was pricing.
"Stakeholders have raised concerns regarding the fees charged across the adtech supply chain, which affects the revenue received by publishers for their ad inventory," the report says.
"A significant amount of advertiser spend is clearly retained by adtech providers."
Based on information gathered during the inquiry, the ACCC estimates that on average fees for services directly involved in the trading and serving of ad impressions made up 28% of advertiser expenditure on display advertising impressions in Australia in 2019.
Here's the ACCC's current analysis: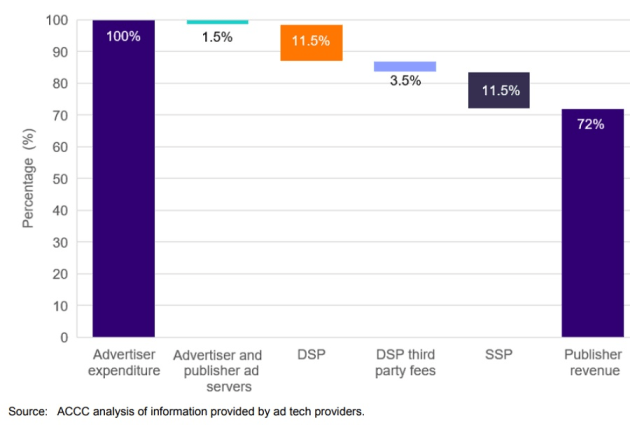 (DSP is Demand-side platforms such as Google Ads, Amobee, Criteo, Adobe, MediaMath, Amazon, The Trade Desk, Verizon Media, and Xandr. SSP is Supply-side platforms.Google is the largest supplier of SSP services in Australia. Others include Xandr, PubMatic, Index Exchange, Magnite, OpenX.)
The transparency of pricing has long been a heated issue. Who gets what fee and how much actually ends up paying for the ad spot itself?
"Price transparency can mean different things," says the ACCC.
"There is some publicly available information on the average level of fees, or amounts retained across the supply chain.
"However, fees charged by different ad tech providers can vary significantly by size and metric. Consequently, industry-wide averages, or historical point-in-time figures publicly released for particular products, do not allow advertisers and publishers to fully understand what happens with the ad inventory they are buying or selling.
"Advertisers do not know how much of their own advertising spend reaches publishers, and publishers do not know how much advertisers are paying for their own inventory.
"Greater transparency over fees or the total amounts retained at each level of the supply chain may also address concerns about ad tech providers retaining 'undisclosed fees' in the operation of sequential auctions.
"Advertisers and publishers consider that not having such information affects their ability to make optimal decisions about how to use ad tech services."
Among submissions to the ACCC, The Guardian considers that a lack of consistent, verifiable data means that it is hard to access basic information regarding transactions that take place within the ad tech supply chain.
SBS says "the lack of transparency in the ad tech supply chain is a key issue of concern".
The Australian Association of National Advertisers (AANA) says the "ad tech supply chain is currently opaque and unauditable and whilst it continues to lack transparency, the AANA and its members will be suspicious and guarded about its efficient and effective operation".
However, the Media Federation of Australia (MFA) says advertisers are very sophisticated and hard bargainers.
"The process whereby an advertiser engages and employs a media agency as its independent contractor is price-driven, highly competitive, granular, and information rich," says the MFA in its submission to the ACCC.
"We recognise that the buying process for digital display advertising can be complex and does necessitate layers of data and technology to assist the advertiser in making informed decisions.
"Media agencies can offer advertisers a choice of agency fee structures, based on their requirements. Advertisers often rely on advice from their internal and external procurement specialists and advisers in deciding which agency to choose and the preferred pricing structure and deliverables. "
The MFA says its Transparency Agenda, a program of digital marketing transparency aids and activities, aims to deal with concerns. 
"We have reached some critical milestones, but we see this as a work in progress because the market has been transforming rapidly and is relatively young," the MFA said in its submission. 
"The MFA is not only focused on negotiating robust frameworks on transparency and digital advertising practices but importantly also on embedding best practice across our members, equipping them with the tools and training to fully comply, and implementing measures to ensure compliance." 
Have something to say on this? Share your views in the comments section below. Or if you have a news story or tip-off, drop us a line at adnews@yaffa.com.au
Sign up to the AdNews newsletter, like us on Facebook or follow us on Twitter for breaking stories and campaigns throughout the day.