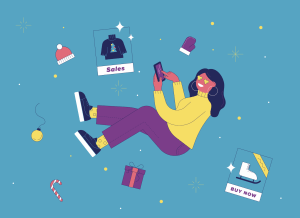 This year has seen rapid acceleration towards digital with much of the world moving online amid the COVID-19 pandemic. To succeed in this new normal, brands need to be front and centre where their customers are — on social media.
This holiday season, more than 70% of consumers plan to do more than half of their holiday shopping digitally and 50% of consumers say they will spend the same or more on holiday shopping than last year. So how can brands leverage social media as a tool to boost sales?
The state of social
Social media has transformed how people connect with one another and how they engage with their favourite brands. It has helped play a pivotal role in forging long-lasting customer relationships for brands that may have gone unseen in the physical world. This year has proven it has never been more important for brands to understand the dynamic relationship they have with their consumers across social media.
Recently, the social media advertising platform Smartly.io asked consumers globally what they like to see on social media and how social advertising impacts the way they view brands. The report found that 61% of consumers use social media to connect with friends and family.
As a result of the COVID-19 pandemic, more consumers are now increasingly likely to engage with advertising they see on social media than previously. Close to half (48%) of consumers stated the pandemic has made them more open to engage with ads from brands on social media.
Globally, 51% of consumers say social media ads have spurred them to make a purchase online. However, it is important for those ads to reflect societal norms and the times the world is living in.
Half of Australian consumers surveyed said they expect brands to show social distancing and public health messaging in their advertising. Money is less of an object for some Australians, with 51% admitting they have no spending limit for purchasing items from social media ads. This presents new opportunities for brands of all price points to garner the attention of their target audience. In addition, 28% of consumers in Australia would be most open to purchase clothing and apparel via social media in the next 30 days, meaning brands in this category should ensure advertising on the various platforms is part of their marketing mix.
The shift in CPMs
Understanding the shifts in costs per thousand impressions (CPM) is essential to succeeding in social advertising. This metric helps decipher return on investment for a brand's ads. So knowing when consumers are more likely to engage with an ad will see greater ROI.
The COViD-19 pandemic had a major impact on CPMs. In March, CPMs faced their biggest decline but have since been steadily increasing ever since, both globally and in the APAC market. They are now back to pre-COVID-19 levels.
CPMs are also increasing across industries. For example, retail CPMs are higher than what they were in January 2020, whereas ecommerce CPMs are slightly lower than they were at the beginning of the year.  Brands that stay on top of these trends will be able to better inform their own advertising across social media and achieve greater results.
How to succeed with social advertising during the busiest time of the year
Smartly.io has compiled a list of top tips to help you plan your social media advertising ahead of the busy Christmas and summer period.
Plan in advance
Start planning your advertising activities on time — now is a great time to start planning. Take a look at last year's social advertising campaigns to see what worked well and what didn't work as planned.
Use automation
Automation allows you to create on-brand ads at scale, turn static ads to video ads, adjust budgets, and more. With automation, you and your team will be able to allocate time to more strategic work and wave goodbye to time-consuming manual tasks. Automation helps you succeed at work and gives you more time to spend with the people you love during the holidays.
Stay consistent and creative
The world is visual, and brilliant creative is the most powerful performance driver. Winning advertisers produce as much as 11-times more creatives, and with more creatives at hand, it's easier to fight ad fatigue.
However, thumb-stopping ads that resonate with consumers require rounds of testing to know what works. Therefore, creative testing is key for long-term success. We have also seen that successful brands have their creative and marketing teams working closely together to see what works and what doesn't. During the holidays, it's crucial to stay consistent and true to your brand, but adjust your messaging and add seasonal elements to the creatives.
"Because of the COVID-19 pandemic, the world has increasingly moved online," says Smartly.io VP APAC Kevin Huang.
"Therefore, brands need to reach out to their target audiences in a highly personalised way.
"It is critical for brands to resonate with their audiences, especially with creatives, to succeed in social advertising during the holiday season — the most competitive season of them all."
Read the full report on how social advertising impacts the way consumers view brands at smartly.io.
Have something to say on this? Share your views in the comments section below. Or if you have a news story or tip-off, drop us a line at adnews@yaffa.com.au
Sign up to the AdNews newsletter, like us on Facebook or follow us on Twitter for breaking stories and campaigns throughout the day.