Australian SVOD Stan is launching a TV series reboot of Romper Stomper, its first ever feature film and a star-studded sci-fi anthology series based on Philip K. Dick's short stories Electric Dreams.
The line-up are all Stan Original series and compliment a growing and impressive catalogue of original shows, including critically acclaimed comedy No Activity, Wolf Creek and the soon to be launched Matt Okine comedy The Other Guy.
They were revealed at showcase event in Sydney yesterday, which included a preview screening of The Other Guy.
"Stan has had an amazing start to the year," Stan CEO Mike Sneesby said at the event. "We've got a massive slate of returning series coming later in the year. This content line-up is continuing to drive acceleration in our content line-up.
"Over the weekend, Stan has signed a new deal with NBC Universal, extending our partnership and strategic relationship."
Sneesby remained tight lipped about details of the extended partnership but did share one aspect – the return of Will & Grace will be coming to Stan exclusively.
Romper Stomper: David Wenham, Dan Edwards, John Edwards, Jacqueline McKenzie,
Toby Wallace and Sophie Lowe.
Romper Stomper returns
One of the new announcements that is sure to arouse the interest of local film and TV buffs is a TV series based on one of Australia's most iconic films.
Twenty-five years ago, Romper Stomper made headlines around the world by shedding light on hidden fragments of Australian society. It was the movie that made Russell Crowe a star, with his portrayal of belligerent skinhead Hando.
The six-part TV drama picks up on the prescient themes and story of Geoffrey Wright's 1992 classic film, following a new generation of the activist right, their anti-fascist counterparts, and the modern multicultural fabric of an Australia they are threatening to tear apart. It confronts the politics of hate and hard-right populism and how this is focused on Muslims.
"With such an extraordinary creative team, Romper Stomper will be unmissable television, as provocative now as the film was in 1992, examining at a personal level the hatred, fear, vengeance and politics hidden in plain sight all around us," Stan chief content officer Nick Forward said. 
"Stan is privileged to bring Geoffrey's prodigious talents to bear on a contemporary exploration of the themes his film tackled so brilliantly."
It stars original Romper Stomper actors Jacqueline McKenzie and Dan Wyllie. Joining them are Lachy Hulme, Sophie Lowe, David Wenham and rising star Toby Wallace. The series is due to premiere this summer.
The Second: cast and crew discuss details of Stan's first feature film.
An Australian first
The Second is Stan's first feature film and will run in cinemas for two weeks before being shown simultaneously on the SVOD. It is the first time an Australian feature film is being rolled out on the big screen and then exclusively on a streaming service to reach a wider audience.
The "sexy, smart, psychological thriller" is about two long-term female friends whose lives entwine in the pages of an elusive second novel. The author heads to her remote family property with her publisher to finish a difficult second novel. The arrival of an old acquaintance throws her plans awry.
The all-star cast features Vince Colosimo, Rachael Blake, Martin Sacks and Susie Porter, and filming took only 21 days.
Blake told the audience the partnership with Stan was an "amazing model" and leg-up for the Australian film industry.
"What's great is that it's an amazing model to liaise with Stan and be able to have films like this made and to be able to get these films into people's living rooms," she says.
"Our films don't necessarily live in theatres. It's great that we are moving in that direction....for me being in the film business and the arts it's about that collaborative experience."
Electric Dreams has an all-star Hollywood cast.
A dreamy new sci-fi
Philip K. Dick's Electric Dreams is a sci-fi anthology series of 10 stand-alone episodes set in unique worlds in far reaches of the the universe. Stan said that each of the stories takes a "poignant and warm exploration of the importance and significance of humanity".
The series features an all-star roster of cast, including Steve Buscemi, Anna Paquin, Timothy Spall, Vera Farmiga, Greg Kinnear, Essie Davies, Bennedict Wong and Bryan Cranston, who also serves as an executive producer.
Stan has co-commissioned the series in partnership with Sony Pictures Television, Channel 4 in the UK and Amazon in the US.
"Sony have been one of Stan's most important partners since launch, and we couldn't be more excited to be extending that relationship with our first international Stan Original Series, in partnership with Sony Pictures Television," Stan chief content officer Nick Forward said
"Phillip K. Dick's stories have resonated across generations, as relevant today as the day they were written, and with a world class team of creatives bringing them to the screen, Philip K. Dick's Electric Dreams promises to be a truly global television event."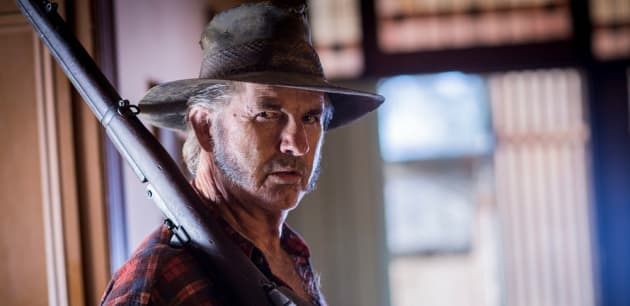 Mick Taylor has his eyes on a bus load of tourists in Wolf Creek 2.
Mick Taylor's 'smorgasbord'
Also screening soon is the second series of Wolf Creek, which sees Mick Taylor (John Jarratt) given the opportunity of a lifetime when he stumbles across a bus full of 13 tourists, his "lucky number".
At Stan's showcase event, Jarratt said of Taylor this series: "He's very shallow and bored in the outback and tourists are a lot more fun than kangaroos. There will be a bit of a smorgasbord for Mick."
Taylor returns to Stan in the summer.
The Other Guy is Stan's most imminent new launch, premiering on 17 August. The Matt Okine comedy (also written by Becky Lucas) follows successful radio host AJ Amon who unexpectedly finds himself back in the dating scene after a long-term relationship.
The show stars Okine as the protagonist and the hilarious Harriet Dyer as Stevie, AJ's wacky friend. It also stars Velne Kane, Marg Downey, Christiaan van Vuuren, Adam Briggs and Amali Golden. If the first two episodes are anything to go by, the show should prove a hit, check out the trailer below.
Stan has again upped the ante in the SVOD war and deserves plaudits for backing outstanding, original Australian content.
Have something to say on this? Share your views in the comments section below. Or if you have a news story or tip-off, drop us a line at adnews@yaffa.com.au
Sign up to the AdNews newsletter, like us on Facebook or follow us on Twitter for breaking stories and campaigns throughout the day.