SMI (Standard Media Index) has expanded its relationship with independent advertising monitoring company Big Datr, creating deeper data on brand advertising.
Big Datr has been creating brand-level ad spend estimates using SMI's exclusive media agency ad spend database for key product categories including automotive, banking & finance, telecommunications, insurance, superannuation, travel and education over the past four years.
But recent additions to SMI's product category data and further improvements in Big Datr's ad monitoring technology -- mostly due to increased use of automation technology and new algorithms -- has enabled Big Datr to broaden the joint venture service to all of SMI's 40 product categories.
"For the first time, we can now provide advertisers with access to competitor ad spend across all major media and media sectors for all of SMI's 40 main product categories,'' says Big Datr co-founder and director Avrill D'Costa.
"This also makes our service very attractive to marketers that demand more digital visibility and media companies as they can access more accurate ad spend estimates for any brand in all major media in market.''
To create the ad spend estimates, SMI provides Big Datr access to its premium category ad spend detail, giving real market sizing for ad spend across all major media and media sectors, including digital such as social, display and search.
Big Datr's core business is advertising monitoring, with its service able to track where, and how often, brands are advertising across all major media, including digital. Big Datr then overlays this onto the SMI data to create more accurate brand level ad spend detail.
Jane Ractliffe, SMI AU/NZ managing director, says the expanded service was an improved data source for media and marketing stakeholders requiring competitor-level ad spend insights.
"There's always a need to improve the brand-level ad spend data in the market and we believe that by providing Big Datr with an accurate base from which to derive the brand-level estimates we're delivering a more robust market solution,'' she says.
"And now that Big Datr can deliver the brand-level detail for all of the SMI product categories even more companies will benefit from these improved competitor-level insights."
D'Costa says Big Datr also amplifies the SMI data to account for advertisers not in the SMI data pool, such as large small businesses that don't buy their advertising through agencies or the few agencies not contributing to the SMI database. 
"The Big Datr and SMI teams continue to work closely together so we can seamlessly integrate the advertisers which contribute to each SMI product category, and when we see ads for other advertisers we compensate for these adjustments that take into consideration the ad placement detail, occurrence volume and seasonality; to create reliable estimates for their ad spend as well," he says. 
"Over time, we've become more efficient at processing the 2.44 billion data points each month and that has also been a critical factor in being able to expand the service to all SMI categories." 
The updated database enables users to understand the changing share of voice position of individual brands across all major media channels, and to track those changing shares in this challenging time. 
Big Datr also provides forward looking forecasts for all brand spend as part of this service that is now updated to fortnightly forecasts, having previously been released only monthly. 
SMI has recently added category client count and average spend data to its dataset, and Big Datr has used this detail to now create daily data updates in its platform. 
The new algorithm also takes into consideration volume of advertiser activity, discounting curves, seasonality and changes to brand buying power over time. 
An example of the new brand level ad spend estimates: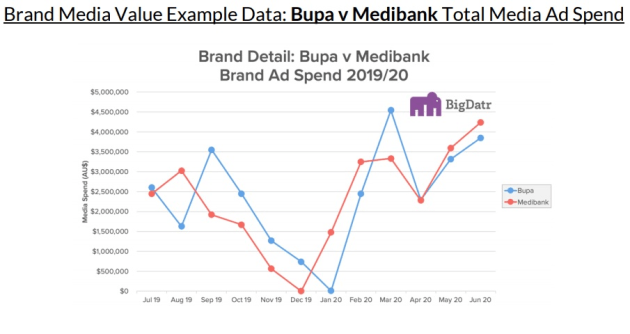 Have something to say on this? Share your views in the comments section below. Or if you have a news story or tip-off, drop us a line at adnews@yaffa.com.au
Sign up to the AdNews newsletter, like us on Facebook or follow us on Twitter for breaking stories and campaigns throughout the day.