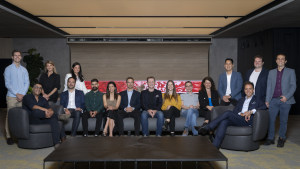 This first appeared in the January/February issue of AdNews. Subscribe here to make sure you get your copy.
The rise of the independent was never more prevalent than in 2020. As Australia's borders remained closed throughout the COVID-19 pandemic, locally owned agencies spun into the spotlight, proving to be agile and able to maintain the speed required to keep up with the ever-changing climate that has become the new normal.
While some may think it risque to start a new business in the middle of all of this, Simon Ryan saw an opportunity to offer local clients a one-stop shop that is wholly Australian owned. The former CEO of Dentsu Aegis Network Australia and New Zealand (now Dentsu) and managing director of commercial at Carsales launched RyanCap in the middle of last year.
Six months in and the parent company has around 30 staff and more than 20 clients across its two businesses, Ryvalmedia and Foxcatcher, in Melbourne. Aiding in its growth was the acquisition of indie digital media shop JBZ Digital.
Ryan tells AdNews that much of the parent company's quick success boils down to its local ownership and starting ahead of the curve, unlike its more traditional counterparts which are busy undergoing their own transformation.
"If you look at where the big parent companies are at, they're busy trying to transform their own businesses and are quite inwardly focused," says Ryan.
"We will start from where they want to end up, and I think where they will end up being, in their own sphere, is still scaled in some way or form to look after global clients. But I think local clients in Australia and brands that have autonomy to make local decisions will gravitate more towards independent owned businesses.
"The new global is local and clients are focusing on Australian agencies and/or Australian parent companies that can offer the solution in one shop.
"What I'm doing is taking the best of what I can see from a capability sense and bringing that together under an Australian umbrella. I don't need overseas approvals. I don't need approvals on anything from anyone else bar myself."
He describes RyanCap as similar to Sir Martin Sorrell's S4 Capital model but instead localised to the Australian market and comprised of three core pillars: media, tech and data, and consultancy.
"It's a unitary structure which gives us the opportunity to work not in silos but all work together," says Ryan.
"Whether it is media, tech and data, or consultancy, we're working hand-in-hand to ensure we're enabling clients to transform in the digital economy."
RyanCap's digital media business, Ryvalmedia, currently makes up the bulk of the group with the JBZ Digital acquisition being rolled into it and bringing both staff and clients with it as well. Led by managing director Joseph Pardillo, it was the first to launch in the group.
Marketing data and technology business Foxcatcher launched soon after with David Gaskill at the helm. Foxcatcher has a focus on customer data, digital ecosystems and convergence, aligning addressable media with CRM, direct-to-consumer (DTC) and ecommerce outcomes.
Ryan says opening a Sydney office, as well as a consultancy and advisory business are on his agenda. Down the track, an office in Brisbane might also be on the cards as he builds RyanCap's presence across Australia's eastern seaboard.
In terms of talent, Ryan says he is on the hunt for the right people who are "hungry" to be part of what he is growing, and who fit the calibre and culture of the team.
"I'm looking for anyone who's at senior digital capacity on the media side, tech and data side, and consultancy side," he says.
"We need to bring some more diversity to the team. We've got a little bit of diversity — if you look at our gender split, it's about 60-40. We've got a bit of maneuvering to do there.
"On the capability side of things, though, we've built good capability in Melbourne. Now it's about replicating that in Sydney."
The current Melbourne team has been working remotely since the launch of RyanCap, but is now set to move into its office this February. The office has been purpose built for the team and will allow for 50 staff. As the team evolves, Ryan says the building has more space to expand into.
Meanwhile in Sydney, the plan is to set up shop around March or April with a space that will allow for 30 people in its first year of business.
By the end of 2021, Ryan hopes to have somewhere between 50 and 100 staff, two offices and be generating between $100-$150 million in turnover with 30 to 40 clients. However, he isn't concerned with the size of those clients.
"A client, whether they spend a million dollars or whether they spend $40 million, they're a client and they're all just as important as each other," he says.
At the moment the business has clients across sectors including entertainment, retail and financial services. Ryan is hoping to grow into the automotive area as well given his background working at Carsales.
He also hopes the growth and expansion of Foxcatcher will open doors to new sectors for the business as well.
"While we've been quite successful in picking up a number of clients in the traditional sphere, we also want to attract digital economy clients," he says.
More mergers and acquisitions could be underway, too, pending the right fit of the business. Ryan says the businesses he is looking to acquire need to have digital capability. He is in talks with some already.
"I'm working with a lot of large consultants on those," he says.
"Due to my history, I have a pretty good relationship with the large consultants who are brokering a lot of these businesses. The good thing is they've been incoming calls, which is nice.
"I've also given a lot of the large consultants information and credentials on our business and what our plans are. So now we're seen as a potential acquirer as well."
Meet the Team
Joseph Pardillo - Managing Director, Ryvalmedia
Tell us about your role...
I see my role as navigating the way forward for the team by ensuring a future fit Ryvalmedia Melbourne office, and ensuring our people are best equipped and supported to be able to lead and collaborate with our client partners in the digital economy.
How does Ryvalmedia differ from traditional media agencies?
It starts and stops with the people, although the people alone component is not what differentiates us from the rest as I'm sure most media agencies would proclaim they have a great crew at the helm. However, from the outset Ryvalmedia was born with a blend of individuals who possess a DNA deeply rooted across digital, tech and analytics, who collectively are tuned in to help marketers either accelerate their in-house digital functions or provide holistic media consultancy that emanates from digital-first thinking. This, layered with our highly experienced executive team that has witnessed the traditional advertising space evolve rapidly, is what I believe positions Ryvalmedia uniquely.
What is the best part about your job?
Learning something new from the team, and being invigorated by the diverse tech-orientated talent who sit right next to me or are on the screen on our team Google Hangouts calls. I love the spark that Ryvalmedia has provided my career in not only the entrepreneurial aspect, but also absorbing new things from the bright minds across the floor — especially from the youngest members of our team — as we create new streams of business growth for our clients across our digital media, tech, content and analytic-based communications initiatives.
What are your top goals/priorities for the business in 2021?
To capitalise on our continued momentum off the back of a wild 2020 that thankfully saw us thrive amid the craze of the pandemic. We have aggressive growth ambitions in 2021 so one of my main priorities is to ensure our team infrastructures and talent capabilities are building in parallel to this. Above all is our relentless goal to well position our client partners for sustained business growth, in a period where they have all had to endure unprecedented headwinds and newfound opportunities at the same time.
Marcus Betschel - Head of Digital & Performance, Ryvalmedia
What does a typical day look like for you?
The only thing typical about my day is that there is no typical day! Throughout my career, whether working client-side at Flight Centre Group, Coles Group or in the finance sector, or within the agency world, I identified that working within digital always afforded the greatest variety of daily work challenges.
Currently, I find myself spending most days working as far ahead as possible — working with clients to plan ahead in key areas such as digital strategy, data collection and storage, as well as staff recruitment and training. In the same vein, we're always working ahead with key platforms and partners to ensure our staff training and development is the best it can be so we can continue to offer the best consultancy and execution for our clients.
How will digital and performance marketing change this year?
I believe rather than change this year, digital performance marketing will continue the evolution that has been at work for the past few years. The focus will be on understanding any impacts to digital platforms on the back of continuing updates to privacy legislation, as well as assisting clients who are trying to integrate their digital activity into wider marketing activity to ensure they are getting the most out of their marketing dollars and building as much data insight to plan for the future.
Isabella Jackson - Group Business Director, Ryvalmedia
Tell us about your role...
As group media director I would say my role is unique in that no day is the same. From pitching to onboarding, finance to mentoring, the list goes on! I am very fortunate to be able to dabble in many different areas and work alongside our fabulous team.
What attracted you to joining Ryvalmedia?
The opportunity to be a part of something from the very beginning doesn't come around very often. Ryvalmedia had a unique offering and a great group of people which made the decision a no-brainer for me. And, of course, the chance to work with Joseph and Simon again!
What are the biggest challenges clients face in 2021?
The challenge for businesses that thrived in the past 12 months is to maintain revenue trajectory and cement these behaviours (eg, ecommerce). On the flip side, businesses which struggled in 2020, such as hospitality and tourism, will be fighting to get back in the black in an extremely competitive time.
If you could work in another role in the business, what would it be?
I find David Gaskill's role as managing director of Foxcatcher hugely appealing because every time he walks out of a meeting, clients are left "wowed" with his knowledge and expertise in data and tech.
David Gaskill - Managing Director, Foxcatcher
Why did you join Foxcatcher?
I joined Foxcatcher because the industry is awash with expensive data and technology which go largely underutilised, and I wanted to help brands simplify and understand what really matters: their customers. Foxcatcher is an opportunity to take a fresh look at how we build this understanding and insight, and help clients deliver real world outcomes and success through connected strategy and execution.
What's the biggest challenge in your role?
The evolution of flexible working has transformed our industry, and there is no shortage of digital collaboration and productivity platforms we can harness, but it's about getting the balance right to integrate these into our working lives as second nature. In many ways, the opportunity to sit down with great clients and have a real-time feedback loop actually helps us be more efficient, so one of the biggest challenges of 2021 will be ensuring we harness the best of both worlds and get into a productive rhythm that continues to deliver creative business solutions for our clients.
How important is marketing data and technology for brands in 2021?
2021 will be a step-change opportunity for brands that get data and technology right. 2020 saw some of the largest transformations in consumer behaviour not only across ecommerce, but how we consume, research and interact with our friends and family. Businesses that take a strategic approach to learning from customers to unlock new insight and activations will not only establish the strongest brands, but position themselves to accelerate as the digital landscape continues to transform and reform in 2021.
Have something to say on this? Share your views in the comments section below. Or if you have a news story or tip-off, drop us a line at adnews@yaffa.com.au
Sign up to the AdNews newsletter, like us on Facebook or follow us on Twitter for breaking stories and campaigns throughout the day.