More companies are investing in out-of-home (OOH) than ever before leading the growth of the sector, however, larger brands are decreasing their outdoor budget.
The total spent by the top 10 OOH advertisers last year was $106.8 million, down 11.7% from the prior year.
The ten biggest spending categories, however, spent 4.2% more ($478.2m).
The numbers come from the Outdoor Media Association (OMA) 2016 annual report. There are more advertisers in the market, which has boosted overall spend. Net revenue increased 15.8% to $789.5m. This is largely due to an explosion of digital inventory as more static billboards continue to convert to digital, which can accommodate several rotations of ads on each panel.
Ooh!Media CEO Brendon Cook tells AdNews spending across the market has become fragmented as opposed to bigger brands dominating.
"There are more clients in the pool now so spending is going up, we have a broader client base than ever before in history as well as a broader base than the year before," Cook says.
Optus is the biggest spender in OOH on OMA's list, bumping up spending from $17.9m in 2015 to $18.5m in 2016. The telco has made a significant boost in outdoor expenditure since 2014, when it placed fifth on OMA's list with $13m.
Food and beverage group Lion, which owns beers including XXXX Gold, SuperDry and others, remains the second highest spending advertiser in outdoor, but decreased its OOH spending from $17.5m to $12.4m, a drop of 30%.
"There are always some advertisers in the sector that have challenges, for example beer spending is very different to what it was a decade ago, as big brand ads are now craft beer ads," he says.
The Commonwealth Government moved up to third highest spending on OMA's list, with $11.2m spend in an election year. This was followed by ANZ, NSW Government, Village Roadshow, Samsung and McDonald's. Of the top 10, Woolworths came in last on the list, spending $8.3m.
Retail remained the biggest spending category, spending $83.4m, up by $5.8m, while entertainment and leisure came second with a spend of $64.7m, up $8.5m.
Finance, communications, food, travel/accommodation and media followed respectively. Non-alcoholic beverages came 10th in the list with a $26.3m spend.
More digital boards, with more rotations, and a great number of brands advertising on outdoor, could lead to a more cluttered marketplace.
This sentiment was echoed in an opinion piece for AdNews by Posterscope MD Bryan Magee earlier this year, where he stated the need for third-party measurement amid continual digital conversions of screens.
"The increase in digital inventory brings the decrease in share of voice, and the potential for suppliers to increase their yields by ramping up the number of faces on a screen," Magee says.
Check out the top spenders below: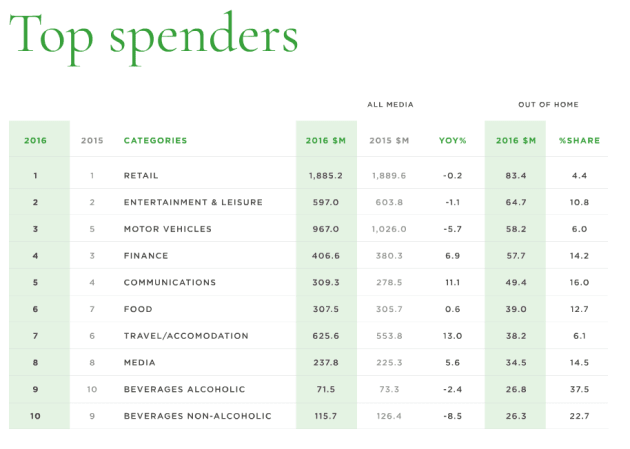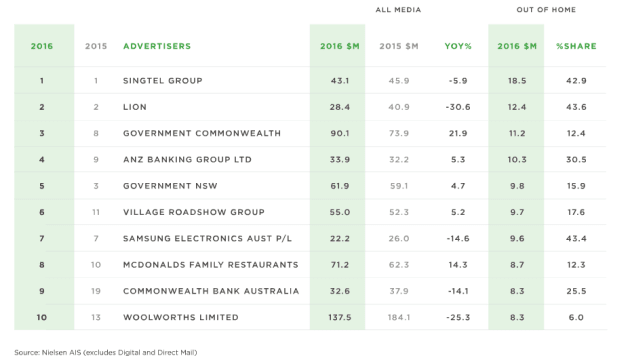 Have something to say on this? Share your views in the comments section below. Or if you have a news story or tip-off, drop us a line at adnews@yaffa.com.au
Sign up to the AdNews newsletter, like us on Facebook or follow us on Twitter for breaking stories and campaigns throughout the day.