Nike is launching its first major local market brand campaign in more than a decade, introducing the slogan 'No Turning Back'. The first ads will roll out tonight (21 June) during the State of Origin on Nine.
The campaign, which features a raft of Australian athletes from different sports and codes, has been developed to revive "passion and joy" for sport and competition.
The campaign was two years in the making starting off with an insights project that looked into the relationship Australian youth has with sport.
It kicked off some surprising findings around negative associations with competition in sports, explains Nike Australia marketing director, Brant Hirst.
Nike wanted its next push to address that and focus on getting young people back into sports and "inspire them to play like they have nothing to lose".
"The research was pretty telling. We discovered some things about our consumers' relationship with sport that really surprised us. The biggest thing was that young people were starting to feel an unhealthy pressure about winning and performance, not the old love of competition and spirit of sport that Aussies have always embraced.
"When we thought about what that might do to enjoyment and participation in sport in Australia, we felt we could take a leadership position to bring some of that healthy passion and joy back," he says.
"We're saying 'embrace that pressure'. Do what athletes before you have done, choose to go forward regardless, and we ended up with this call to action."
Hirst, who has been with Nike for seven years, says a locally-driven project has been a passion point for him, adding that 'No Turning Back' is a "long-term play" for the brand.
"The heritage of sport in Australia is something we've been really proud of, and we wanted to make sure that when there was the right moment in time, that we could take a leadership position around Australians and sport. No Turning back is a call to action for the young of Australia," he tells AdNews.
The campaign, which features athletes including tennis pro Nick Kyrgios, athlete Genevieve LaCaze, NRL players James Tedesco and Cameron Smith and soccer player Tom Rogic, will roll out across TV, outdoor, and digital as well as in stores. Hirst wouldn't name a dollar figure for the campaign, but it's likely to be significant considering it's the first major local push from the global brand in 10 years.
"We'll leave the dollars and cents to one side but it's the biggest thing the brand has done in a many years, and really rallied behind it."
Nike's investment in TV spots during State of Origin mark a significant media investment in FTA TV - something Nike hasn't done before in this market, he says.
One ad stars NRL fallback James Tedesco, who will be playing during the game for the NSW team. The "cheeky" ad shows Tedesco, putting himself in a position that puts on pressure, so he can make the decision not to turn back, explains Hirst.
The other features a female athlete driving out of Sydney, then pushing her car off a cliff to force herself to run back to the city.
Nike has also shifted its media mix and upped its investment in outdoor, particularly key outdoor sites such as the Sydney silos which is currently carrying a Nike ad, and Melbourne's MCG, because it drives a mass, mainstream conversation, says Hirst.
The final two TV ads in the series will roll out over the coming weeks as the campaign progresses.
The ads were filmed accross Australia and produced by Nike's global creative agency Wieden+Kennedy, Portland. However, Hirst says it's the first time in many years the the campaign has been developed in and by Australians "from the ground up". There were a host of Aussies that worked on the campaign at the agency, which meant they "really understood the nuances of our local market".
"We're always looking for the best balance of [global and local] work that means something, but this is 100% Australian work, from insight, through strategy and into production," he says.
"W+K have dome some of the best work in the world, and when it comes to Nike some of the most emotive pieces. We're really excited to have them work on it. We feel like we've got something that captures the Australian sense of humour and can cut through and be quite disruptive."
Locally Nike works with Mindshare on media, as well as a number of agencies for projects including R/GA.
The digital elements have also been designed to create a two-way dialogue and encourage fans to share their own 'no turning back' moment.
Nike will look to measure its impact in three areas: brand uplift, engagement with staff and customers, and commercial performance.
The OOH activation of the campaign has officially launched, popping up in high traffic commuter areas including Bondi Junction train station and bus stops.
Check them out here: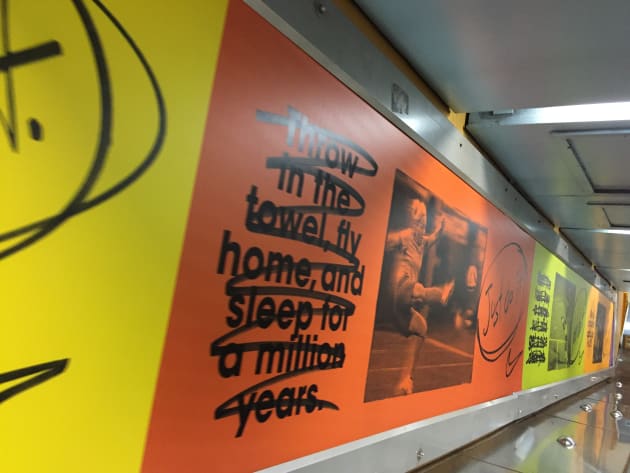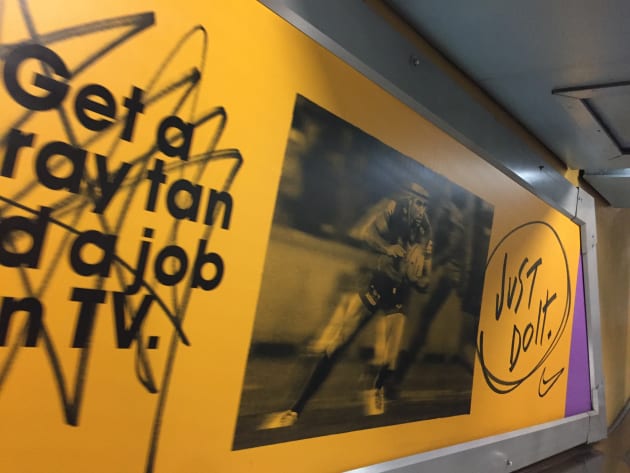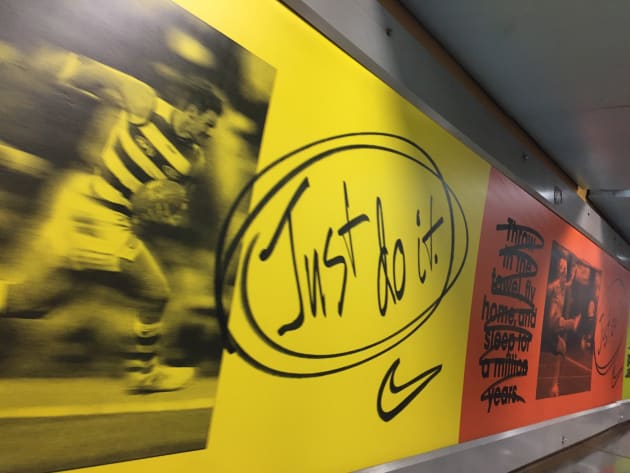 Have something to say on this? Share your views in the comments section below. Or if you have a news story or tip-off, drop me a line at rosiebaker@yaffa.com.au
Sign up to the AdNews newsletter, like us on Facebook or follow us on Twitter for breaking stories and campaigns throughout the day. Need a job? Visit adnewsjobs.com.au.