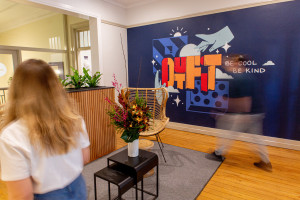 As companies continue to scale the amount of content they produce, this Brisbane-based tech company sought to help them keep everything on-brand. AdNews speaks to founder Bruce Stronge on how Outfit is bringing brand automation and efficiencies to enterprise companies.
Content is king. Each year it continues to reign supreme for brands looking to capture both eyeballs and dollars of consumers. However, as more content is produced, it is becoming harder for many businesses looking to maintain their brand identity in market.
This was the problem that software company Red Hat had begun to experience in 2013. At the time, the global brand manager had met with Bruce Stronge who owned a software consulting company. Stronge sought to solve this brand dilution problem for Red Hat, and in 2014 Outfit was born.
Outfit is a brand automation platform that allows teams to self-produce content on-brand and at-scale every time. It helps brands to produce, automate and deploy marketing material quickly and easily with the aim of saving money and time.
Since its inception, Outfit has grown to a team of 70 with its main office headquartered in Brisbane, alongside sales and customer success teams in the UK and the US. During the past year, it moved into The Barracks in Brisbane with a sprawling office to cater for its growing team.
Red Hat also remains as a key client, alongside big brands in the higher education and financial services sectors.
"University became our largest and our core vertical that we serve really well," Stronge tells AdNews.
"We've got probably close on 50 per cent of Australia's universities as our customers which is fantastic. Monash University and University of Sydney are still very happy customers five, six years later. We've replicated that successfully in the UK."
During the past six months, the company has worked with red brick universities in the UK, including Imperial College London, Bristol University and Durham University.
It has also begun to grow its financial services customer base. One client, Aussie Home Loans, went through a significant rebrand. Its challenge was to flawlessly roll it out while enabling more than 950 brokers to market its services and remain compliant to financial service regulation and the new brand.
Outfit helped Aussie's marketing team and brokers to create on-brand, compliant and localised marketing collateral for its retail stores and mobile brokers in minutes instead of days.
Since onboarding Outfit, brokers are equipped with a self-service tool that enables them to promote their services. The central marketing team is empowering the brokers while keeping the brand and regulatory compliance in check, and everyone is saving a substantial amount of time in the process.
Like many businesses in the past year, Stronge admits it hasn't been easy for Outfit but it has still achieved a lot for its customers.
"I think what we're proudest of is the lack of churn. We didn't lose any customers in COVID-19," he says.
"While we did grow our customer base, obviously the two years prior, we grew 100 per cent year-on-year in 2018 and 2019. Although that wasn't the case during 2020, we're really proud we've got a handful of some of Australia's iconic brands, including travel brands who we helped through COVID-19.
"And some of Australia's largest real estate customers who, again, we helped through COVID-19; helping them cut costs and spend and work more efficiently with the distributed team."
As their clients' teams started to work from home, Stronge says Outfit played a vital role in helping marketers share consistent and empathetic brand messages to customers at scale.
"Suddenly all their teams were working from home," he says. "So you've now got marketing teams at home going, 'How do we carry on working and how do we produce enough content and iterate our brand messaging?' Some of our customers asked us to do more personalised, empathetic messaging at scale to their customers during COVID-19."
Before COVID-19 really took over 2020, Outfit made some exciting moves. In February, Stronge managed to raise $19.5 million in funding from US venture capitalists Five Elms for the company's global expansion.
"I had been talking to Australian and US investors for two years," he says.
"Ever since we did our seed round in January 2017, I've been building up relationships and every week I'd be having meetings with Australian and US sponsors to make sure we found the right people going forward. I got to know them really well in the 18 months, and then they got serious and eventually invested.
"We're not looking to raise capital outside of Five Elms at this stage. Maybe in the future, when we do a large series B or series C, but they're incredibly well funded."
One of Outfit's core focuses for 2021 will be on expanding into the US with the help of Five Elms. The venture capital firm has previously helped tech companies from South Africa, France, Spain and other countries scale into the US.
Its other big focus will be the launch of its second product, Make.cm. Stronge likens it to Twilio, a developer-first communications API offering, except for creative production.
"It's Outfit's developer-first offering," he says. "We are offering to large organisations' development teams the tools by which they can scaffold their own brand experiences. So, the engine behind Outfit and all the power of Outfit we've wrapped up in elegant APIs for development teams to assemble in their own way. It's a less opinionated Outfit for developers to truly get the power."
Tim Brown - Head of Marketing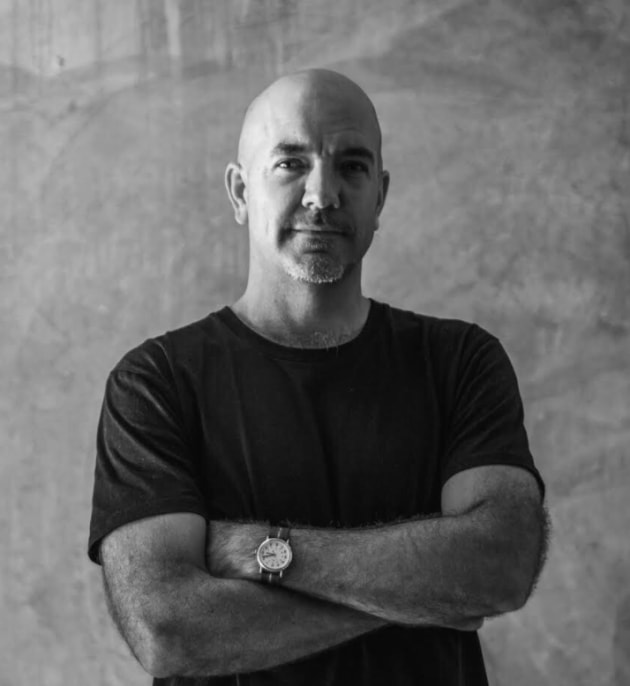 I work with a wonderful team to raise brand awareness across our three main geographies (US, UK and Australia) and to bring people and organisations who would benefit from what we offer closer to us.
Why did you join Outfit?
I have a background in advertising and brand agencies and I started to see brand automation not as a threat but as an enabler and the powerful tool it is not only for big brands but for forward thinking agencies too. When that internal mindset shifted for me I realised the potential and I had to be involved.
What are your top goals/priorities for the business in 2021?
World domination! We are making good progress in the UK with three out of its top 10 Universities on our books, increasing our presence there and in the US is important this year. We are also launching a new product this year in Make.cm so getting the word out about that is high up on the agenda. We are a lot bigger than we appear to be so a big priority for me personally is raising our brand profile so that we are recognised as the global tech company that we are now and not as the scrappy Brisbane start-up that is our legacy (a legacy that we are extremely proud of by the way).
If you could swap roles with someone in the company, who would it be and why?
I love my role at Outfit and I wouldn't swap it...but if I had to it would be with any member of our
tech team. The brilliance of their brains and what they achieve with them is something to behold.
Ash Ivory - Head of Product

As head of product I'm always thinking about what is going to move the needle for our users. I also do a lot of negotiation with many, many stakeholders.
How has your role in the company evolved since joining Outfit?
I haven't had just one role at Outfit, I've been fortunate enough to work in almost every area of
Outfit. This has helped me understand how all of my decisions as head of product now can help or hinder not only our teams but our end users too.
What are the big trends you are seeing in brand automation this year?
A trend that I think we will see for a while yet is not just personalisation but hyper-personalisation. With the deep data points that brands have on their audience, there really isn't any excuse to not be creating personal and meaningful content for your buyers.
How would you describe the Outfit team in Brisbane?
Creative but realistic, driven but empathetic, hard-working but ready to celebrate. Lastly a little bit obsessed with our customers.
Bridie Easton - VP Global Customer Success

All things customer experience and success. As with most customer success teams, we're dedicated to helping our customers achieve their goals with Outfit. My role involves working strategically to increase customer ROI and engagement, focusing on retention, expansion and contraction.
What does a day in the customer success team look like?
Our CSM's are multi-taskers at heart. Working fluidly between our product, customer delivery,
marketing and sales team's acting as the voice of the customer. My team manages all aspects of the customer lifecycle with Outfit. This includes engaging with customers through face to face meetings, conferencing calls, on-boarding and training, strategy and governance sessions and renewal discussions. At a high level, our CSM's are working towards KPIs and critical goals of retention and expansion, customer health and Outfit product usage.
What's the best part about your role?
Gosh, this is a hard question! I started my career in hospitality and marketing, so people have always been at the heart of what I've wanted to do. So at the risk of sounding predictable - the team and our fantastic customers are honestly one of the best parts of my role. This, and the extremely exciting industry I get to work in every day. The way marketing is changing with technology and how this shapes the way we service big brands to achieve their goals. Seeing
customers, ideas come to life, and making their teams more productive also feels pretty great!
Biggest achievement in your career so far?
I started working young, at 13 and dropped out of high school not long after. This gave me amazing insight and understanding of the world, which has absolutely helped me get where I am. I think, in general, my biggest achievement is my ambition and drive to achieve more than I knew possible. This has landed me in some fantastic roles, allowed me to travel and live overseas, but working at Outfit - and what I have helped the company achieve, is 100% my biggest achievement to date! I love start-ups, the energy they bring, and seeing Outfit grow into a scale-up, going from strength to strength makes me incredibly proud.
Andy Fitzsimon - VP of Strategy and Innovation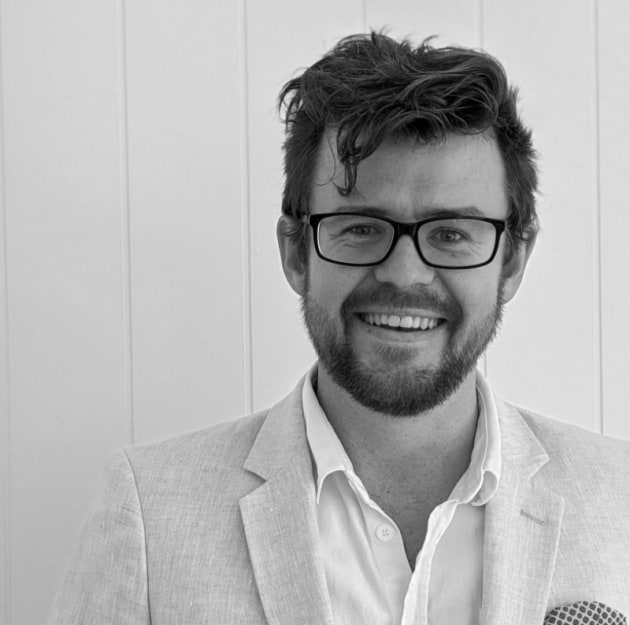 Qualifying the big leaps for Outfit; owning the risk and removing roadblocks for our talented teams. The innovation team does greenfield R&D with new products while I also perform a strategic advisory role. With the fortune of being Outfit's first customer, I keep the focus on what it takes to make brands successful.
Tell us more about the new product Outfit is launching…
Make.cm is taking the power of Outfit directly to applications and digital experiences. We host an API for software creators to generate the highest quality artwork from their web content. Make.cm is what every developer would want to build if they had more time to focus on asset quality and ease - so we made it for them.
What's the biggest challenge in your role?
Serving our customers' own applications with the same obsession we give to our customers' stakeholders. The world is becoming code yet visual tools remain what brands use to transact with people. When your services must operate without friction across 'people and process' as well as 'software and intelligence' - you have to take a holistic approach. Hosting a great ecosystem that can be many things to many kinds of workloads. Outfit remains ready for challenges as diverse as the brands we serve.
Words of advice for someone wanting a job like yours?
You don't have to have lived your ideal customers role but you must intimately empathise with them. Knowing how to code is an advantage, so is knowing productivity friction first-hand — never pretend a skill or experience is beyond you. Do the work, show the work and get ready to optimise with talented people.
Have something to say on this? Share your views in the comments section below. Or if you have a news story or tip-off, drop us a line at adnews@yaffa.com.au
Sign up to the AdNews newsletter, like us on Facebook or follow us on Twitter for breaking stories and campaigns throughout the day.