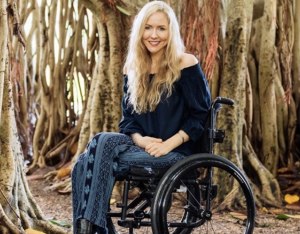 As part of International Women's Day 2021, AdNews is celebrating women in the industry. Here, Media Diversity Australia disability affairs officer Lisa Cox reveals her mission to educate and disrupt.  
Challenging and changing the representation of disability in mainstream popular culture is what I'm passionately pursuing - in collaboration with the individuals and industries or brands and businesses who share my vision.
I'm actively achieving this by fusing my professional background as an award-winning media professional, author and public speaker with my personal, lived-experience of disability. 
Rewriting the narrative around disability is what fuels my mission to educate and disrupt conventional discourses and create the sorts of change that has the potential to positively affect millions.
Reaching this point in my career has certainly not been easy. I was in my early twenties and loving my job as a copywriter in some of Australia's biggest advertising agencies, for national and international clients.
But all of that changed in 2005 when I acquired multiple visible and invisible disabilities from illness. I was in hospital for over a year (the first time) and then taught myself to type again so I could return to agency life - which I successfully did.
A new purpose for my skills
Unfortunately, my agency work had to end but I realised I could still put my skills to very good use.
Now I create visibility for disability in mainstream marketing, advertising and other popular culture.
I challenge the idea that disabled people shouldn't be seen here which also challenges society's attitudes and limiting beliefs about the disability community. Such as the assumption that disabled people cannot be happy, reliable, contributing members of society. 
Agency life prepared me for this challenge because, as a writer dabbling in brand strategy, you hear, "no" a lot and that's certainly something I hear a lot of today. Despite the challenges, I am seeing results that further propels me to keep going.  
Seeing both points of view
As both an experienced media professional and a disability advocate, I can see the issues from 'both sides'.
I understand why certain decisions are made in the newsroom or creative department but I can also see why it is problematic for the disability community – approximately 20% of our population. 
I love exploring new ways of doing things that don't exclude a large segment of the population.
A segment with spending power that businesses can't afford to ignore.
Collaboration is key in my experience and I realise it can be daunting for those who want to do representation well, without being tokenistic.
Understanding subtle nuances of representation can be difficult which is where I am helping business overcome this challenge. 
Coming out of a coma was an achievement but since then, some of my favourite achievements have include:
- Continued collaborative advocacy which has increased disability representation in some mainstream popular culture.
- Being selected to briefly pitch on the TEDx stage about why #visibilityfordisability is good for society and business.
- Appointment to the Just Sociale Board of Directors and becoming the first Disability Affairs Officer at Media Diversity Australia.
Have something to say on this? Share your views in the comments section below. Or if you have a news story or tip-off, drop us a line at adnews@yaffa.com.au
Sign up to the AdNews newsletter, like us on Facebook or follow us on Twitter for breaking stories and campaigns throughout the day.