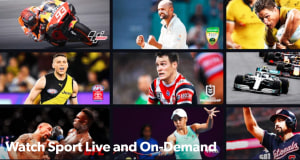 Media agencies praised Foxtel's new Xplore data platform and say there are opportunities for advertisers in opening up parts of the fast-growing Kayo sports streaming platform to non paying views
At a showcase virtual event, Foxtel Media launched Xplore, a platform for media buyers with data from more than 8 billion viewing events per month by Foxtel subscribers.
This will provide a deeper knowledge of audiences across platforms, a key benefit to advertisers, media agencies say.
Foxtel also plans to put some content in front of the paywall at Kayo, which now has 600,000 paid subscribers. This picks up, and keeps, those subscribers who sign up for a specific sporting season or event.
Mark Coad, CEO of IPG Mediabrands Australia, says the data is the focus.
He says having real-time data is exciting.
"But what is really exciting is when we can plan and execute against those audiences - delivering precision targeting to specific audiences at scale, and across multiple devices," he says.
"Foxtel's unique position is they can now combine the data of traditional viewership on their set top box with their online viewers in Foxtel Go/Foxtel Now.
"This provides them the scale to rival the big networks – plus they're armed with quality premium content across multiple screens.
"With Kayo added to this – we'll be able to get rich data on a large footprint by household and by vertical. It also means we can create deeper richer marketing campaign experiences with Foxtel consumers at scale.
"The AFL grand final is this weekend and you could see how brands could align with the rich consumer sporting experience be it from their TV all the way to the stadium on their mobile phone."
Peter Horgan, CEO of Omnicom Media Group Australia and New Zealand, says the data play is strong.
"Set top box data, linkage to household consumption and willingness to collaborate with agency data and insight stacks delivers potent potential," he says.
Sarah Tillitt, Interactive Director, OMD Sydney, says Kayo freemium and Foxtel Xplore will provide more short-term opportunities aimed at advertisers.
"By offering content in front of the paywall through Kayo Freemium, Foxtel are opening up opportunities for advertisers to drive incremental reach, both by advertising within the content aimed at non-Kayo subscribers, as well as likely driving increased engagement with casual subscribers," says Tillitt.
"Foxtel Xplore is an exciting new platform, looking to close the gap between digital and broadcast measurement and provide truly cross-platform views of logged in subscribers in a more granular manner than other digital/broadcast measurement solutions currently in market.
"Measurement across digital and broadcast has been highly anticipated by advertisers and the capability in this space is continuing to evolve.
"Based on the announcement, Foxtel Xplore could be a big step forward in this space and potentially provide advertisers with measurement and activation opportunities not currently available within premium broadcast content."
Paige Wheaton, Mindshare Sydney head of investment, says Foxtel's Showcase covered a lot of ground and was peppered with announcements from the get go; from innovation, to content and the continuation of their data transformation journey.
"We have come to anticipate great breadth of programming from Foxtel and what was most exciting was their continued focus on innovation," says Wheaton.
"Undoubtedly the depth of Foxtel's data is rich, and the introduction of the Xplore platform unlocks great potential for our clients.
"While we may have thought celebrity appearances at Upfronts were no longer in this virtual environment, the surprise interview with Nicole Kidman captured the premium content moments Foxtel continues to deliver."
Mat Linnett, Wavemaker senior director, investment & activation says Foxtel packed a lot into the one hour showcase format.
"The standout for me as a media nerd was the unveiling of the Foxtel Xplore data platform," says Linnett.
"Whilst buyers have been working with deeper segmentation and behavioural data in TV for a while now, which was revolutionised by Foxtel in the first place with Multiview, Xplore marks the first product of its kind that will provide agencies greater control over mining those valuable viewing insights in unprecedented granularity.
"The applications of these insights may very well extend beyond the screen- indeed Foxtel's timely 'Christmas present' as agencies and clients are working through 2021 plans."
Overall, the showcase presented a confident group in Foxtel.
"There was a refreshing theme of renewal throughout the presentation and the team had plenty of proofpoints to demonstrate the direction that Foxtel is moving in," he says.
"From new hardware capabilities to refreshed legacy channels to attract younger audiences, or a new era of must-watch drama post-Game of Thrones backed by HBOMax as well as backing premium local productions with Wentworth and End.
"Moving some of their sport content in front of the paywall on Kayo was another sign of the original subscription service provider's willingness to try new things in a changing world of video consumption.
"(CEO) Patrick Delany's reframing that subscribers choose to 'pause' rather than cancel their service is a mindset that will hopefully provide long-term growth for Foxtel and deliver more of those harder to reach male audiences for advertisers.

"Foxtel have put some big wins on the board particularly in holding their ground in securing rights to two of their high value content partners in BBC and Warner. In an ever-increasingly competitive global market for quality content among the streaming giants, these deals will ensure Foxtel continues to compete for eyeballs in years to come.
"Binge is the another major highlight, the group hasn't held back in delivering value to customers and monetising their content to a slew of non-Foxtel buyers." 

Have something to say on this? Share your views in the comments section below. Or if you have a news story or tip-off, drop us a line at adnews@yaffa.com.au
Sign up to the AdNews newsletter, like us on Facebook or follow us on Twitter for breaking stories and campaigns throughout the day.