Sponsored: This article is part of a series profiling influential figures in the media and advertising industry in partnership with The Newspaper Works. It first appeared in the 15 May issue of AdNews. Download the page here: Katie Rigg Smith: Masters of influence
For Mindshare CEO Katie Rigg-Smith, influence must be balanced with a clear vision and responsibility. A sharp contrast from power and ruthless ambition.
When appointed to the top job in 2013, at 34, Rigg-Smith was the only female CEO of a major Australian media agency. This year, outgoing GroupM Australia chairman John Steedman set a quota to have women in half of all the company's senior management positions. Rigg-Smith says her badge of honour is rising through the ranks over 16 years and maintaining her integrity while doing it.
"I started as an intern and I've managed to move through the agency structure to CEO while remaining true to my core, to who I am, not pissing people off along the way – just genuinely managing – because it's difficult to get promoted over people that you know and love," she says.
She describes an influencer as someone who uses "position to do good or spearhead change for those around them", compared to the old style of managing from an ivory tower.
"You can't just boss people around, you have to lead them through influencing them because they buy into
you, they respect you, they understand your vision and that takes a lot of hard work – and you have to make sure you continue to feed the culture in the agency," says Rigg-Smith.
On the other hand, she believes the word power doesn't have as much positive connotation as influence. Her day-to-day work sees her working alongside staff and using coaching and reverse mentoring to understand their roles.
Rigg-Smith has been lauded as a role model for women in the industry, but her focus is all-inclusive. Improving conditions and the career path for women in the ad industry is high on her agenda, particularly so women can reach the upper echelons of
management.
But she emphasises that men need to be involved in the conversation, rather than being treated "like the enemy". "You've got to remember these guys are husbands, fathers, sons and the new generation of men coming through are used to working for stronger females as well, and their own mums are doing things.
"So I'm very determined that we engage men in this conversation as well."
Having started her career at Mindshare at the age of 20, Rigg-Smith has witnessed the dramatic changes in how people consume media.
"Potentially we're all a little cynical about things we read on the internet or hear in other media – but the oldest and most credible channel is, of course, something like print." For print to adapt and survive, however, she says it must be part of the overall brand, which is where the opportunities lie.
"If you think of different channels be that a mobile application, a website, a social conversation or an event. When you add all of that together, there's something really interesting," explains Rigg-Smith.
On a broader level, Rigg-Smith believes advertising impacts society by reflecting culture and challenging the status quo and plays a role in creating conversation in the public sphere. "It's the conversations that people have about the brand that are the most powerful thing, so how you seed – and we talk a lot here about how you place your brand in a really relevant conversation – can also leverage or impact that brand or word of mouth."
Considering the potential cultural impact of advertising, the most influential form of advertising is something that gets people talking.
"Word of mouth links to every channel if you can use the channel well: be it print, be it television, be it out-ofhome, be it online. "Whatever it is – if your brand campaign touches a bigger cultural trend and talks to something that means something to society, you will get word of mouth," she says.
For someone who constantly strives for improvement, Rigg-Smith pinpoints Mindshare's Wellbeing Program as a major professional achievement, while on the personal front she aims for a well-rounded life and channels her creativity into painting canvases. The Wellbeing Program includes an hour off for staff, each month, for their individual wellbeing and what they do with it is collated so the agency understands staff needs.
"The difference in the energy in the agency on the days we do it is phenomenal, and the benefit to the client is phenomenal because they've got people who are rested, people that have got sharper wits about them," Rigg-Smith says.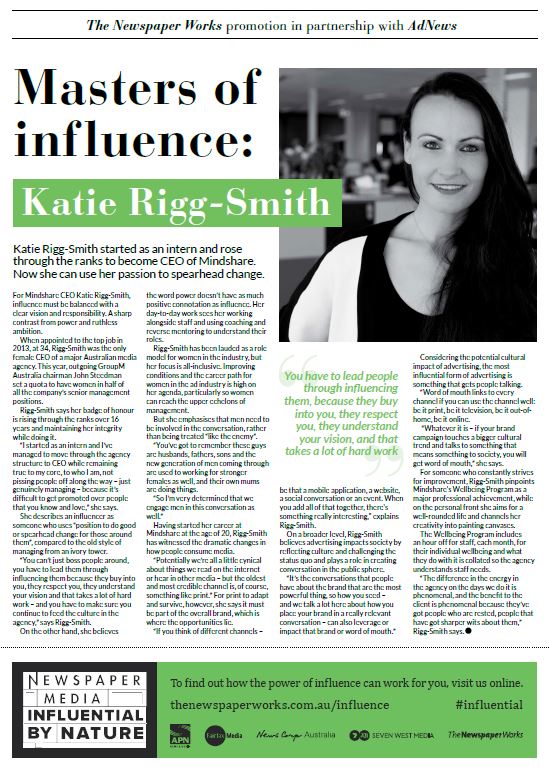 Have something to say on this? Share your views in the comments section below. Or if you have a news story or tip-off, drop us a line at adnews@yaffa.com.au
Sign up to the AdNews newsletter, like us on Facebook or follow us on Twitter for breaking stories and campaigns throughout the day.