This first appeared in the May/June edition of AdNews. Subscribe here to make sure you get your copy.
The way advertisers track and target consumers is about to get a lot more complicated without third-party cookies. AdNews looks at why they are disappearing and what comes next.
Third-party cookies have been critical to online advertising, credited with fueling its growth over the years, so their demise has been described as the most significant shakeup the industry has seen. "The online industry has been operating and relying on cookies and now all of a sudden after two decades it's all about to go away," says MediaCom head of digital Minsun Collier.
"It's one of those things that we all need to get to. It's also an opportunity to get best practices into the digital advertising world because some things have been questionable so it's a great time to pivot and be able to do some really good marketing."
Third-party cookies, which track users for targeted advertising, are to be phased out by Google in 2022 in the name of user privacy. To keep digital advertising, which is estimated to be worth US$400 billion globally, tracking along there's been a long list of alternatives from industry players, including Google, Oracle, Liveramp, and more.
The beginning of the end of third-party cookies began in 2017 when Apple blocked the cross-site tracking of consumers on Safari with its Intelligent Tracking Prevention (ITP) tool. Apple is set to turn on its ITP tool by default in late April, with consumers having to opt in to cross-site tracking. Other companies made similar moves, with Mozilla Firefox also turning on its Enhanced Tracking Protection by default on its browser for all users in 2020. In January 2020, Microsoft released a new version of its browser Microsoft Edge with new privacy tools, including a choice for users to choose between three levels of third-party cookie blocking.
Given that Google Chrome has a significant share of the supply of web browsers globally, including an estimated market share of 63% of desktop devices in Australia according to the Australian Competition and Consumer Commission (ACCC), its announcement early last year that it is phasing out third-party cookies by 2022 spun the industry into a frenzy. And unlike the other big players, Chrome wasn't giving users the ability to opt in to third-party cookies, instead it was phasing them out completely.
"It's ultimately a change for good," says IAB Australia technology lead Jonas Jaanimagi on the plans to phase out third-party cookies.
"We had pushed cookies out too far, they are too ubiquitous and actually quite amazing in their own way in terms of the ability and the fluidity of them - but they are not secure enough. They are little text files that sit on machines, they were quite leaky, it was not a clean match all the time."
"So, it's time for a change. It is good for the industry and it's obviously good for consumers because there's almost a version of what feels like surveillance that takes place to do really well-run advertising and it shouldn't. That whole thing needs rethinking - as benevolent as it might be - and that's what's happening."
First-party cookies, which are placed by the domain a user is visiting, often collect information such as login details and language settings and are used to improve the user's experience. These won't be disappearing under Google's changes.
Third-party cookies, on the other hand, are placed by domains to track users as they browse other sites, gathering information for targeted advertising. These cookies have been under heavy criticism over the years because of their invasive nature, with many users often unaware of how ubiquitous they are.
Many experts argue that regulatory bodies around the world would have pushed big tech in the direction of phasing out third-party cookies anyway, noting Europe's GDRP laws which meant users have to give consent to which cookies they want activated.
"You could say that ultimately the legislative pressure that we have seen globally and the drive to put consumer privacy at the core of everything has led to them [tech companies] making these decisions," Jaanimagi says.
"And they have made it early enough so that everyone can test it and get their hands dirty with it. And it just reiterates that privacy-first position."
As a result of their demise, there's been a 'Space Race' to find effective solutions to working without third-party cookies from industry players, particularly adtech companies whose data gathering abilities will be impacted by the changes.
According to analysis by marketing trade group MMA Global and Prohaska Consulting, there are 80 identity solutions alone in market as of April this year. But while there are plenty of solutions being put forward, experts agree it could take years before the market reaches a consensus on the balance between marketers' and consumers' needs.
"I think we're seeing a Space Race," says Ryan Boh, Oracle product strategy lead, activation and identity. "Now that cookies are gone, what are the customer-centric identity solutions that are going to persist?
"We should expect a smaller scale with those newer identity solutions because it takes a long time for publishers to adopt them. Therefore, alternative targeting methodologies, such as contextual advertising or combinations of audience solutions and contextual techniques, will probably be leveraged post-cookies being deprecated and in between now and then, there's going to be a lot of stakeholders trying to test all the different options on the table today while there's cookies available to help ensure that the proposed solutions are working or not working."
Google added more disorder to the end of third-party cookies when it doubled down in March this year that once third-party cookies are done with, it would not build or support alternate identifiers to track individuals.
Google claims that they aren't a sustainable long-term investment because they don't meet consumer privacy expectations or stand up to evolving regulatory restrictions.
Instead, Google has proposed a handful of alternatives, through its Privacy Sandbox initiative, that will individually do the different jobs of third-party cookies.
"Cookies were fantastic and they served a great purpose with the industry for a long time," Google APAC head of privacy Jess Martin tells AdNews.
"But because they had so many use-cases, you couldn't isolate what you needed them to just do and then we were using them for methods beyond their original purpose, such as opaque tracking or fingerprinting.
"So now the intention with Sandbox is for the industry to work together and say, 'Okay, what specific use-cases do we need, and what do we develop to solve for that instead once cookies have been deprecated?"
Within the Privacy Sandbox are proposed solutions for functions such as remarketing, fraud detection, measurements, as well as tracking,which will be done through a proposal Google is calling FLoC (Federated Learning Cohorts).
FLoC groups individuals in large cohorts based on a similar browsing history. The users are anonymised so that advertisers will be able to show ads to the cohorts without accessing any data that will lead to the individuals being identified.
According to the current proposal, a person would be in one cohort at a time which resets every seven days. So while it's still ad targeted based on users' online activity, now the data will be kept on users' devices and only information about the cohorts will be shared with advertisers.
FLoC is still in the initial testing phase on a small number of users in Australia, Brazil, Canada, India, Indonesia, Japan, Mexico, Tel Aviv, and New Zealand. Martin says the general number of people in a group would be in the thousands.
Google claims that advertisers can expect to see at least 95% of the conversions per dollar spent when compared to cookie-based advertising.
So far, media buyers are confident in Google's ability to perform and protect user privacy but some still have questions over how transparent Google will be with users.
"There are a number of question marks right now on whether it's truly privacy-compliant based on what the industry and what the government are trying to do," says MediaCom's Collier.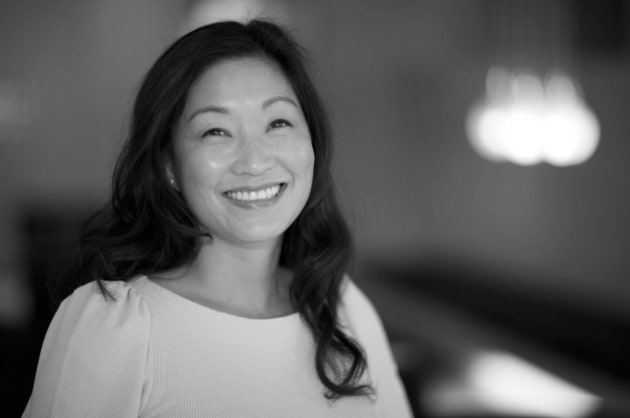 MediaCom head of digital Minsun Collier
"And from my personal opinion, if we look at the iOS 14 update, it's to give control back to the users, letting them know what is going to be captured and what data is going to be protected.
"While Google, I'm not sure how much choice users are going to be given. Whether they can choose to opt in or opt out when it comes to their data being used for advertising purposes."
Martin says that new alternatives within Privacy Sandbox will be giving users more control.
"This is being held at a browser level that is resettable, which means user information is not being shared with advertisers, or publishers, or others," Martin at Google says.
"So we're seeing less information being collected and we're seeing that people can reset and have control over that. When I think about the erosion we've seen in user trust, we know that it's essential to meet people's expectations in terms of how digital advertising works, so from a privacy point of view, things have changed.
"We need to enable people to have that choice and transparency and reassurance around security. So I think these proposals are doing that."
Google's plan to phase out cookies has caught the attention of the ACCC because of its potential impact on competition, particularly on adtech firms whose access to user data will be restricted.
In its interim report for its Digital Advertising Services Inquiry, the ACCC found that while Google blocking cookies and limiting access to unique identifiers may be motivated by privacy and data protection goals but may also "impede rivals' ability to compete effectively in the supply of ad tech services".
"Google recently announced that it would phase out support for third-party cookies on its Chrome browser within two years," the report says.
"This is likely to significantly impact the ad targeting functions of ad tech providers, and may increase barriers to entry and expansion as it could become more difficult for new entrant DSPs and smaller existing DSPs to collect data for targeted advertising.
"Similarly, data providers, that would otherwise sell data to DSPs for ad targeting, would also be impacted (to the extent that they use third party cookies to collect data)."
Other players also weighted into the inquiry, including News Corp Australia, to warn that any moves to improve privacy for users should not risk reinforcing a dominant data collecting position for Google.
Free TV argued the blocking of third-party cookies will "lessen competition" in the supply of ad tech services by foreclosing rival adtech providers' access to data. The industry body also warned that the move to block third-party cookies risks cementing Google's position as the "data gatekeeper".
Concerns aren't just being raised in Australia. Last November, a group of online advertisers made a complaint to the UK's Competition and Market Authority (CMA) requesting a delay to the launch of Google's Privacy Sandbox proposals, arguing it will reduce competition and entrench Google's market power in online advertising.
In January this year, the CMA announced it would launch an investigation to assess whether the proposals to remove third-party cookies, and other tools, from Google's browser could cause advertising spend to become even more concentrated on Google's ecosystem at the expense of its competitors.
Meanwhile, adtech companies who say they have seen the end of third-party cookies coming, have been pushing out their alternatives.
Liveramp has had its Authenticated Traffic Solution (ATS) out since May 2019. The identity solution has rolled out to more than 340 publishers worldwide, up from about 30 just over a year ago, across the US, UK, France, Italy, Spain, Germany, Japan, and Australia. Liveramp also says that more than 25 Supply-Side Platforms and 45 Demand-Side Platforms have adopted its ATS.
"[Google's] announcement demonstrates that there's a crucial importance of first-party data and developing strong direct-to-consumer relationships is important," says Liveramp AUNZ director of addressability Louise Exton.
"And that's something that LiveRamp has long been talking about. So, Google are already using the people-based identity for the most valuable inventory, which is Search and YouTube. And to remain competitive, other publishers should do the same and maximise their authentications. So, LiveRamp's focus remains the same, which is putting consumer privacy first and foremost."
Liveramp AUNZ director of addressability Louise Exton
Meanwhile, Boh at Oracle says the business is still working out how it will be able to work with Google's updates.
"We're merging our martech and adtech suite and I think that's important because we've been developing our customer data platform, and it appears, based off of Google's announcements with FloC, is that they will still support first-party data workflows.
"So hopefully, as we try to test the integrations with FloC, we'll be able to understand how those workflows will transpire and then based off of what I know with what Google has said publicly, we intend to work with them on that."
Boh says being unable to leverage traditional third-party data with FLoC will be a setback for players across the industry.
"This isn't just a setback for Oracle, I think this is a setback for a lot of organisations," he says.
"For us, we still have our contextual intelligence, which is the contextual advertising suite that we can rely on. We still intend to leverage third-party data that's not based on cookies, and we're exploring partnerships across the industry to help with the identity connections that are going to be required to work with other DSPs that will support third-party data activation.
"I think we're moving into a season where if you're a data company and your business was built on third-party cookies, there's a good chance that going to have a tough time."
The Trade Desk has its identity solution Unified ID 2.0 as another contender to help replace third-party cookies, and InMobi has launched its UnifID.
Meanwhile, Verizon Media has launched its unified identity solution, Verizon Media ConnectID, to help advertisers buy, measure, and optimise ads while enabling publishers to manage, monetise and navigate audiences without third-party cookies.
"In its current state, the internet is broken and it is a multi-billion dollar problem," says Verizon Media AUNZ head of data Dan Richardson.
"It's broken for brands who invest in digital ads but can't identify their customers across devices, or which media placement is actually driving their online conversions. It's broken for consumers who continue to receive the same ad, or the wrong ad over and over again, despite handing over their personal information or browsing behaviour. It breaks trust for the consumer who fails to see value for their data, and devalues the brands reputation and investment."
Another big shakeup that's coming to tracking is Apple's App Tracking Transparency feature. This will force apps to ask for permission before tracking users across apps and websites and is set to be rolled out in late April after being delayed from last year.
If users opt out, Apple won't share their Identifier for Advertisers (IDFA). This move has many concerned with surveys indicating the opt out rate could be as high as 60%.
Other functions, such as measurement, that IDFA has allowed before could be threatened by the update.
Some media buyers are predicting that Apple's opt-in requirement will likely impact performance around 10-15%.
Ad-funded apps, including big players such as Facebook, will be impacted by this move given Apple's dominance in the market.
Facebook initially publicly criticised Apple for the move, taking on full-page newspaper ads in the US last year hitting back. The social media giant accused the update from Apple would force websites and blogs "to start charging you subscription fees" or add in-app purchases due to a lack of personalized ads.
More recently, Facebook has said it acknowledges that the way digital advertising collects and uses data will evolve.
"While we have expressed concerns about Apple's approach, we support giving people more control over how their data is used to improve advertising relevance," the company said in a statement on April 21.
"Toward this end, we are investing in new approaches to privacy-enhancing technology and building a personalized advertising ecosystem that relies on less data, while helping to ensure a level playing field for both large and small businesses."
With all the changes around how users will be tracked, the lasting impact this will have on digital advertising isn't clear. However, media buyers agree that brands need to get their first-party data in order.
"It will be years until the market reaches consensus on the technology, and methodology, to achieve balance between marketers and consumers from a tracking perspective," says MightyHive Asia Pacific director of data analytics Jakub Otrzasek.
"It is an iterative process with some marketing tactics lost or becoming no longer viable.
"Many marketers have built out a strong practice in direct data tracking by leveraging personalized identifiers, but the overall digital advertising ecosystem is shifting and requires brands to play a more active role in fostering engagement and connection with their consumers.
"Data is being exchanged, not captured. Effectiveness is becoming more probabilistically modeled and less directly tracked."
Meanwhile MediaCom's Collier says that the changes will affect different advertisers in different ways and that there won't be a one size fits all solution for the marketers to replace cookies.
"There are many things that are being sorted out but while that's happening it presents an opportunity for us to also look at what we have been doing," she says.
"Should we be continuing to try to do the same thing with a different solution, or is it an opportunity to reassess how we manage the budgets and how we manage our focus and marketing goals.
"I think it's time to consider how we might do it differently, how we can start to help brands tell better stories. So that means that conceptual targeting and being contextually relevant with the right message can be powerful. There could be ways to test whether the data targeting is more effective for business results versus more broader targeting, which actually might work better. So I think it's time to test that and see what happens."
Other media buyers are also signaling a rise in contextual targeting as a result of the demise of third-party cookies.
"Contextual advertising will rise, by how much I can't say," Collier says.
"Big scale advertisers have been constantly focusing on contextual as well as audience targeting in the first place. I think what's going to be important is to think about what message you're putting in, I think it's time to also look at how you're going to build your brand amongst those contextual environments because media alone can't achieve the best results.
"There are a lot of stats going around with 50, 60% of marketing effectiveness is about the message. So, I think it's time to also assess how the marketers are considering how they allocate their resources to brand-building and creative as well as media."
​As a sign of the boom that's expected to come, Goldman Sachs invested a reported US$75 million in contextual advertising technology company GumGum.
"There's talk about the return of contextual targeting as being one consequence of these changes and people are quite welcoming of that. It's almost like a return to simpler times," says Frontier Australia head of digital Paul Freeman-Sanderson.
"I think that will be a growing consideration but in a more sophisticated way, so using other more context-specific creative and taking into account factors like device, time of day, and what have you.
"I think certainly contextual targeting will have a bigger role to play. As an agency, we have a wide range of clients, but we do work with a lot of advertisers who are on the smaller side and they might not necessarily have a significant scale of their own first-party data so we'll certainly need to look at aligning more so than we have with publishers that have scaled solutions in that area where we can take a client's database and match it to that publisher's user base and extrapolate that across their users.
"So there will definitely be changes in the way that we go about executing campaigns but with a lot of these changes and evolutions in the industry it's hard to know the full impact until you're in the weeds of it and testing things and seeing what's effective and what isn't."
Google's move to block third-party cookies could also have significant implications for publishers, which is why the tech giant says it's working with the industry to prepare them for the changes.
According to analysis by the Competition and Markets Authority in the UK, blocking cookie information reduced average publisher revenue by around 70%. The decline is a result of advertisers' decreased ability to engage in effective targeted advertising without access to information from cookies.
Google's own research in 2019 showed that the average revenue from programmatic advertising decreased by 52% for publishers when third-party cookies were disabled.
The ACCC says that submissions from publishers to its inquiry showed similar concerns, with publishers noting that the availability of data for ad targeting significantly affects their ad revenues.
"For example, The Daily Mail submits that the restriction of third-party cookies that are used in ad targeting on web browsers Mozilla Firefox and Safari decreases advertiser spend by 45 to 65%," the ACCC says.
IAB's Jaanimagi says that publishers, along with all industry platers, need to actively work together on a solution that suits them.
"Everyone needs to step back and work out what their strategy is for this," he says.
"Who do they need to work with on it in terms of technology vendors and partners."
Have something to say on this? Share your views in the comments section below. Or if you have a news story or tip-off, drop us a line at adnews@yaffa.com.au
Sign up to the AdNews newsletter, like us on Facebook or follow us on Twitter for breaking stories and campaigns throughout the day.