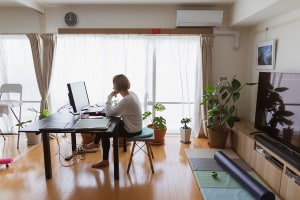 Originally published in the AdNews September/October magazine. Subscribe here to make sure you get your copy.
Will we all be wearing ugg boots when we zoom out of the flattened curve of COVID-19?
Expense claims, shelved in the frustration of lockdown, are being submitted again, as sales teams in the media and advertising industry beat the bushes for new business in the second half of the year.
Everyone is seeing signs of an upward swing from the depths — the June quarter — of the economic fallout from COVID-19 which stopped brands advertising, sent the workforce home, ended jobs for some and cut pay for many.
The pandemic has been overwhelming for all and a residue of fear about the future, about business, jobs and health, will endure.
While there are signs of a better than expected path to recovery, the world won't be the same. Australia will be in recession for a while yet. And there will be permanent business and social changes.
The pandemic has created the homebody economy, all about shopping, studying, working and being entertained at home.
That means bigger audiences for most media, including television in all its forms, radio and premium news websites, such as those run by News Corp and Nine Entertainment.
The bitter part of this expanding pie is that publishers, keeping the community informed during a crisis, are not getting a corresponding lift in advertising dollars.
The pandemic has also accelerated the shift to digital. Global numbers from News Corp show digital advertising at News Corp down only 7% in the June quarter (and it actually lifted for Dow Jones). And the general shift to digital as a source of revenue continues, with that segment more than half (54%) of News Corp advertising revenues.
Costs are being shrunk to fit that digital model. CEO Robert Thomson: "We are continuing to focus on acquiring digital subscribers and audience while rightsizing our businesses to be digital-first, which is necessarily resulting in significant cost reductions."
In Australia, News Corp is shifting emphasis online, including subscriptions, and is building and releasing more digital-only titles after closing a string of print mastheads.
Analysts at investment bank Jefferies say digital will be more important over the next six months: "Its share will accelerate as businesses focus on making short-term sales rather than brand building."
But overall ad spend will inevitably be smaller, at least for a while.
John Broome, CEO, Australian Association of National Advertisers (AANA), says two or more years of ad spend decline is highly likely.
"The Treasurer (Josh Frydenberg) is forecasting two years of GDP decline which technically describes a depression and not a recession," he told AdNews. "We need to look at the evidence to understand what may happen. I subscribe to the Tellis research which states that for every 1% move in GDP there is a corresponding 1.4% move in advertising spend in the same direction."
The wave of the pandemic curve crashing the economy has also changed habits and behaviours.
"Consumers don't just see ecommerce and shopping online for convenience any more," says Broome. "They value the comfort (safety), control and community that can come with buying online. These additional values born out COVID will reinforce and protect the gains in penetration that online has been seeing and will increasingly solidify the longer the pandemic goes on."
Melina Cruickshank, chief audience and marketing officer, REA Group, says consumers are battening down the hatches for the long haul and are turning to cooking, wellness, and self-care.
"Apart from ecommerce, other digital and contactless services may see higher usage rates and many remote solutions to regular activities will likely be adopted for the long-term," she says. "Successful businesses will be those supporting and driving the value and importance of home."
Australian-made goods have gone to the top of the shopping list. "The growth of nationalism or 'de-globalisation' could push some companies to localise business operations and favour national and regional supply chains," says Cruickshank.
In the industry, the lights are on but no-one's in the office.
In the now physically-disconnected business world, corporate culture has been given a big kick in the pants, according to Mark Green, The Monkeys co-founder, group CEO and Accenture Interactive's ANZ lead.
"We have removed the delineation between work and home with stunning effect, becoming more human and less robotic," he says.
"The idea of wearing a suit and tie to do business seems as archaic as men in top hats ... long live doing business in ugg boots."
The recovery
Reserve Bank governor Philip Lowe: "The Australian economy is going through a very difficult period and is experiencing the biggest contraction since the 1930s. As difficult as this is, the downturn is not as severe as earlier expected and a recovery is now underway in most of Australia."
However, the recovery is uneven and bumpy. Note the second wave of coronavirus in Victoria.
The money is still out there and advertising budgets are still in place. Most (70%-90%) are waiting for the right signs before making a commitment, according to a survey by the AANA and research house Ipsos.
Jens Monsees, a former Google executive and the relatively new CEO of WPP AUNZ, is positive about the second half of the year, with COVID-19 accelerating changes he had already in place in a pre-pandemic world.
"You see already in the new norm that digital omni-channel, ecommerce, pick up models, food deliveries are growing like hell," he told AdNews. "More digital, more tech-based, interactions between customers and users and shoppers and the brands."
He sees advertisers rethinking branding and media strategy. "In that new norm you obviously need to interact in a different, more virtual or hybrid way of physical and technical touch points," he says.
Hugh Marks, CEO of Nine Entertainment, saw a pick up in activity by advertisers in the September quarter.
"I'm feeling increasingly more positive about the progression out of COVID," he told AdNews.
"Each month is improving, the market's getting a little less short … we're out achieving our targets.
"I think the market's just planning its way out of COVID and it will be an orderly progression rather than a dramatic shift."
The big global advertising groups all report a lift in business but it will be a while before growth returns to 2019 levels.
Dentsu Group, in its latest global results, says its plans for the downturn to continue at a reduced rate in the second half of this year, with a "gentle" recovery expected in 2021.
The economic outlook in Australia depends on the level of restrictions needed to contain the coronavirus spread.
"How the rest of the year will pan out will all be predicated on how states manage the containment of COVID-19," says Angela Tangas, CEO of Dentsu Aegis Network.
"No doubt the most at risk categories include retail, auto, travel and manufacturing."
Commenting soon after the stricter stage four restrictions in Victoria, she says we should expect some decline in spend.
However, she thought it unlikely to be at the same level seen the first time round. "This further demonstrates that a market rebound in 2021 is unlikely to deliver the same volume as 2019," she says.
The short-term nature of the market, with brands taking a cautious approach to media bookings when the coronavirus hit, has started to ease.
"As we move into a new 'normal' and settle into a new routine, the short-term market is starting to extend much more closely to what the market has been historically," says Rod Prosser, Network 10 and ViacomCBS chief sales officer.
"The 'new' environment in which brands are now operating is now becoming clearer, allowing them to plan to the same long-term view they had pre-COVID.
"The automotive, FMCG and parts of the retail industry, including chemists, are firing back up. Finance and insurance categories are also returning to pre-COVID levels.
"We are also seeing emerging categories such as home delivery services and ecommerce businesses take advantage of more of their target audience working from home."
Kurt Burnette, Seven West Media's chief revenue officer: "In the lead-up to Christmas we're seeing some really positive signs. That's changed since COVID when everyone was uncertain and bookings were much shorter. It's a good sign for the market to see things get a bit longer and it means if brands don't react quickly they could miss out."
But geography plays a role. The change is being viewed through individual lenses, says Ben Willee, general manager and media director at Spinach.
"The lens is very different in Perth than it is in Melbourne," he says. "It is a really important reminder that we need to work hard to understand the relevant segments within our target audience and seek actionable insights for each as part of the strategic process."
The need for flexibility. "I'm fortunate in my job that I get to speak to people all around the country," he says. "Anecdotally there is a feeling that what is happening in Victoria could easily spread to NSW and/or Queensland. If it does, we are going to need to be flexible."
Lockdown states are said to have higher spend in online retail because there is nothing else to do. In states where people are able to get out and about, there is a higher proportion of revenue to restaurants and services.
"As things change, tactics need to change, often on a more local level," he says.
Zoom is a great leveller for agencies. "If an agency is pitching over Zoom, it's hard for a client to take subtle clues," he says.
"Fancy offices, great coffee, expensive sushi platters, big flash boardrooms, it's no longer as relevant. It now comes down to the quality of your thinking and your Zoom storytelling ability."
Collaboration is increasingly important. "It's hard enough to get a creative agency, a digital agency, a social agency, an Amazon agency (yes that's a thing now) to collaborate at the best of times," he says.
"Turf wars are more prevalent than ever, many budgets are shrinking and agencies (even departments within agencies) are desperate to protect their revenue and their jobs.
"When you're a hammer, everything looks like a nail. It's likely experienced people working in a framework of understanding can get things done more quickly with less hassle.
"A swing back to more agile full-service, highly likely."
And we are now questioning conventional wisdom on how to compete and what customers value.
"There's been more stringent prioritisation of scarcer client resources, with clearer conversations about how projects deliver business value," says Tim Riches, group strategy director, Principals.
"We're seeing an acceleration of client projects associated with digitisation of products and services as well as more informality in access and interaction with senior client stakeholders – the levelling effect of Teams, Zoom and the like.
"Australian business culture can be pretty conservative and risk averse – but the need to adapt is forced upon us all and some of last year's controversial decisions are this year's no-brainers.
"So it's actually a really good opportunity to question the sacred cows and conventional wisdom that often hold brands back and reinforce category norms – because if you're not doing it, you can bet competitors are."
Mark Lollback, GroupM CEO, says the acceleration of digital transformation isn't the only area with added speed.
"The chaos of COVID-19 has enabled us and our clients to rethink our business models, accelerate change and bring projects forward," he says.
"We've seen projects happen in 12 weeks that would have taken 12 months in the past, and clients are asking us to help them make sure we don't go back to old ways.
"It's a short-sighted organisation that has sat back during this time or only focused on fighting immediate fires, without looking ahead to the kind of future they want to build, and what kind of organisation they want to be."
The way we work
Matt McGrath, the Australian adman recently appointed global CMO for Deloitte, is still based in Sydney. Normally such a role would be in the northern hemisphere, probably New York.
"I certainly don't have to travel at the moment," he told AdNews.
"I think this is all part of the change now, is that people are connecting digitally so much more. It isn't as important as to where you are in the world. I think it's brought our business closer together too because a crisis naturally brings people together."
For him, remote working is a dramatic change, something he's never done.
"I never would have believed how productive and actually taxing it can be working remotely and working at home, because it's very hard to switch off," he says.
"And I think that's something I've had to learn, and I've talked to my team around, is you have to make time in your day to walk away, to walk away from the screen, to walk away from those meetings and to build that into your ... To literally walk around the block, or get away and recharge, because it's very easy to get on at seven o'clock in the morning and to get off at seven o'clock at night."
Michelle Holland, managing director, Ogilvy Sydney, says the hours we work are longer but more flexible.
"Some staff may start early, finish early, some start late and finish late," she says.
"They can fit in picking the kids up from school, getting to Pilates or walking the dogs down the beach. As someone mentioned on a call the other day, much of life's admin fits better into working from home.
"Don't get me wrong, this doesn't work for everyone and some really miss the face-to-face meetings, and the banter that comes from sitting with your peers and interacting with people across the agency floor."
Jeremy Bolt, the CEO of Hearts & Science, believes we won't be full-time in the office but we will still spend the majority of our time there.
"The social and business benefits of relationships, linkages and training are proven, and I can't see technology being able to completely fill that gap," he says.
"Importantly, the on-boarding of 'new to industry' talent is now much more problematic. The easy, casual mentoring of the office environment is likely to become a more formalised online affair, or at least more of a hybrid model than ever before.
"Will we see junior staff learn at the pace of previous generations? Possibly not, and there's so much more to learn than when Gen X or Y entered the market."
Bolt sees a big question mark on boundaries and the trade-off for flexible conditions. Where does the day begin and end? Should an inbound video-call be prefaced by a text or email to assess the suitability of the moment?
Pitching
The feel and skills needed for pitching have changed, with many reporting shorter sessions and less reliance on reading the room because of the difficulty judging reactions of individuals via video such as Zoom.
Michelle Holland at Ogilvy believes little has changed about pitching. "It's just that different things are more important now," she says.
"I think that for clients, the way we are now pitching has made things better for them. A lot of the unconscious biases are removed as the process is more transparent.
"Pitches can often be decided by anything BUT the work. Great early chemistry, impressive pitch theatre, a really slick and engaging presentation.
"Ironically, these are all the things that are hard to achieve on a Zoom call, which means, for the time being, the focus is back on the purity of thinking and the ideas. It is a far more precise (and cleaner) way to showcase your agency's thinking.
"That said, we know how important chemistry is to both clients and agencies and with fewer/harder meetings with potential clients, it's more difficult to build up that rapport. That's going to be something we have – and will – struggle with."
Paul Rees-Jones, executive planning director, Clemenger BBDO Melbourne, says the crisis has changed the nature of business relationships.
"Deeper, more honest, even at times vulnerable discussions have emerged in the current climate with clients and the question remains, will this continue as the financial realities come more into being?" he says.
"One scenario is both clients and agencies more readily cutting to the chase on the hard to have issues while the inessential will be stripped away. There'll be less time and patience for vague responses and slow 'nos'.
"Equally, the danger is the temptation for short-termism as cost pressures mount and yet strategy not tactics and long-term planned ways forward will be more valuable than ever.
"When it comes to the likes of WFH, pitching, and form and shape of work, flexibility will to be the key.
"One of the silver linings to the COVID-19 period is rather than big groups of people, agency and client alike working on a problem, we're seeing the natural tendency for smaller groups working on more problems. This is a good thing and leads to more productive thinking and outcomes regardless where you're working."
Media consumption
Investment bank Jefferies: "We still think traditional media, especially FTA TV, is still the best way to capture mass audience for brand building. However, the current economic environment makes brand building challenging."
To understand how significant change has been with how media is consumed just look at our relationship with technology over the past six months, says Paul Rees-Jones at Clemenger BBDO Melbourne.
"It's our relationship with time that's also played its role – having more of it and the boredom factor," he says.
Clemenger BBDO's AustraliaNOW study shows more than one in five aged 60+ are becoming more confident in using technology, out of necessity, and as online buying habits transform.
"The rapid acceleration of ecommerce across so many traditional service and retail brands is testament to this," he says.
"People's appetite and need for more and better content is likely to endure, especially broadcast and streamed TV, and online videos where we're looking to get more into something and genuinely engage or equally to escape.
"Our need for online press and credible news will also continue to be in demand. We will want to know what's going on and have our own perspective.
Kim Portrate, CEO of ThinkTV, says she started to get a sense of a return to "normal" when people began suggesting meetings in person rather than via video.
She says Australians turned to TV during the height of the pandemic for vital information as well as escape. Audiences surged for TV in all its forms with increases of up to 30% for linear while broadcaster video-on-d Demand (BVOD) established a new baseline of viewership.
"Despite various states now being at different stages in their response to the pandemic, we're seeing continued increases in viewing," she says.
"Australia's commercial broadcasters are already seeing increased demand from advertisers as the new financial year gets under way."
Radio
Doomsayers predicted radio listening would fall off a cliff when lockdown began in March because people were at home and not on a daily commute.
"But what we saw was that overall radio and audio consumption didn't drop, it just shifted location, time of listening, and the device used," says Pete Whitehead, ARN's chief commercial officer.
ARN data shows overall in-car listening dropped by 5%, which was more than compensated by people listening at home which was up 48%.
Streaming data shows the audience listening in three key ways: mobile/tablet (37%), desktop/laptop (33%) and smart speakers/digital appliances (29%).
"All key listening periods are also up, and not surprisingly, we've seen overall daytime listening get a significant boost as people stay home and want the familiar and comforting sounds of the radio personalities they love and trust, and the music that makes them feel great," says Whitehead.
"We're seeing that listening for mornings is up 22% and afternoons is up 17%. And, even though less people were commuting to work, they still wanted to start and end their day with their favourite shows and radio personalities, we saw breakfast listening up 1% and Drive increase by 5%.
"In terms of advertising, after the market downturn of the initial lockdown period, we're now seeing the market start to kick back into life at a fairly healthy rate based on the increased number of briefs coming through our agency and direct sales teams.
"We are now seeing clients being more optimistic and laying out plans in the lead up to Christmas to put their brands in the best position for a strong finish to a tumultuous year."
Joan Warner, CEO, Commercial Radio Australia, says the pandemic has changed media consumption just as people have changed the way they shop.
"Many have listened to their first podcast, or discovered listening to radio on an app or connected device," she says.
"The focus now is on preparing the industry for the recovery, by making radio and audio advertising easier to buy through RadioMATRIX, developing new revenue opportunities such as our work in developing the podcasting sector and in voice tech, and continuing to work on measurement innovation with GfK."
Where will we be spending?
Jeremy Bolt at Hearts & Science says rethinking the customer journey with a COVID overlay and exploiting any opportunities will be key for any brand.
For example, pre-COVID most people would have loved a long cruise. How about now?
And staff expectations have changed significantly, including flexibility.
"We need to adapt and ensure we're meeting those expectations to ensure we're still attracting an unfair share of talent to our businesses," says Bolt.
"The need for businesses to substantiate and justify expenditure will continue to grow, forcing us to continue evolving and improving the way we sell, measure and prove ROI for our services.
"We've seen a decade's worth of innovation in the ecommerce space in a matter of months, and we'll see the importance of services and analytics to better serve that space increase."
Be kind
Stu Turner, ECD, The Royals: "As we all know, the pandemic has caused so much pain, human loss and economic devastation across the world, and so while I'm commenting on its effects on our industry, I do so with enormous amounts of perspective on what truly matters, deeply grateful to still have an industry to actually comment on.
"There's something wonderfully disarming about discussing ideas when we're all in our homes, surrounded by our everyday lives including kids (don't get me started on homeschooling), barking dogs, pyjamas and track pants.
"Gone are the boardroom pressures to perform, on both sides, and it seems to a large extent that ego and pretence have been stripped away.
"It's been incredible to see the response from people everywhere in our industry so willing to help where they can – sharing job opportunities, tips for dealing with staff motivation, mental health initiatives and the list goes on. I hope this spirit remains long after this pandemic is over, and if that means always wearing track pants, I'm in."
Purpose
Mandy Galmes, CEO Hill+Knowlton Strategies Australia, says the pandemic has reframed not only the importance of brand purpose but its lived experience.
"Those businesses that have thrived have authentically put purpose into practice to make a positive difference during the crisis and beyond," she says.
"For example, Coles has an ongoing program to donate surplus edible food from its supermarkets and distribution centres.
"During the onset of the crisis, Coles committed additional food and groceries to the value of $1 million a week to help Australians who are facing hardship.
"Salesforce is another example of a brand that has looked internally to its values to guide its crisis response. As well as all the practical support for employees and customers, Salesforce launched its B-Well content series to provide access to wellness resources, information and support from Arianna Huffington, Larry Brilliant, Deepak Chopra and many more."
She says the industry needs to work alongside clients to embed purpose clearly and consistently within their organisation and bring it practically to life through all comms.
"It's about activating purpose and not just relying on it being a message in a TVC or digital campaign," she says. "This is how we build our clients' reputation, market share and help them achieve sustainable long-term business performance."
Have something to say on this? Share your views in the comments section below. Or if you have a news story or tip-off, drop us a line at adnews@yaffa.com.au
Sign up to the AdNews newsletter, like us on Facebook or follow us on Twitter for breaking stories and campaigns throughout the day.