This first appeared in the January/February issue of AdNews. Subscribe here to make sure you get your copy. 
Outdoor media took a sudden and hard hit from the pandemic. But the rebound looks just as steep, climbing out of the trough with fresh perspective and a set of strategies.
The Australian out-of-home (OOH) market was a standout in the media landscape, growing year after year while many other media sectors were challenged by structural change.  Much of this growth was driven by technology, an investment in digital, replacing static displays. 
That momentum came to a halt when the pandemic arrived. In May, when overall ad spend, as recorded by the SMI (Standard Media Index), fell a record 40.4% to $345.6 million, OOH was down more than 70%.
Cost cutting followed the revenue slide. And some innovative uses of the OOH networks emerged, with critical health messages and thanks to frontline health workers and essential services such as grocery deliveries. Others used platforms to bring art to the streets.
And the outdoor industry was quick on its feet, positioning for an upswing. Helping this was the work done over the last few years on digital transformation, evolving to offer both broadcast and targeted messaging opportunities, scale and interactive capabilities, impact and flexibility.
During the pandemic, brands had to rethink communications strategies and make sure they were saying the right thing at the right time, to the right people. The OOH industry says the ubiquity, flexibility and immediacy of digital signs offered brands opportunities to execute these strategies for more relevant and responsive campaigns.
"The significant investment by the industry into digital networks and technology of the last few years has meant that OOH has the platform from which to rebuild and recalibrate to the post-COVID world," says Charmaine Moldrich, CEO of the Outdoor Media Association.
"Throughout the pandemic, we have seen brands using digital OOH in the way it works best; for targeted, engaging, and data-driven campaigns that connect to audiences with contextual relevancy and immediacy.
"Key to this will be how brands rethink the creative advantages of classic and digital OOH to drive further down the pipeline while continuing to bring their brand messages to life in big, bold and audacious ways. This is where I think we will see an explosion in appreciation for the important role OOH can play at all stages in the marketing funnel."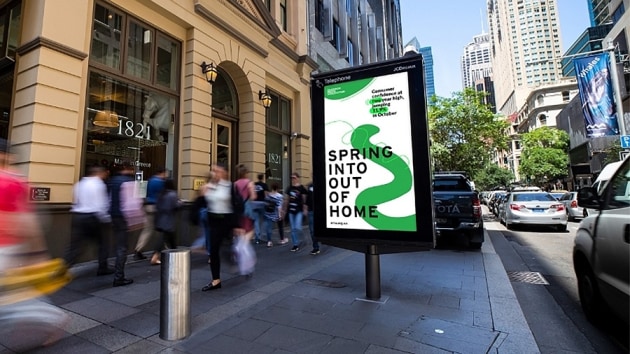 Ad industry analyst Steve Allen, now at independent agency Pearman as director of strategy and research, describes the outdoor experience as a year of hell, with foot and car traffic falling massively during lockdowns. 
He expects year-on-year growth for OOH to start again by around April. "Whilst the trajectory will continue upward, outdoor will not likely be back to 2019 revenue levels until 2022," he says.
At MediaCom, Nick Thomas, head of marketplace, and Ben Whall, programmatic director, say OOH initially looked all doom and gloom.
"However, that doesn't represent the full story," they say. There were some green shoots, including huge demand for retail and petrol pumps never closed.
Audiences and engagement all of a sudden became more important in a channel when it was always assumed.
"Some clients and agencies' knee jerk reactions were to pull spend, but there were pockets of gold if you could find them," they say. "Some taking advantage of the unprecedented lack of demand to take over entire networks, sending support to different states through their campaigns."
While 2020 was hard, Thomas and Whall believe this helped accelerate the industry and OOH is going to ride the benefits.
"The way agencies use data to analyse the audience fluctuations. During 2020 we also saw the rise of programmatic OOH, no longer just a concept but most of our clients leaning into this new technology," they say.
"Allowing us to use publisher, client or agency data sets to buy OOH in real-time. Upweight, down weight, cancel, pause, stop, start, continue all at the hands of the client and agency. A BIG change for a channel that used to have a four week printing lead time.
"The channel itself has added new strings to its bow, it can now be reactive, clients can use first-party data to target audiences … we can get real-time reporting.
"2020 will go down as the biggest and most revolutionary year for OOH, completely changing the way agencies and clients think about it in under 12 months."
The pandemic also sparked a clean out.
At oOh!media, the Australian company did a $167 million capital raising on the ASX to strengthen its balance sheet. And at the same time it found costs of between $20 million and $30 million to cut.
Melbourne-based Tim Murphy took on the role of chief sales officer at oOh!media in April, the low point in the gloom of the pandemic.
"I'm still building relationships with people, particularly in Sydney," he says. "They're much stronger today than they were at the start of the year, despite not much being done face to face."
He tried to inject fun, scheduling virtual meetings with the team, not about work, to chat.
"As we've navigated through this pandemic there's been no rulebook, no guide, nothing to work off," says Murphy. "This really sparked an entrepreneurial spirit with our team to bring solutions to the table and share ideas, which is quite symbolic of how the business was formed, but also instilled a lot of confidence in our people."
While lockdowns put a stop to commutes, local traffic continued, creating suburban pockets.
Shopper Media says foot traffic suddenly increased at local shopping centres in the initial stages of COVID, surpassing Christmas crowds.  Dwell times rose by 11% and repeat visitation by 8%.
By April, foot traffic started to soften in line with the changing social guidelines. A May Shopper Survey of 7,698 Australians revealed that 54% experienced queuing before entering the supermarket but they were willing to wait to get what they needed. Local shopping centres were essential hubs for Australian families.
Brendon Cook, CEO and founder of oOh!media at the time, penned an open letter in March which read in part:
"Like the rest of the world and companies in every sector of the economy, the out-of-home market is undoubtedly being impacted by the coronavirus. However, we continue to manage our operations appropriately, while looking after our customers and helping them get their messages to the Australian public.
"Our teams across Australia and New Zealand are actively making extensive use of the phone and video conferencing to liaise with customers and other stakeholders, and we are constantly in touch with them to discuss their requirements and manage their campaigns.
"While we've cut down on our travel, the general public are still out and about in the community – in shopping centres on foot and going around in their cars. On average footfall is rising in local centres, and people are still getting out for exercise, as well as many other activities. In short, people are moving around locally, and our network is a local media.
"In addition, we are playing our part in rolling out the Federal Government's new public health campaign across our assets – a campaign that will save lives and which is without question the most important initiative we have ever been involved in. We will continue to support this and any related initiatives as events unfold."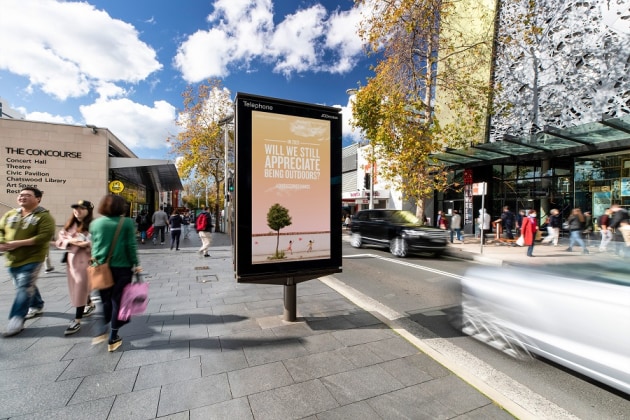 At the local arm of French firm JCDecaux, the year 2020 started well. The group had finally worked through the integration with APN Outdoor which took up most of 2019. Then the coronavirus appeared.
"We did everything we could to retain or move clients rather than lose them, while doing everything we could to cut costs as a business through negotiating down our rent and all other expenditure," says Steve O'Connor, JCDecaux's ANZ CEO.
The company also put itself in the shoes of clients.
"We were all a bit lost and suddenly cut off from colleagues at home," says O'Connor. "We organised and rolled out a Mark Ritson mini-MBA to engage and expand horizons."  The ADMA WFH Marketing Masterclass program was designed to provide JCDecaux's team and client partners the opportunity to arm themselves with the strategic marketing know-how required in the suddenly challenging environment.
At home, like many of his colleagues and clients, O'Connor faced a daily challenge -- jostling with his children as to who gets the room with the best WiFi. "I must admit I only sometimes won that argument."
At the same time, he worked hard on a business strategy to balance short-, medium- and long-term strategies amidst all this uncertainty. "Part of this will see us shift more to a pure focus on digitisation and even more powerful audience understanding," says O'Connor. "The entire company will be aligned on our new and ongoing goals, with an absolute prioritisation of a seamless customer-experience."
The pandemic hit with a new executive leadership team (ELT).
"Paradoxically, I believe that both within the ELT and across the entire business, staying apart this year has helped bring us all closer together," says O'Connor. "This happened both through intentional programs like the 'buddy system' we rolled out with our Melbourne colleagues in lockdown, and less formal things like a new and very popular 'Pets of JCDecaux' intranet page.
"Like many businesses we've thought a lot about how we support our people and how we come together. We've launched and will continue a range of wellbeing initiatives for our people to address the strain the year has placed on mental health. And we are on the cusp of launching to the business our new and improved Flexible Work Policy to ensure JCDecaux remains competitive with the best businesses in Australia and around the world."
O'Connor is positive about 2021. "As a business we are match-fit and ready for an inevitable rebound," he says. "We are absolutely committed to cementing our position as industry leaders in programmatic, future tech through new data capabilities and machine learning, creative insights and consumer sentiment, and the experience our people have working for JCDecaux.
"The rise of audience behavioural data has propelled the communications and out-of-home media sectors into a new world of profound and ongoing change. Effectiveness research, knowledge of how people connect with brands, digital media strategy, real-time media optimisation, audience measurement, ways of measuring impact and attribution, programmatic approaches and decision-making processes, all are being heavily impacted by data and the potential it offers.
"It's fast become an incredibly exciting growth opportunity. Over the next few months, JCDecaux will be rolling out many initiatives that continue to put audiences at the heart of its product and support ever-more effective solutions for advertisers."
Melbourne-based John O'Neill, the CEO of QMS Media, thinks the feeling across the OOH and broader media industry was always that a rebound was ahead.
"Right from the beginning it was more a question of when and how long the recovery would take," he says.
"In most markets across the country, we saw audiences return relatively quickly. Whereas in Victoria, the rebound was obviously delayed. However, once restrictions lifted, we were blown away by just how quickly audiences in this market embraced getting back outdoors."
COVID presented numerous challenges for everyone and living in Melbourne only heightened this.
"As most people know, I am very much a people person," says O'Neill. "I feed off the energy of others, so being away from colleagues, clients, family and friends was extremely tough.
"But just like everyone, I had to learn to adapt and find new ways to not only engage our teams across the business but new ways to engage with our clients.  If only I had shares in Zoom before this pandemic!
"Perhaps one of the most significant reflections for me is just how great our team at QMS is. Our people really came together and learnt how to quickly adapt to the way we work and do business, and most importantly, demonstrated an amazing level of care and support for one another.
"And this genuine care and support for others extends across the broader media industry and society in general. The coming together from all parts of industry and community to work together to fight the pandemic and to make sure we got through this together has been inspiring."
Paul Butler, managing director, Val Morgan Outdoor, says trust and transparency was critical during the crisis, further highlighting the need for real-time audience measurement to understand consumer behaviour.
"We used our proprietary real-time audience measurement tool DART to provide advertisers with regular updates on weekly traffic numbers across VMO Shop, VMO Active and VMO On-the-Go," he says.
"We saw an influx in audiences visiting essential service locations such as grocery, pharmacies, and petrol & convenience, which became 2020's hot new trusted locations for OOH activity."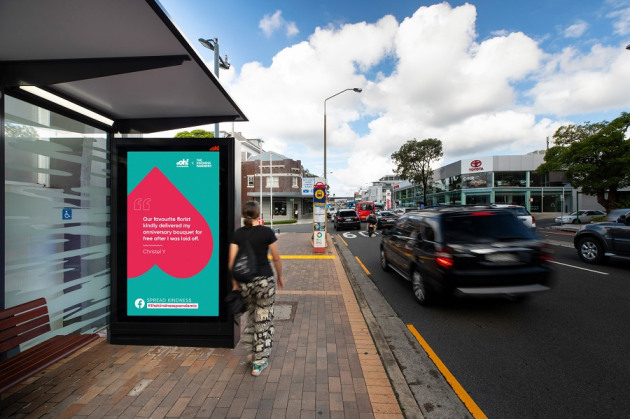 Butler believes there's a lot to be excited about for 2021 and beyond.
"The fundamentals of OOH remain strong and we're looking at a return to growth once the economy recovers," he says.
"New approaches to automated trading such as programmatic OOH are gathering pace, and as audiences resume normal behaviour, we will see investment return to pre-Covid levels.
"Programmatic will be the future of outdoor, with the evolution of supporting technologies like dynamic creative and ad verification providing advertisers with the agility and flexibility they need to reach the right consumers at the right time, in the right place."
Behaviour changes
Shopping patterns changed with COVID seeing a shift toward people with desk-orientated roles working from home. This allowed people to have more flexibility as to when they shop for everyday essentials, with lunchtime busier than the previous after work shop.
"Living Locally has become increasingly important and this trend and this shift in mindset will continue in 2021," says Ben Walker, CEO of Shopper Media.
"Consumers are continuing to shop at local shopping centres for essential retail and to seek community connection.
"During times of uncertainty and turmoil, Australians want to be reassured and the presence of brand advertising has proven to be important in providing a level of normality and comfort, especially when most Australians harbour concerns about the wellbeing of the economy and their own financial circumstances.
"Certainly, the type of messaging they are exposed to needs to be authentic and sympathetic of environments such as pandemic conditions and lockdown restrictions."
Tim Murphy at oOh!media says the task now is to understand the impact of COVID on audience behaviour.
Key questions: As audiences have shifted their day-to-day routines, what exactly has changed? And how do we reach those audiences now?
"One important way for us to adapt as a business was to utilise our scale," says Murphy. "As the year progressed it became more important than ever to reach people in areas where they were spending more time than they traditionally would, so network scale became crucial for us, as did multi-format, enabling us to deliver more audience touchpoints.
"It's no surprise that we saw a big increase in suburban activity, so campaigns became more weighted towards those environments. Using our data, we realised we were uniquely positioned to understand these new suburban audience movements and could still reach people who were working at home, for example, at multiple points in and around their neighbourhoods. The same capabilities have also helped us understand a second wave of movements as people have started more recently coming back to their offices.
"Due to all this, Australian suburbs have never been more powerful than in 2021, and we're excited to see how advertisers engage with Aussies in their local areas, which will definitely be at a higher level than we've been used to in the past." 
OUTLOOK
PwC's annual Media Outlook, with the uncertainty of COVID-19, for the first time gave forecasts in three streams -- positive, gradual and negative. The CAGR (compound annual growth rate) for 2019-2024 based on a gradual recovery is 2.34%. 
Justin Papps, PwC Australia partner and Media Outlook editor: "The thing that they've got going for them is they've invested so much in the digitisation of their inventory over the last four or five years, I would hope that their bounce back is quicker than most."
Brian Han, senior equities analyst at Morningstar: The fundamental appeal of outdoor hasn't changed much, especially compared to structurally-challenged traditional media.
"But recovery of outdoor revenue back to pre-COVID levels could be volatile, at least until the bad memories of consumers being locked up at home fades," he says.
"It also means the outdoor inventory digitisation cycle may have been slowed by a couple of years."
However, the outlook for 2021, assuming a COVID vaccine, the relaxing of border restrictions and social distancing protocols, is for a solid recovery, especially with advertiser demand spillover from faster-recovering media such as TV.
IBISWorld senior Industry analyst Alen Allday: The second half of the 2020-21 financial year should see a stronger recovery with consumer confidence and demand growing. Despite this, revenue for the full year is projected to remain close to the full 2019-20 figure, before increasing again over subsequent years as the recovery strengthens.
Venture Insights: The OOH market grew at 9% CAGR (compound annual growth rate) in the eight years to the 2019 financial year as digital revenues took off. Venture Insights expects the OOH market to grow at a 6.9% CAGR through to the 2024 financial year.
Michael Scruby, CEO of Realworld Advertising: "The big play for OOH in 2021 will be contextual targeting. This means using location data and technology to automate OOH planning and target audiences at scale. "
Mediacom's Nick Thomas and Ben Whall: "OOH is back, with more data, more flexibility, more engagement and is 'sexy' again for clients. POOH will no longer be a test and learn, but will form part of clients always on strategies, DCO will take an entirely new meaning in this environment.
Shalyce McLean, head of product investment, Ikon: There's a strong argument that suggests the pandemic disruption should fundamentally change the way OOH operates, McLean says. "Audience guarantees: OOH partnerships with data suppliers (mobile, facial recognition and wayfinding) means they now have the most robust and real time measurement capabilities of any traditional channel. oOh! and QMS did an exceptional job during the year at utilising this data to keep the market updated on audience movements." 
Ben Walker at Shopper Media:  "We expect to see further growth of our programmatic trading in 2021 and beyond. We have seen significant growth in new clients who are traditionally heavy users of digital channels now selecting DOOH to reach targeted audiences in real time with scale and efficiency. We see Programmatic Retail Digital OOH as an incremental buy for many advertisers resulting in incremental revenue for our business next year. Programmatic Digital OOH is creating a convergence of both online and offline touchpoints with customers, delivering omni-channel buying opportunities and real time analysis and reporting of campaigns."
John O'Neill at QMS Media: "On the whole, industry growth will return – and the future of outdoor will remain strong.  Our real-time mobility data and insights will ensure we can help our clients understand and navigate their way through these changing times to make the most of OOH as a mass reaching, high impact and targeted medium.
"During 2021, I think we see more advertisers really start to untap the creative advantages of DOOH by realising the full potential of the data and technology capabilities now available in delivering more effective communications. Until now, this aspect of OOH has not received much attention. However, in talking with creatives, planners and clients, it is clear the industry needs a complete paradigm shift, to make the most of the creative effectiveness of the medium."
Tim Murphy at oOh!media: Optimism is in the air again. The briefs are back especially from traditional OOH spenders, including the banks, automotive, tourism, government, and FMCG. oOh!media data is saying that audiences are returning to OOH environments and that they are increasingly happy to be out and about.
JCDecaux's Steve O'Connor: "As a business we are match-fit and ready for an inevitable rebound. We are absolutely committed to cementing our position as industry leaders in programmatic, future tech through new data capabilities and machine learning, creative insights and consumer sentiment, and the experience our people have working for JCDecaux."
Adam Cadwallader, CEO of Motio (formerly XTD): "We're feeling very positive about 2021 with revenue bubbling again to meet some internal goals and targets. Our focus is on developing our technology platforms to meet the increased demand of automation in the out-of-home and place-based sectors. Certainly, 2021 is going to be strong."
Have something to say on this? Share your views in the comments section below. Or if you have a news story or tip-off, drop us a line at adnews@yaffa.com.au
Sign up to the AdNews newsletter, like us on Facebook or follow us on Twitter for breaking stories and campaigns throughout the day.