This article was originally published by Ragtrader.
Australian lingerie label Honey Birdette, has slammed recent moves by the Australian and Victorian governments in its new campaign Red Alert.
Collective Shout, a group which has campaigned against Honey Birdette's advertising for many years, has caught the attention of the Victorian and Federal Government and wants them to censor lingerie advertising.
The group's censorship measures focus on female bodies and they are campaigning to have the government enforce the measures to limit the amount of lingerie advertising in all public spaces.
The Red Alert campaign is in direct response to these moves, which sees the word 'censorship' superimposed across the Honey Birdette models' breasts, cleavage and nipples.
Honey Birdette founder Eloise Monaghan says that Honey Birdette will not give-in to the group.
"They are attempting to change the definition of what is acceptable in lingerie advertising to include almost any image, implying that it could be interpreted as sexual," Monaghan says.
"Our bodies are not up for discussion; how "appropriate" our breasts are for display in lingerie advertising. Nor does lace underwear consent rape.
"Our new campaign launched [on June 10]. There [are] nipples. And plenty of them. Just as you'll find in male advertising of any topless kind.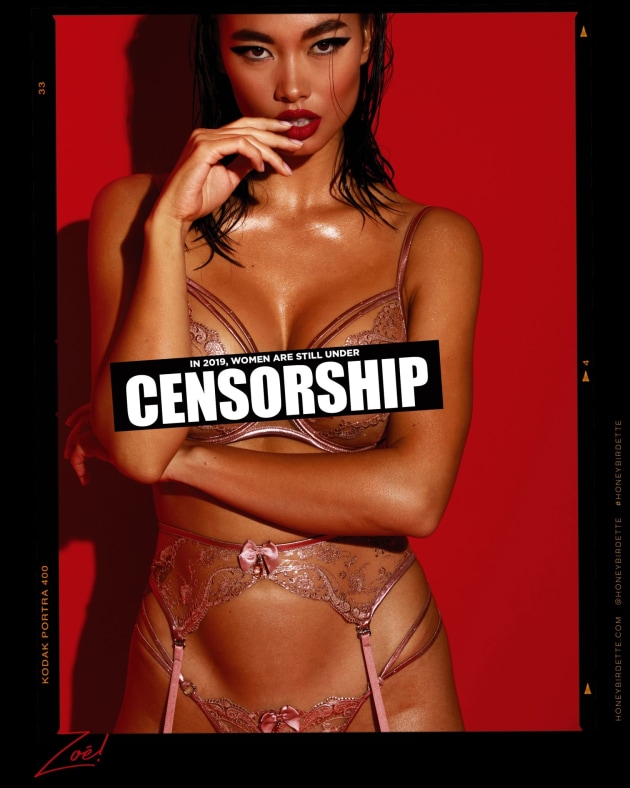 "If Collective Shout think they have a voice, mine will be a viral speaker phone to every person out there. I have avoided this action, but they are now threatening what we stand for."
In previous cases, Collective Shout has supported consumer complaints to the Ad Standards board about Honey Birdette's store advertising in which it has commented: "Collective Shout continues to raise awareness about ways in which the sex trade imposes itself on the community.
"Shoppers who pass by these stores are held captive to porn-themed imagery and even more so the people who work in the centre itself.
"To force porn-themed imagery on a non-consenting all-ages audience which includes children is a form of sexual harassment. This also violates a childs right to grow up free from sexual exploitation."
Honey Birdette has created a petition as part of its opposition to Collective Shout.
Read the original Ragtrader artilce HERE. Ragtrader and AdNews are published by Yaffa Media. 
Have something to say on this? Share your views in the comments section below. Or if you have a news story or tip-off, drop us a line at adnews@yaffa.com.au
Sign up to the AdNews newsletter, like us on Facebook or follow us on Twitter for breaking stories and campaigns throughout the day.