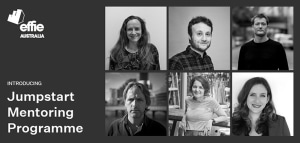 Advertising Council Australia today launched an initiative based around the creation of the new Jumpstart category in the 2021 Australian Effie Awards.
The Jumpstart Mentoring Program will see the formation of a new mentoring panel made up of some of Australia's Effie Award-winning case writers who will host an Introducing Jumpstart open webinar April 14.
All prospective entrants in the Jumpstart category will be offered a mentoring pathway with a panel member.
The new Jumpstart category has been designed to widen the scope and appeal of the Effies by inviting submissions from companies and/or agencies that have either never entered the Effies before, or not put in an entry since 2016.
The Mentoring Programme has been put in place specifically to offer help and encouragement to potential entrants, especially those who might feel they don't have all the data to compete on a level playing field with more experienced Effie entrants who have featured regularly in the awards over the past several years.
The Jumpstart Mentoring Panel:
Ali Tilling Chief Strategy Officer AUNZ, VMLY&R
Fabio Buresti Chief Strategy Officer / Partner, The Monkeys
Pieter-Paul von Weiler Head of Strategy, AJF
Olly Taylor Chief Strategy Officer, Host/Havas
Jennifer Rhodes Head of Effectiveness & Data Strategy, BMF
Christina Aventi Chief Strategy Officer, BMF
 "Australia runs one of the most sophisticated Effie programmes in the world that has played a significant role in helping us to steadily increase our marketing knowledge," says ACA CEO Tony Hale.
"However, writing winning Effie cases is not easy. There are usually obstacles to overcome along the way to an Effie-winning case.
"The new Jumpstart category is specifically aimed at making the Effies more accessible to the broader marketing community. We've launched the Jumpstart Mentoring Program because we're confident there are many great case histories around that could use some help from some of the Effie 'greats' in crafting the story or thinking about the data available in a different way."
Fabio Buresti: "This is a very generous initiative that has my full support. Increasing the diversity of clients and agencies who enter the Effies can only do good things for the health of our industry."
Ali Tilling: "I'm looking forward to being involved in Jumpstart. Effies standards are rightly extremely high, and writing an excellent case is always a challenge. In agencies without a strong culture of Effies entries, it's even harder, so this kind of support will really help make entering the Effies more accessible to a range of authors." 
The initial Call for Entries deadline into all 25 Effie Awards 2021 categories is Thursday, June 3. An extended and final deadline of June 17 will be available but will incur a late entry fee.
Round One judging will take place online from July 12 to 16, with finalists announced on July 28.
Round Two Judging is September 7.
All Effies winners will be announced at an awards dinner and presentation in Sydney on October 20. Details of the event will be announced soon.
Advertising Council Australia would like to thank its Marquee Sponsor, Think TV, for its ongoing support which has been integral to the elevated status of the Effies. ACA would also like to thank its other sponsors AdStandards, Google and UnLtd.
Have something to say on this? Share your views in the comments section below. Or if you have a news story or tip-off, drop us a line at adnews@yaffa.com.au
Sign up to the AdNews newsletter, like us on Facebook or follow us on Twitter for breaking stories and campaigns throughout the day.