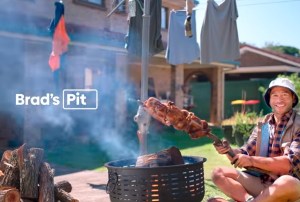 The first round meeting with the five agencies pitching for the Catch Group account was due before lockdown in March.
Several dropped out of scheduled face-to-face meetings. One went ahead in an agency office in Melbourne.
"This was probably the first time a chemistry session has been done without any chemistry," says Ryan Gracie, CMO of Catch Group.
"One agency dropped out and the rest of the process was done over video calls, the entire thing.
"It was new to a whole bunch of people, to everyone involved in the pitch. We just felt our way through it and got to the end."
Leading Australian online retailer Catch.com.au this month unveiled its biggest brand campaign, launching the tagline, Checkout Catch.
The campaign was created by its new agency, AJF GrowthOps, which won the account in a remote pitch, a process forced on the industry because of social distancing during the pandemic.
The pitch was changed fundamentally when it switched to using video conferencing service Zoom as the key communication.
That face-to-face reading of the room is gone. When the pitch deck is showing on the screen, those attending are shown as tiny icons in the corner.
"I think more of the frustration may have been on their side," says Gracie at Catch.
"They're pitching to me and normally they would sit in a room and be able to read my body language, look at my face, feel the emotion.
"Even just the way I positioned my camera or the computer sometimes dictate the cadence of the meetings.
"If I was talking into my laptop and the computer was right there, then they could see the expressions on my face.
"But if I had cameras that sit at the front of the room, you're almost on a fisheye where I'm a little bit further away and they can't see the facial expressions.
Gracie says he knew they were sitting there watching in lieu of being able to be in the room and feel the vibe, looking at his eyes via a video screen.
"I didn't mind giving them the view of me, so they knew how well it was going," he says.
Zoom time can be stressful in terms of extra concentration. For the Catch Group pitch, some of the sessions were cut, with three hours becoming 90 minutes.
"What it meant was that they presented more redacted versions," says Gracie. "But for me, this is good news because I prefer not to have all the fluff.
"And they got to the point a little bit quicker because there also wasn't as much small talk around the edges."
Marketing consultants TrinityP3 ran the process, keeping time, ensuring agencies kept to the agenda.
"They (agencies) were maximising every minute and they were acutely aware that any small talk would eat into their time," says Gracie.
"I did hear mention of digital whiteboards and I'm sure there's technology out there that the agencies were using to collaborate and let the ideas flow freely.
"The process might have been harder for them but the creative received was of a very high calibre … outstanding.
"They made it work somehow. The agencies were all up for the challenge and this was the first time that they had done it this way.
"It was pioneering for all involved but it also proved that it's possible. From my point of view, the client, it works. And I know that there may be some apprehension from others out there, but this is just a new paradigm and you need to find a way to make it work. And somehow we did."
Some, but not all, agencies found a way to get around the sometimes shaky images via Zoom. Before the meetings, they sent files, to be viewed later via a hard drive rather than bet on a stable internet connection.
Gracie would be told by the pitching agency when to open the files, at the right moment in the presentation. "All right, now play video four."
Gracie: "I would watch, give feedback. Some of the other calls went a little bit pear-shaped because, with Zoom, the creative gets a little bit lost."
In a traditional pitch, much depends on the skills of the presenter, the way they move, use their voice, make eye contact and generally work the room.
"A lot of it has always come down to who the best presenter is," says Gracie.
"Whereas in this instance, it's still the way that they present but because you're not in the room and feeling the body language, a lot of it comes down to the voice.
"It comes down more to the substance of the strategy, the substance of the creative meeting that strategy.
"Maybe it evens up the playing field a tiny bit because you're not biased towards 'I'd really like to have a beer with that person, therefore, I should give him the job'. It's more about 'I liked the quality of the work'.
"I literally did not have a face-to-face meeting with three-quarters of the people that I was pitched from.
"We did have a relationship but it was a fairly superficial one from the calls and not as deep as it would have been if we had face-to-face four or five times."
The Consultant
TrinityP3, a marketing management consultancy advising and organising pitches for brands, got caught when the pandemic hit and the federal government imposed restrictions.
"2020 was looking like being a busy pitch year for us when all this happened," says CEO Darren Woolley.
"We had four pitches all going when this happened. Two immediately shut down and said they couldn't go any further. With the other two, we had to restructure the whole pitch virtually over a weekend."
However, Woolley found remote pitching worked well.
"Everyone says you need to meet face-to-face to have chemistry and I've had clients say that to us," he says.
"We sat down as a virtual team and started going through the process. So what is it about each step? What are we really testing here? What is it that the client wants to get out of this? How can we make it simpler and less onerous on everyone involved?"
TrinityP3 then organised for shorter meetings -- between 30 minutes and one hour -- but more numerous.
"We also limit the number of people so you don't end up with 20 people on a pitch call," he says.
"And we break it into smaller parts, so if it's going to be about strategy we tell the agency to have only their strategy people there and one person to be the lead."
The first meeting is the briefing. The second one, a Q&A. Next the agency comes back with a strategic direction, then ideas for feedback.
TrinityP3 told the agencies: If you've got things that are sort of half thought through, that's okay to present it. Make it more like a conversation than a presentation.
This applied to the client as well. Woolley says he always encourages clients to engage and interact with the agency. Asking questions and giving feedback is essential in getting the measure of the agency.
"I think that the danger with pitches that are presentations is that everyone's on their best behavior. You can only get a sense of what it's like to work with someone when you're in a situation where it's like you're working with them.
"So instead of presenting, we made it more interactive, more like a meeting."
Marketers are starting to try to work out what happens next, after the pandemic.
"I think there's a number of marketers, in this weird space they found themselves, have started questioning whether they should be going to pitch.
"We're trying to talk them through it and not just go to pitch because it's on a whim. There needs to be a strategic reason.
"I think we'll see the second half potentially being an unbelievably busy pitch time for everyone."
The agency
For an agency, there are technical considerations to remote pitching. A glitch can ruin the flow.
What's the best possible way you can bring your thinking to life under the new format?
Adam Francis, ECD and founding partner at AJF Growthops, says remote pitching has to suit the format in which the presentation will be delivered.
"We spent a fair amount of time thinking about that, as well as obviously trying to make sure that the work and the comms and everything we had proposed was good work to solve the challenges the client was facing," he told AdNews.
"In retrospect, we were successful and I'd like to think the work is probably still what got us over the line. It's why you win.
"We definitely invested a fair amount of time into trying to work out what's the best way to bring our thinking to life under the format of presenting from a distance.
"It's quite different to present to a room somewhere where you can't see the reactions. You just don't have that facial signals, and recognition as you're presenting. So that part's quite challenging."
Previous experience, during hangouts and Zoom calls, taught the team at AJF Growthops that structure is essential. They tested every format on the market for one which was going to present the work the best, with the least amount of dropouts and the best sound quality.
"I have found in the past, if you do have some technical glitches or things go wrong, it does make it quite hard to maintain the momentum, no matter how good you are," says Francis.
They chose Zoom but still at the start of each meeting they ran tests to make sure everyone could see and hear, and that everything was working.
"We spent a fair amount of time working out how we were going to structure a meeting to get the feedback we wanted to the ideas or thoughts we were putting forward," he says.
"To put enough on the table so they could see our thinking and help us, guide us to the next one.
"We were lucky that every one of them obviously went well. We found out what they liked, we also found out what they didn't like and built on that all the way through.
"We reduced the number of people on the hangout so we could social distance in the office for the presentation. That was mainly just to make sure the technology didn't get drained with too many people cutting out or dropping off.
"That worked out a lot smoother."
Even with all the planning, working via Zoom sometimes it feels like talking to a wall.
"It's just not physically possible all the time to be able to look at who you're presenting at. It's not quite even like presenting it in the mirror, you've just got to go with it," says Francis.
"The final presentation we couldn't see them well enough to see their reactions. In that sense you just go for it … and hope."
The team felt good about the pitch early on in the process.
"It's about cracking the idea that you think it's right, and we got to that relatively quickly, but not immediately, and then that was just through trial and error of putting out what we thought was correct," he says.
"We're really proud of the work but we couldn't hear any laughing, and there's a bit of humour in it."
He says Gracie and his team were fantastic all the way through, and gave feedback.
"I think it would be harder if they had a different attitude," says Francis. "They were quite forthright in what they thought, and what they liked, and what they didn't like, and that did make it easier.
"I imagine if you were presenting someone that didn't like giving a lot of feedback it would be quite even more challenging under that format."
Pitching is about listening as much as it is about presenting. Francis says, making the space to be able to listen is difficult..
"In this particular case, we wanted to do a tour of one of the warehouses but it just wasn't possible," he says. "Because for us, that's more about learning about the culture of the business, and, I don't want to be cliched, but a bit like the DNA and the way the place operates.
"Often you're trying to reflect that in your work as well. If you've got the personality of the company coming through in the work in a pitch situation they feel more comfortable with it because they know you've understood the culture, and how they want to be perceived."
He likes pitching. "The only thing I'll say about that is you always like the process when you win. When you don't win you think the process has got hairs on it. I like the process because it's quite structured, and I think the environment, doing everything online, without that structure it would have been more difficult."
Have something to say on this? Share your views in the comments section below. Or if you have a news story or tip-off, drop us a line at adnews@yaffa.com.au
Sign up to the AdNews newsletter, like us on Facebook or follow us on Twitter for breaking stories and campaigns throughout the day.