The original plan was to raise $5 million by going direct to existing shareholders of Metigy, an Australia-based, machine-led marketing platform, in March 2020.
Then COVID-19 hit and everyone was distracted, including investors and potential investors in the platform designed to help small to medium businesses with strategy, insights and recommendations to improve their social and digital marketing performance.
Metigy was founded by former We Are Social managing partner David Fairfull and Johnson Lin, who wanted to give small businesses the same data and strategic insights used by the world's best resourced marketing teams. The initial funding was from Fairfull and We Are Social in 2015, with later rounds from CP Ventures and Cygnet Capital.
"We simply didn't proceed," Fairfull told AdNews. "There was so much uncertainty. But we regrouped in June and started working on a more extensive raise. Quite a few things had fallen into place for us during those two or three months, oddly enough, which was good."
The entire raise process was then conducted via Zoom.
"One of our existing investors, which is a PE (private equity) firm, Cygnet Capital, offered to help with the process, and they had quite a few contacts with significant Australian investors," says Fairfull.
"We worked our way through that discussion for a couple of months, all on Zoom, the entire process. All the due diligence on Zoom, which I wouldn't have thought you could do, because you want to be able to build rapport with people.
"As it turned out, we were trying to raise $10 million but we got expressions of interest for $22 million, and we took $20 million. A pretty good result and I've only met one of those investors in person since then."
The funding round attracted major institutions, led by Cygnet Capital. Others included Regal Funds Management, OC Funds, Five Venture Capital, and Thorney, which added to early-stage investments from Cygnet, CP Ventures and We Are Social. The recent raise takes total capital raised to $27.1 million.
Ben McCallum at Regal Funds Management says it doesn't take an in-person meeting to look at the numbers.
And that showed Metigy was performing exceptionally strongly.
"Month on month, it had just continued to grow and grow," McCallum told AdNews. "Over a period of time, they continued to outperform our expectations and their own internal budgets, which meant that it was growing at an extremely rapid pace.
"And they managed to keep that growth at the same rate, despite the fact that they were getting bigger and bigger.
Something was working
So that was the first like even not knowing what the product did. Clearly, Metigy had something that worked. Time to dig in and find out more.
McCallum's thrust of investigation: What is the problem that they're solving? How good is this solution? How does that compare to what other options are out there? And then, how big is this market? Does the product apply to multiple industries both domestically and internationally? We want to know that the addressable market is large so there's a lot of runway for growth.
"And then one of the most important things, particularly for businesses such as Metigy that are targeting small businesses, is their channel to market," says McCallum. "How do you acquire customers at scale without spending too much money."
Anyone can throw millions of dollars at Google AdWords and Facebook ads to try to acquire customers. But picking the right channel partners, which is what Metigy has done, is a smarter approach.
And the process of discovery was done remotely. "All of our company meetings last year with existing portfolio companies and new potential companies, everything was done over Zoom," says McCallum. "So by the back end of last year it was a pretty well-trodden path, and we were pretty comfortable with it.
"Metigy was probably one of the biggest investments we made, probably the biggest investment I've ever made without being in the same room and looking at the whites of the eyes of the CEO that we're about to invest in, so it was definitely new from that experience."
David Fairfull: "It's a very different paradigm to the way it used to be, where it was a really intense interview process traditionally. They wanted to really get to know you, understand the business, meet people, and you just couldn't do that anymore. So the entire process was digital, which was really different, but it worked out really well for us.
"Everybody just had to adapt and it became the new normal. If you can pitch and get a result, then you can obviously run the business that way.
"It's a really interesting trend for us because we've been expanding our international partnerships pretty aggressively. And once upon a time, you would have done an initial conversation over Zoom, or done a couple of phone calls, and they'd say, 'That sounds fantastic. Next time you're in Singapore', or, 'The next time you're in San Francisco, come and see us'.
"So there'd be a lag between when you started the conversation, and when you finally got there, and that doesn't happen anymore. Now it's 'Oh, that sounds really good. Why don't we schedule a call for next week, and we'll just do it.
"We've moved through those partnership creation processes at record speed, because there was no lag. We just did it the following week, or the next day. Ironically, I think the whole experience has been good for us, because we've moved at a pace that we may not have achieved otherwise."
McCallum says it was obviously easier having Zoom meetings with existing portfolio companies, because you know the management team extremely well already, so you don't really need to be in person as much.
"For new investments, it's a bit different," he says. 'But that probably goes back to the quality of the business that Metigy is, and the diligence that we were able to do on the business, and the comfort levels that we'd got to ...  to convince us that it was the right thing to... Not only make an investment, but a pretty decent investment for us.
"The biggest thing in early stage investing is the person, the guy or girl, that you are backing. David has had previous success in his other businesses, but he's also just very passionate and clearly driven to make Metigy as big a success as possible.
"What he'd achieved in the business to date, despite the fact he didn't really have that much funding to get there, was also extremely impressive. We see other businesses that have had tens of millions of dollars put into it, some deliver good results, and others fail to attract and retain their target market of customers, no matter how much money the business invests.
"We knew that he would be a good custodian of new invested money."
A slide from the Metigy raise pitch: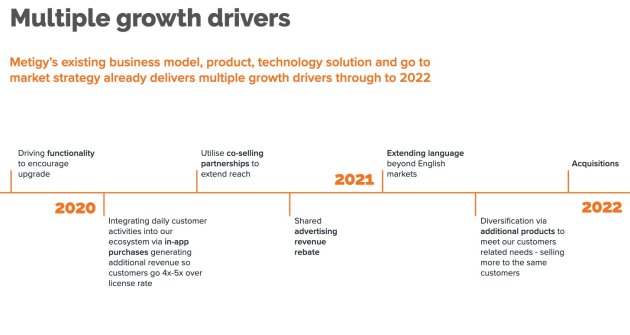 Metigy was looking for $10 million. McCallum told Metigy: "Look, we're comfortable that if you get more money than $10 million, you're not just going to waste it. You're going to spend it properly, because that's how you grew the business."
McCallum believes people's DNA typically doesn't change that much even if they've got more money in their balance sheet. But the opportunity that was ahead of them was big.
He told Metigy: "Look, you're better off raising more now to make sure that you're capturing the best of the opportunity that's ahead of you. You've got the balance sheet to go and acquire the talent, the employees, that you need to.
"There is a talent war out there and making sure you've got the best people is important, and the best people want to know that any business that they're about to join is very well-funded, and it's got the capacity to grow for years on years without needing to raise money. And so we thought there were a whole bunch of benefits to them raising more money."
And an economic reason. "We'd prefer to put more money to work in an earlier round because we think it's going to be worth three times more in a year or two" he says. "As we call it in the investment world, better to get set as early as possible in your high conviction bets. Investing in a year's time there might still a good opportunity but it will be de-risked at that point and you're probably going to have to pay a higher price for that."
McCallum says Metigy has multiple avenues for bringing in revenue.
"They've got their core products but within that they're monetizing that platform in other ways.
"The content curation part is one thing that we found really exciting. They've obviously got a strong relationship with some of the providers of images and videos. And when Metigy helps the SME pick what image they should be using, and instead of paying the retail price that the customer would usually pay, they get a better rate through Metigy and Metigy takes a small fee off of that.
"And the most attractive part about that is the fact that the customer is getting a such better deal as well, so they're going to want to keep using it more as well. They're actually paying less for a better service and everyone wins."
A slide form the raise pitch: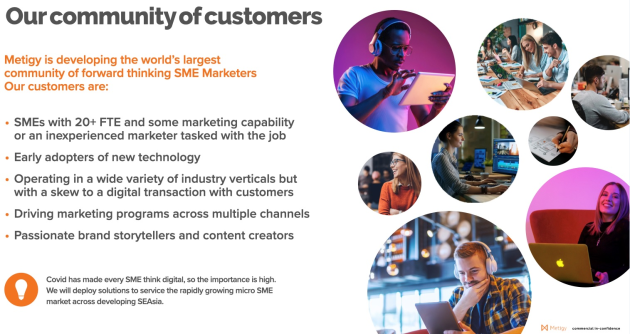 Fairfull: "As a business model, we have quite a diverse mix of revenue, and that is accelerating quite quickly. Traditionally, you've got to acquire a customer, groom them and develop them. But we are co-marketing with big partnerships that have significant customer bases, which is moving pretty quickly, and we're adding a significant range of in-app revenue. The lifetime value of each customer is multiplying fairly quickly at the moment, so we're getting more out of each customer.
"We're a digital marketing solution for SMEs that traditionally haven't been great at digital marketing, and because of COVID, it's been on trend, everybody has to be good at digital marketing now. Suddenly digital marketing was a hot topic, regardless of anything prior to that. It just became paramount that every SME becomes good at digital marketing. So timing is great, and it accelerated for us.
"We were, in the prior year, growing about 10% month on month, and that's kicked up to about 14% month on month since COVID, so that's a pretty good lift rate.
"Many businesses have obviously found it difficult to pivot and do things differently but we've been lucky enough to be on trend, and accelerate our growth because of it."
Metigy is a freemium model. Just sign up and get started.
"We provide the strategy that most SMEs find difficult," says Fairfull. "It's expensive to buy, it's hard to really get your head around, and if you're not an experienced marketer, then digital marketing is incredibly difficult, and incredibly complex. And it changes all the time."
Metigy now services 30,000 brands across 92 countries. Real time strategy in the form of insights, recommendations, and decision support data.
"We're ingesting 20 million sources of data on a daily basis and analysing that, and you can't possibly do that as a human. It's a fantastic machine learning application, to be able to analyse that data and turn it into a simple strategy, that anybody can execute, regardless of their skill level. So we deliver that, and then we provide them the tools to execute fairly effectively."
McCallum: "Moving towards an IPO will be really exciting for the company as well. It will really put them on the map. IPO's are always a great branding process for the companies themselves.
"Other small businesses will hear about Metigy and what they're doing and realise that it might be a solution that they'll be able to utilize to help them in their own pain point."
Have something to say on this? Share your views in the comments section below. Or if you have a news story or tip-off, drop us a line at adnews@yaffa.com.au
Sign up to the AdNews newsletter, like us on Facebook or follow us on Twitter for breaking stories and campaigns throughout the day.