This first appeared in the AdNews May 2019 magazine. Support AdNews by subscribing here.
Described as "faceless organisations identified only by their acronyms", with some having historically been called "toothless tigers" following industry debacles around transparency and rebates, industry bodies appear to fall in and out of favour or cause divide among execs.
One moment they are extolled for efforts such as AWARD School, which gives underrepresented people a chance to enter advertising, or for creating an impressive five-year Advertising Industry Labour Agreement, giving adland businesses the ability to sponsor specific roles, and the next they are criticised for high fees, being irrelevant to small businesses or for pushing too many courses and events on members.
Love or loathe, there's no denying that industry milestones and standards have been carved out due to the efforts of the CEO (or chairperson, depending on who is pulling the strings), board and of course the paying members of certain groups.
Overall, one thing many concede is there are too many industry bodies, coupled with confusion about who does what and what the real value of each is.
As a result, AdNews has selected the most well-known industry bodies and, in one place (and continued online), we offer a snapshot of what each does, what they offer and what they are promising to do. In addition we put some of the hard questions to them, seek industry views and showcase some stats from a mini industry survey run by AdNews.
The initial 10 earmarked include Interactive Advertising Bureau (IAB), Media Federation of Australia (MFA), The Communications Council, The Australian Association of National Advertisers (AANA), Free TV Australia, Commercial Radio Australia (CRA), NewsMediaWorks, The Outdoor Media Association (OMA), The Association for Data-driven Marketing and Advertising (ADMA) and The Australian Marketing Institute (AMI).
AMI, which provides awards, sets standards through its code of conduct and works with marketing academia, including course accreditation, did not respond to AdNews. The body was run by CEO Lee Tonitto until she stepped down in December last year, after four years in the role. A new boss is yet to be announced. The AMI chairperson is Lynda Cavalera.
ADMA features in the line up and updates us on its endeavours after a turbulent year. Now run by MD Andrea Martens, ex-CMO of skincare brand Jurlique, the group has encountered several struggles since longtime CEO Jodie Sangster left in March 2018. Ex-AdRoll MD Ben Sharp joined in May 2018 but resigned after just two weeks and in the following September it pulled the plug on its AC&E Awards at the last moment.
Rumours around debts, staff exits, and membership and sponsorship losses have since circulated. It has also not published its financial report for 2018, which provides an update on ADMA's current financial position, despite having done so years prior.
On the question of a rocky patch, speaking to AdNews, Martens questioned "What rocky patch?" stating that ADMA is in a stable financial position.
"Membership renewal rates are steady with new members joining all the time. We have a strong 2019 events program (just delivered the most successful Data Day in its 15-year history with sold-out events in Sydney and Melbourne), a new AC&E proposition launching later in the year, and a revitalised education proposition ADMA IQ which will go live in May. Since the inception of AADL (The Australian Alliance for Data Leadership) in 2017, ADMA financials are reported as part of AADL," she said.
Martens, who last month was also made CEO of ADMA's parent company AADL, after Stephen Porges resigned, said she has defined a new, sustainable business model for ADMA that will transform the business into an industry leader.
During her time she has also reviewed ADMA's membership offering by getting in front of members to "really understand what they want from ADMA" and how they can continue to strengthen the membership proposition. A new member proposition is set to be launched this month.
One strong, integrated body should prevail
Speaking to AdNews, CEO of Ogilvy Australia David Fox said the WPP-owned agency is a supporter and sponsor of the AANA and describes it as a "well organised and thought-provoking body which drives self-regulation, tackles important issues for the industry and has strong points of view to debate around these topics".
While not formally involved with the Comms Council, non-member agency staff do still interact with some elements.
Fox said effective and integrated industry bodies are an absolute must, and they should represent the industry on the issues of the day. However, the current issue Ogilvy has is that there are "too many, and they are siloed and independent".
"The future of our industry is integration and collaboration, and our industry bodies do not represent this in our view," Fox said.
"We would be hugely supportive of one strong, integrated body which stood for the future of modern marketing  and communications. Until this happens, we do not feel that any single body best represents our needs and the cost associated with being part of all of them is prohibitive. I think we can do better, and have to, in such a competitive and disruptive environment."
The Youngbloods is an industry committee powered by The Communications Council which features members aged 30 and under who work within some of the country's top agencies, including Saatchi & Saatchi, The Brand Agency, Publicis, CHE Proximity and more.
Youngbloods member Spencer Ratcliff, who works as an account director at The Monkeys said there is great value in the spin-off group.
"We're here to empower new generations of professionals to kick arse in advertising by creating and facilitating a world-class journey through the industry," he told AdNews.
"We're pursuing this for a simple reason; we believe the power of young people's fresh perspectives and new ideas can change our industry and our world, for the better."
Founder of independent agency Hyland, Virginia Hyland, who employs 40 staff, speaks highly of the MFA's programs and training sessions, which focus on developing hard skills, such as digital knowledge, as well as programs that help with managing teams, dealing with stress and how to be resilient in such a changing industry.
"My team come back to the office uplifted and with a happier outlook on the day," she said. "They also get to meet their peers and listen to their challenges, which tend to be similar to their own. This makes them feel that we're all in this together."
Hyland attends conferences held by the IAB to help develop digital thinking, interrogation of trends and to tap into thought leaders and also praised the MFA and Comms Council's visa efforts.

GroupM is a member of both the MFA and ADMA, with CEO of GroupM Australia and New Zealand, Mark Lollback, sitting on the board of both organisations, something he said he values greatly. GroupM also works closely with the AANA, as WPP is a member. Mindshare CEO Katie Rigg-Smith also sits on the MFA board.
Lollback said that on a macro level, the MFA should steward the industry and its future, uphold the reputation of media agencies, and reassure the broader market of the "positive and vital contribution" agencies play in growing brands and businesses.
"A healthy and robust media industry and media agency market is essential, as is a representative organisation committed to improving the broader industry for all participants," he said.
"For me and GroupM, being part of that process is essential to a thriving industry."
He commends access to training and education opportunities for its people, through MFA NGEN and MFA5+, and in relation to the AANA, believes it's important that the industry has a strong member body representing clients and enabling CMOs to connect at a senior level.
Major media companies such as Nine, which has assets across TV, print and radio, tend to be supportive of all industry bodies, which can be costly because membership fees are based on size and revenue.
A Nine spokesperson: "As Australia's largest locally-owned media company, Nine is a member of a number of key industry bodies which represent our interests across television, publishing and digital, each of these serves a different purpose and in many cases operates in different spaces, be it marketing or regulatory such as ThinkTV and Free TV."
As budgets tighten in marketing departments and also within agencies, with pay freezes prevailing and some roles left unreplaced, cost-cutting tactics can see industry body subscriptions under the microscope.
One major ASX-listed brand, which is a member of several industry bodies, within adland and within its specific business vertical, is in the midst of reducing all overheads. It has established what it calls an industry body review committee with the sole purpose of investigating the value received from the groups.
A spokesman for the brand would only speak off the record, citing fears about competitor reaction and senior exec involvement on boards. The brand wanted to conduct the review first and then reveal its decision.
Are smaller businesses left out?
Ex-Vizeum MD-turned founding partner of full service independent media agency Kaimera, Nick Behr, does not subscribe to any. While bodies like the MFA do play an important role, they feel like the domain of the larger agency networks, from both a cost and value perspective, he said.
"The price of membership is considerable – prohibitive, even – for the smaller independents, and the benefit isn't immediately clear, for us or our clients. We're just not seeing an emphasis on it from our clients, current or prospective," Behr said.
"Weighing up the investment required with the value we'd see in return, I think there are more effective ways for us to contribute to our advancement as an industry."
IAB said it does have a wide range of members from small creative shops with a few employees right through to the largest media organisations.
CEO Gai Le Roy said that while the larger organisations have more resources and people, and thus tend to get more involved in activities and projects, membership fees start at a few thousand dollars, giving companies access to all research and resources for all their employees, as well as free tickets to most of its events. "For some major industry discussions we will run forums for non-members as well as our members as per our recent Future of Measurement Town Hall event," she said.
Gary Nissim, MD of digital marketing agency Indago Digital, which has 25 staff and clients on its books such as Travelex, Crown Resorts and AAT Kings, also does not sign up to any industry body.
"I'm not 100 percent sure of the benefits, which might be one of the key reasons we're not using them," Nissim admits.
"Indago is a digital performance agency and due to search marketing being one of, if not the best performing ROI channels available, we are heavily skewed towards it.
"The IAB does not have a search council, even though its quarterly reports with PwC state that search is the most invested in of all digital channels in Australia. My impression is that the majority of their information is focused on display advertising and its sub-areas such as ad fraud."
He said ADMA does have training for search marketing, including the SEM Essentials course, but resources and events don't seem to be aimed specifically at his agency's needs. Any events he is interested in attending, he just signs up to them individually.
Entry level fees for the MFA start at $5000 and include all NGEN and MFA Digital Foundation training programs.
MFA CEO Sophie Madden argues that members reflect the full spectrum of the media agency industry; small and large agencies, local independents and multinationals, specialists and full-service agencies.
"We have a 100 percent renewal rate among members large and small, which demonstrates that they believe they're getting their money's worth," Madden said.

Sophie Madden
Despite Indago and Kaimera not seeing the benefit, MD of indie digital, social and video content business Hat Media, and head of digital at production agency Frizbee, Joana Inch, said ADMA lured her in because she believes in investing in staff by furthering their education.
"Staff retention is a cornerstone of success and healthy work culture, and staff are more likely to stick around if they feel valued by their employer. So, we offer them industry-related courses via ADMA but also allow them time to take personal interest courses via online learning platform Udemy," Inch said.Aside from staff retention, Inch says that staff return more motivated and full of ideas to pass on to clients.
"It's a win-win," she said. "They suggest new tech that can be used to help them automate lots of tasks and therefore become more productive and they are excited about passing on this knowledge to junior staff who they manage which helps further their knowledge too."
Ex-MediaCom director and now MD of full service shop This is Flow, Jimmy Hyett, subscribes to the MFA alone.
"This is not a reflection of a lack of industry bodies that could be relevant to us in this market, but of the time we have to extract the full value out of them," he said.
"As a small and new team, the list of to-dos continually grows and expands. As we grow it's about picking our battles and, without the funds and resources to properly evaluate and measure the bodies out there, we need to focus on the main priority, which is our clients." He feels the MFA is "engaged, relevant and prominent in the industry".
"Internally, it gets personal, as they have been supporting, training and inspiring me ever since the beginning of my media career 15 years ago. As an NGEN member, a charity committee member, an MFA5+ committee member and now an MFA5+ mentor and speaker, I have seen first-hand that there is no other industry body that is as supportive and ingrained in our individual career path for a media agency in Australia."
Hyett, whose business in the last 12 months has won CruiseCo, worth $5 million, and the $3 million media and creative account for McVitie's and Hydralyte, said while there are some great creative, digital and industry specific bodies out there, he feels they don't make themselves heard as much.
"While we will never say never, we won't be looking at adding any additional industry bodies at this time," he said.
While many clearly note an array of highlights, a frustrating factor is that others within the big networks, who do have some concerns, refuse to go on record for fear of how this may impact them when they are already involved at a deeper level, such as sitting on the board. This leaves the confident indies to speak out.
With confusion about who does what, it begs the question: is the biggest problem within the crowded trade-body landscape actually, and ironically, a marketing problem?
Founder and global CEO of TrinityP3 Marketing Management Consultants, Darren Woolley, said it's much more than a marketing issue.
While a passionate supporter of the marketing, media and advertising category, Woolley said no single industry body is relevant to the work it does. "It is my experience that many industry bodies are firstly under-resourced or under-supported to do the work that is required, be it trade representation, professional development or category promotion. Part of the problem is having a clearly defined charter and business model to deliver the charter," Woolley said.
"The second is there are quite a few competing for share of market and therefore there is a marketing issue, which is the one thing the industry should be able to address."
He said the other issue is that, as the challenges facing the industry change, we have to look at how we address these changes and perhaps this requires a more focused and consolidated effort.
"I know that marketing is not a recognised profession, like law and accounting, but if they can have a focused and professionally recognised professional development organisation, then perhaps the first step for industry bodies in Australia is to galvanise and collaborate around this here?"
While many are set up as not-for-profit associations or entities, he stresses that this should not mean 'make a loss'.
"It means manage at a profit to reinvest back into the organisation for the benefit of members. Perhaps we need to look at what the industry needs today and develop a business model and a marketing plan to meet the complex needs."
To eliminate confusion about who does what, and to help you work out which peak body is for you, we asked each organisation who they are, who they represent and what members can expect to gain from joining them.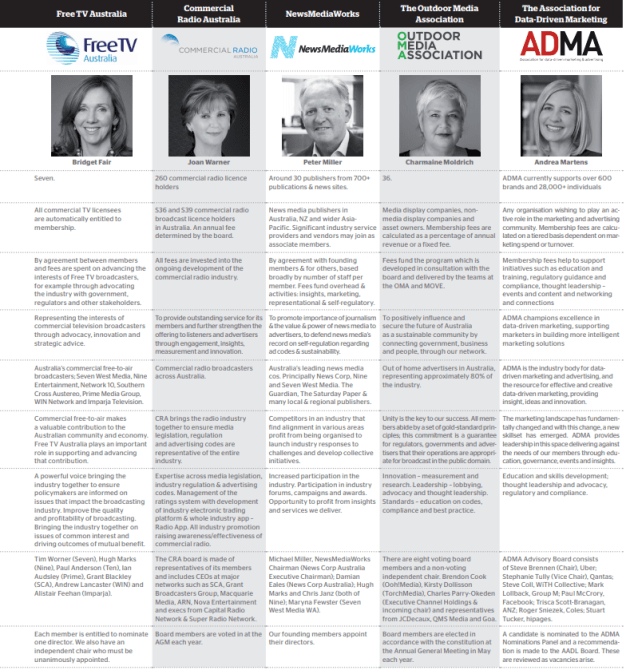 Have something to say on this? Share your views in the comments section below. Or if you have a news story or tip-off, drop us a line at adnews@yaffa.com.au
Sign up to the AdNews newsletter, like us on Facebook or follow us on Twitter for breaking stories and campaigns throughout the day.