Want to know where Australia's busiest supermarket is or which suburb eats more pizza than any other?
Near, which calls itself a Singapore-based human mobility platform company analysing the physical movement of 15 million Australians each month, knows exactly where they are.
Woolworths at Westfield Bondi Junction is the busiest supermarket in Australia and recently Sydney's Macchiato Wood Fire Pizza on Pitt Street became the busiest pizza joint.
Media companies are making good use of the movement data, offering advertisers finer slices of audiences to reach highly qualified prospective customers for brands.
News Corp Australia earlier this year announced a deal with Near. MCN, the media sales house for Foxtel and other content brands, says it now has an exclusive contract for Near's marketing product across the Australian advertising market.
MCN says it is integrating Near data to provide richer post campaign reports including audience profiles and brand affinity attributes.
"Looking to the future, we are currently working through how we can match our Foxtel audience across not just digital but also our broadcast platform with location data to give us a single view of our consumer," Nev Hasan, MCN's director of advanced advertising, told AdNews.
"This will allow us to not only understand our consumers better from an insights point of view, but allow us to be more targeted when engaging with them - which then presents a truly unique opportunity for attribution modelling across our platforms."
Near is still a private company and won't reveal its financials but its investors include venture capitalists Sequoia Capital, JP Morgan Private Equity Group, Cisco Investments, Telstra Ventures, and Global Brain Japan. Near's data, available in 40 countries, is married with local census and map information.
The data collected is being used to understand how people behave in the real world, not online, but offline -- where they visit and what they like to do.
"That can actually help us solve a lot of interesting problems, ranging from advertising to development, smart city planning, and understanding traffic movement," says Near co-founder Shobhit Shukla.
"Near is the largest human mobility platform. We are collecting data on how people move around."
Movement data gathered from apps
Near provides this anonymous mobile location information by tapping data collected by apps, mostly of the free variety such weather, gaming, or maps.
News Corp in March announced, as a part of a string of enhancements to better define audiences, a deal with Near.
Shukla, in an interview with AdNews, says his company has worked with hundreds of brands in Australia.
"Traditionally advertising has been very much based on the kind of content that you consume, whether it's on television, print, online, or social networking sites," he says.
"Now for the first time we have an opportunity to understand the behaviour of users, not just based on the content they're consuming, but also the places they're visiting, and the behaviour they exhibit in the real world.
"When you merge the two, you get a much better picture of a person's behaviour."
For example, a car dealership will want to know who might be interested in buying a Tesla.
To find them, the dealership could go to a social networking site and see who's interested in an electric car.
"But if you look at people who actually visit a Tesla dealership for a test drive, we would argue that's probably a stronger signal of their intent to buy," he says.
"But you can merge the two anddo a test to see which audience is performing well."
The Near map: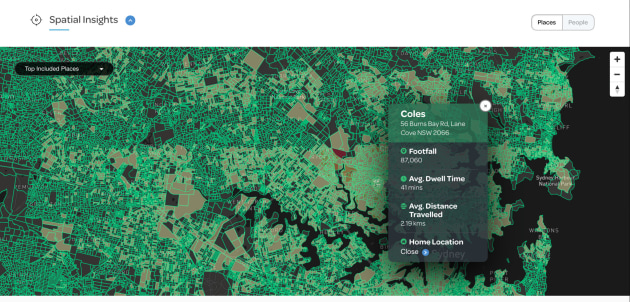 Shukla argues that brick and mortar store visits are a very strong signal of consumer buying.
"Digital attribution has been very well defined so if you go online and buy something, everything is measured," he says.
"But if someone saw an ad and then actually ended up walking into a store and buying something because of that ad, then the publisher should get credit for that.
"So we're also bringing performance metrics and measurability to the large publishers who have traditionally have been about premium content. And if you marry premium content with performance metrics and measurement, then you have the best of both worlds."
In Australia, Near has data on about 15 million monthly active users.
"The thing to remember is that we didn't have all of these ten years ago, so this is still very much in its infancy," he says.
Near started as a company in late 2012 in Singapore. Most of its research and development is done out of Bangalore in India and San Francisco in the US. 
"We don't really have a services or a consulting model, we don't share any raw data with any partner or any customer," he says.
"All of the data gets surfaced and visualised through the software, and that's partly also for privacy reasons because we want to make sure that when we get consent from our users to utilise the data."
MCN's plans
MCN describes the ability to add real world audience insights based on location as amazing.
"We have been using location data in various ways across not only our digital platform but also TV to allow us to provide more targeted and relevant solutions for advertisers and brands," says Hasan at MCN.
"Traditionally location targeting efforts have been focused on proximity, by reaching users close to a location like a casino or restaurant and serving them advertisements.
"Over the last 18 months we have also seen a shift to looking at where users have been rather than where they are and this is when the opportunity expands.
"Historical behaviour or locations are a unique proxy for future behaviour and information - something that is extremely valuable for clients to segment key audiences across the board."
Near's ability to look at historical behaviour helps to deliver deep consumer insights, while also being used to measure business outcomes.
"For example, we can look at footfall uplift studies comparing multiple stores over various location for consumers who were exposed to advertising vs non-exposed," says Hasan.
The data takes the analysis further, such as people who have been to footy stadiums during the season and what other locations are these fans likely to visit, and whether they are likely to be gym junkies, passionate cinema goers or frequent flyers.
"This information is interesting both to a sports codes governing body, but also to major sports advertisers who want to gain deeper insights into how to reach their core audiences," says Hasan.
Have something to say on this? Share your views in the comments section below. Or if you have a news story or tip-off, drop us a line at adnews@yaffa.com.au
Sign up to the AdNews newsletter, like us on Facebook or follow us on Twitter for breaking stories and campaigns throughout the day.