Six months in the making, GroupM's new media agency Wavemaker officially opens its doors for trading in Australia today.
The business, which combines Maxus and MEC but has built from the ground up, will have combined annual billings of $1.4 billion and 343 staff at offices in Sydney, Melbourne, Adelaide, Auckland and Brisbane, making it GroupM's largest media agency in Australia and New Zealand.
Its client book includes Nestlé, Jetstar, Mitsubishi, Colgate Palmolive, Paramount Pictures, Edgewell (Energizer and Schick) Domino's, South Australian Government, Vodafone, Allianz and Hungry Jack's.
In an exclusive chat with AdNews, Wavemaker Australia chief executive Peter Vogel says that all key leadership roles have now been filled, but the agency has only publicly revealed about 80% of these to staff and clients, full details will be disclosed to this publication in due course.
"Or full leadership team is in place, there's just one or two we have to announce internally, which we will do in the next week or so," Vogel says.
"The principles behind our leadership team are threefold, it is clients, markets and product. We've got a fantastic national footprint in Australia, one of the most comprehensive with strong offerings in Sydney, Melbourne, Brisbane and Adelaide as well as Auckland, which also falls under our remit.
"We have managing directors in each of those locations which is a key part of our management team...our brand lives in the local market- we are more global-local."
Bringing the two organisations together has resulted in very redundancies outside of key leadership roles and some back office functions.
"There's certainly been no downsizing of our organisation and we have fortunately been putting on new bits of business as well so we are very much recruiting," Vogel adds. "About 99% of our talent internally have been retained."
The purchase journey agency
Wavemaker's product offering revolves around the purchase journey. This means charting all of the touchpoints along a consumer journey and using insights to get the most out of each channel at the right time.
Wavemaker has spent the past six months transitioning clients into this new approach, but in reality the foundations have been poured over the past four years.
"We have put a lot of work into our product transformation and we have fantastic new products, processes, tools and IP that is rolling out. The core of what we offer is around our expertise, knowledge, insight and research into the customer purchase journey," Vogel says.
"We know how to engage with the consumer depending on where they are in their decision-making process and engage with them in a way that changes their behaviour and leads to growth with our clients."
Underpinning this approach is what Vogel describes as the 'biggest database of purchase journey and customer behaviour' as well as "GroupM's data and technology spine" - mPlatform.
This allows the agency to build audiences out of real data and activate and engage in an addressable way.
Wavemaker wraps this offering up in a new planning process called Rapid Growth planning. Two new products clients can expect to see in market are
Last week the agency launched a number of new tools. This includes Wavemaker Benchmarks – a four-year rich database of consumer insights from 350 purchase journeys in 40 markets and 30 categories.
Another tool is Wavemaker Touchpoints, a tool that highlights the "most effective channel at changing behaviour at different phases of the purchase journey".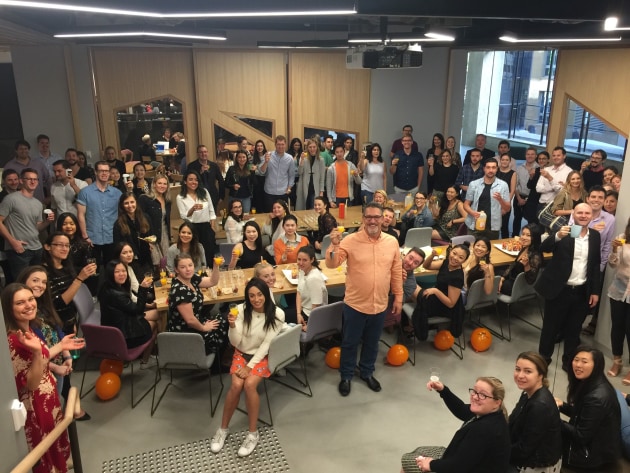 Wavemaker's Sydney team enjoy a champagne breakfast to celebrate the dawn of a new era.
A global-local structure
Wavemaker has a new global structure that removes a layer of regional leadership, which means the eight largest agencies around the world, including Australia, have a direct line with global HQ.
The heads of these eight markets form an important part of Wavemaker's global executive committee, ensuring local agencies have a stronger voice at the top table to influence global decisions.
The aim is to flip the top-down structure that usually exists in global agencies so that the global executive committee serves as more of an enabler of local decisions and client needs rather than a dictator. Globally the agency has 8,500 staff in 90 countries.
Have something to say on this? Share your views in the comments section below. Or if you have a news story or tip-off, drop us a line at adnews@yaffa.com.au
Sign up to the AdNews newsletter, like us on Facebook or follow us on Twitter for breaking stories and campaigns throughout the day.