The use of "unprecedented" during the COVID-19 pandemic is unprecedented but it's not the most overused or abused word or phrase in Australia during the coronavirus crisis.
The coronavirus has created a series of phrases and words now in common usage, many of them descriptive of what's happening, such as social distancing, lockdown, elbow bump and pivot (as in switch business models).
The Macquarie Dictionary, with its eighth edition being published this month, has a long list for inclusion in the Australian word bible. Social distancing has made it into the latest print edition. 
Among the highest usage phrases during the pandemic, according to analysis of online news sites by media monitoring firm Streem: uncertain times; all in this together; herd immunity; new normal.
Rankings by usage, according to frequency analysis of news reports by Streem:
Many are not impressed with some usage.
Word watcher Susan Moore, who by day is director, public relations, for industry analyst firm Gartner in Asia Pacific, says she's received many marketing emails featuring "now more than ever' and 'in uncertain times".
"But my personal pet hate has become the phrase 'out of an abundance of caution'," she says.
"It's used to justify almost any action you want to take on the basis that it's for your own good.
"There are many other ways to convey care that don't carry the same legal overtones. Clear English is always important and more so in a crisis."
Conal Hanna, Streem media and partnerships lead: "As uncertain times have become the new normal, many writers and journalists have fallen back on the same words and phrases to describe what's happening.
"Linguistically, it seems, we're all in this together."
How two key phrases surged in popularity, according to Streem: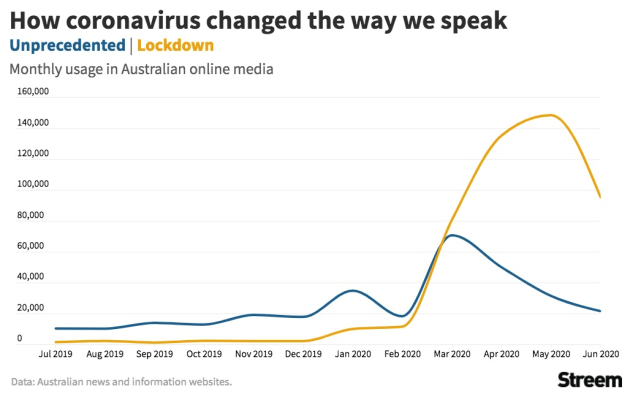 Macquarie Dictionary senior editor Victoria Morgan says a lot of terms being used now are in the dictionary but were so little used few were aware of them. These include telehealth, PPE (personal protective equipment) and coronavirus.
"We've had hundreds of new suggestions for either phrases or new words and a number of them have actually made their way into the dictionary already," she told AdNews.
"This is something we're watching because everyone's lives have changed so much and the longer this goes on the more likely this is to become part of the language."
The eighth edition of the Macquarie Dictionary went to the printers in March and by then COVID-19 was an established form that wasn't going to change.
Also in the new edition out later this month is social distancing and P2 and N95 masks (which the editors at Macquarie Dictionary had been watching because of the bushfires).
And usage of common words can change. Shutter, a noun, is now used as a verb, as in close a business.
The elbow bump turns out not to be that new.
"Apparently anytime there's an outbreak of any kind the epidemiologists say to avoid contact. Instead of high-fiving or kissing or shaking hands, try something like the elbow bump," says Morgan.
"I found that surprising that had come up and gone a few times in the past. I don't think it's particularly caught on now but definitely a lot of people are doing it or using it as a form of physical contact.
"Contact tracing has also been in use in the past but more often to track STDs or cases of the measles. Now it's become prevalent, so that's something else that we are putting in.
"And flattening the curve, something you can't get away from. It is a specialised term in epidemiology but it was never used, unless you're in that specialist field."
And iso, short for isolation, is being used as the prefix with everything, such as iso burnout. Other shortened terms include  rona (coronavirus) and sanny (hand sanitiser).
And babies born during pandemic are being called coronials, a blend of the coronavirus and millennial.
"I definitely think that is something that will stay around as well," says Morgan.
And some are reportedly being named COVID-19, lockdown and sanitiser
"I thought lockdown (as a child's name) had a slightly edgy sound to it," says Morgan. "I really don't know what the children themselves will think of this as they get older."
The abbreviation BCD (Before Coronavirus) is in use as is another short form, COVexit.
"We've only seen a few cases of this (COVexit) used and it's always explained, but it's the measures, all the strategies, of coming out, sort of out of COVID-19, emerging from the lockdowns and into the economic recovery," says Morgan.
"And that's a play on Brexit and Brexit. I think that one would be a nice on, but it hasn't really picked up.
"Boomer remover is an unfortunate one but if it does tend to be used humorously."
Nick Foley, Landor's VP APAC, writing for AdNews: "Perhaps my biggest gripe with the corona virus terminology is this one, 'We're living in unprecedented times'. This particular turn of phrase has caught on quickly and is a clear fave for those seeking some sort of alternative for 'uncertain times" or 'uncharted waters'. "
He urges all to: "Now, more than ever we need to resist the many COVID clichés doing the rounds and engage in a more meaningful dialogue. Because, after all, we're all in this together."
More word tracking from Streem: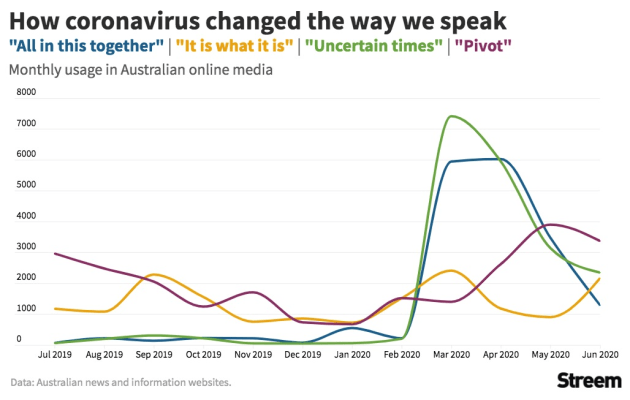 Have something to say on this? Share your views in the comments section below. Or if you have a news story or tip-off, drop us a line at adnews@yaffa.com.au
Sign up to the AdNews newsletter, like us on Facebook or follow us on Twitter for breaking stories and campaigns throughout the day.