Facebook is ditching 20 metrics and is attempting to provide more clarity around metrics on its Ads Manager tool.
This includes labelling metrics as 'estimated' when they are calculated using sampling and modelling and 'in development' for metrics that are either new or still in development (see graphic below).
"Estimated metrics are calculated based on sampling or modeling," Facebook said in a blog. "They can provide guidance for outcomes that are hard to precisely quantify, and we may update our measurement methodologies as we gather more data and improve our signals.
"When we provide real-time results, we often use sampling methods that allow us to instantly model metrics at scale. By labelling metrics as estimated, you will now know when these methods are used."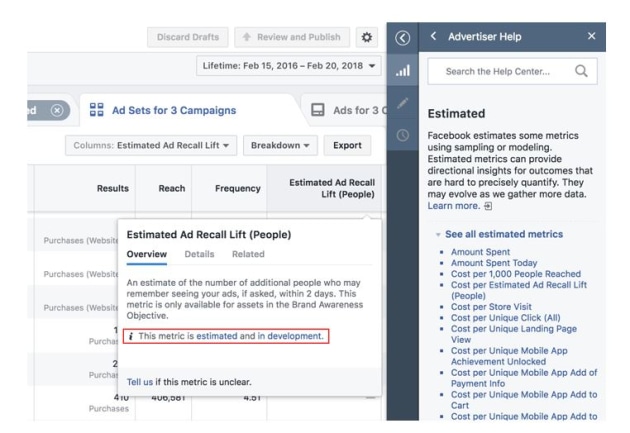 "Businesses want more insight into our measurement tools and metrics, so we're introducing new labeling, removing some other metrics to highlight the more meaningful ones, and launching a new program to help educate marketers about measurement." Facebook Australia and New Zealand MD William Easton tells AdNews.

"What we've been addressing on the Measurement Council are the issues and opportunities to make metrics better for our clients or internal folks at agencies. Everybody has a different perspective on problems and opportunities but we've been working together to solve those."
Improved labelling and providing greater clarity over how metrics are calculated and what they mean will be a welcome move for marketers.
Last year the definition of Facebook's reach metric came under scrutiny when AdNews discovered the estimated reach on Ads Manager was far greater than official population figures in several countries.
Facebook has since expanded the labelling of 'potential reach' to explain it is not designed to match population or census data (see bloew), which is still greater than population figures in younger age demographics.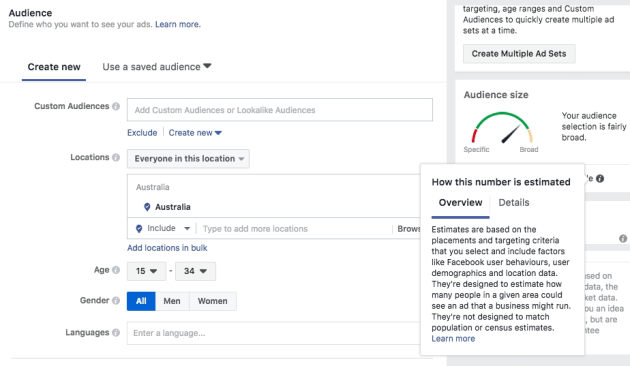 Out with the old
In July, Facebook will remove metrics that it says are redundant, outdated or unhelpful to advertisers.
These include the 'actions' category of metrics where, all actions such as engagement, clicks or conversions are aggregated.
It will also remove button clicks, amount spent today (which has been superseded by a dynamic date selector), page mentions, positive and negative feedback, page tab views and social metrics (social reach, social impressions and social clicks).
A full list of the metrics Facebook intends to remove can be found here.
Most of the metrics being removed have been superseded or are not regarded as useful to advertisers. The aim is to simplify measurement and focus on more meaningful metrics.
GroupM director of implementation reasearch Edward Gaffney adds: "I applaud Facebook for admitting that their numbers aren't perfect but constantly striving to make them, not just better, but also better understood and more useful for those I work with."
Have something to say on this? Share your views in the comments section below. Or if you have a news story or tip-off, drop us a line at adnews@yaffa.com.au
Sign up to the AdNews newsletter, like us on Facebook or follow us on Twitter for breaking stories and campaigns throughout the day.