Facebook and Instagram have launched their first ever Annual Gift Guide, which features 30 small businesses from regional Australia. Each of the thirty, using social media to build community, to thrive and to drive economic impact.
So, in the spirit of silly season, AdNews has selected five businesses and products that caught our eye.
Bills Beans' Brazil Fine Cup
Monday to Friday it's payPass central as we tap and rush off with our morning brew in hand. But what about the weekend, when there's no panic for the train, bus or electric scooter? Enter Bills Beans: a speciality coffee roaster dedicated to ethical bean sourcing and improving the lives of their coffee farmers along the way. Roasting in Orange, Central New South Wales, the Brazil Fine Cup is rich with chocolate and hazelnut tones. Perfect for those Opal card free mornings when coffee is recreational rather than medicinal.

Eco Warehouse's Apricity Australia Complete Razor & Shaver Gift Pack
Unless someone has explicitly said "you look fantastic with light two-day old stubble", the chances are you absolutely don't. Hang up the George Clooney inspiration and invest instead in an environmentally friendly shaving kit from green-wunderkinds Michael and Natalie, the brains behind Eco Warehouse. Products are locally sourced and environmentally friendly - no single use plastic to be seen. Your face will thank us.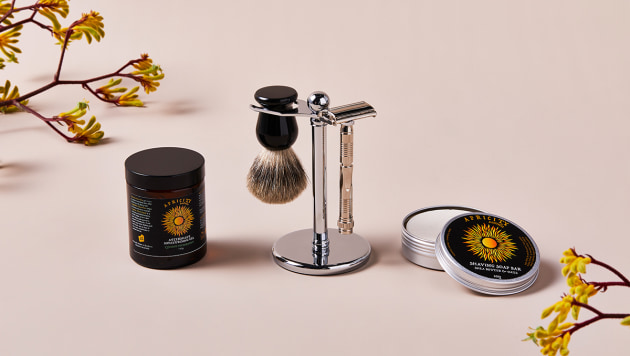 Noel & Gladys' Ceramic Mug
There's only a short window when the coffee-stained mugs shouting your achievements as a graduate / marathon-completer / zoo-goer (delete as applicable), are charming. Then, they just serve to remind us how long ago 2006 really was. Noel and Gladys, an independent store in Thirroul work with local artists and micro-businesses to stock beautiful products, such as these handmade ceramic mugs by Therese Petre. Yes, you may have run a 5k four years ago, that doesn't mean it needs to sit on your desk everyday.
Odd Pears' RB Socks
Business up top, party down below. Not a mullet reference but an introduction to Brock Sykes' company, Odd Pears. Brock, an ex- suit, used to wear amusing socks to make his corporate days less gloomy. Now, he sells them! In pairs of three, no less. Odd Pears will provide two matching socks and an odd third (the 'pear' - geddit) to bring your outfit some under-trouser flair, matching or not. Or over trouser, depending on how fun your boss is, of course.
Bush Medijina's Breathe Easy Balm
It's Wednesday morning and somehow there have already been five networking events this week. You, a dedicated networker, have attended all of them. But something's gotta give and at this point it seems to be your immune system. You need something, STAT.
Bush Medijina's Breathe Easy Balm is just that. A pocket-sized, organic coconut sinus soother infused with eucalyptus and peppermint essential oils. Bush Medijina, created by Warningakalina elders, works to help the women, children and families on Groote Eylandt (a remote island off the coast of Arnhem Land). An all-female board head the organization and a staff comprised of 80% indigenous women who create beautiful balms to calm, soothe and nourish. Winner.

So, get to it, buy something from a small business owner, who will do a dance of joy when your sale comes through. Check out the Guide here.
You can read more about the economic impact of small businesses using Facebook in the Connecting Benefits report from PwC Australia.
Have something to say on this? Share your views in the comments section below. Or if you have a news story or tip-off, drop us a line at adnews@yaffa.com.au
Sign up to the AdNews newsletter, like us on Facebook or follow us on Twitter for breaking stories and campaigns throughout the day.