Facebook has admitted that up to 270 million (12%) of its user accounts are fake, double its previous estimates. Meanwhile fresh information has emerged drawing ties between the social media network and Russia.
Facebook said the increase is because it has new technology to sniff out fake accounts, rather than there being an influx of new fake accounts.
The numbers were buried in its third quarter results update and are another example of Facebook's metrics not holding up. The revelation emerges only months after an AdNews investigation found Facebook's reach for millennials was 1.7 million more than Australia's population, which includes discrepancies of 124% for 15-24s and 122% for 25-34s.
The pattern is repeated in numerous countries with discrepancies in Facebook's 'reach' and the population as much as 40%. Facebook claims this is due to people travelling, or misreporting their age, and says its numbers are not meant to match census data. Last Week, Carolyn Everson, Facebook's global VP of marketing services, told AdNews that it wasn't hiding from those discrepancies but was working on ways to improve it.
Read:  Facebook: We're not ignoring discrepancies in our numbers says global VP
The increased number of fake accounts would go some way to explaining the discrepancy but does not account for some of the large differences in developed markets. In fact, Facebook says that the spike in fake accounts emanates from developing nations.
"We also believe the percentage of duplicate accounts is meaningfully higher in developing markets such as India, Indonesia, and the Philippines, as compared to more developed markets," Facebook wrote in its results.
"In the third quarter of 2017, we estimate that user-misclassified and undesirable accounts may have represented approximately 2-3% of our worldwide MAUs. Our estimation of false accounts can vary as a result of episodic spikes in the creation of such accounts, which we observed in the third quarter of 2017 and which we have seen originate more frequently in specific countries such as Indonesia and Vietnam." 
Facebook also concedes that it is difficult to measure the amount of users that lie about their age and the technology it uses to locates users is not always accurate.
"In addition, our data regarding the geographic location of our users is estimated based on a number of factors, such as the user's IP address and self-disclosed location. These factors may not always accurately reflect the user's actual location," Facebook added.
"For example, a user may appear to be accessing Facebook from the location of the proxy server that the user connects to rather than from the user's actual location. The methodologies used to measure user metrics may also be susceptible to algorithm or other technical errors. Our estimates for revenue by user location and revenue by user device are also affected by these factors."
Facebook doesn't publicly reveal the revenue it makes by country and the revenue it discloses to ASIC is not a realistic reflection of its Australian-based sales.
"We regularly review our processes for calculating these metrics, and from time to time we may discover inaccuracies in our metrics or make adjustments to improve their accuracy, including adjustments that may result in the recalculation of our historical metrics. We believe that any such inaccuracies or adjustments are immaterial unless otherwise stated," Facebook added.
Facebook has consistently defended its position on reach metrics by claiming it doesn't affect the amount advertisers pay for campaigns. That is true, but media buyers have told AdNews that its reach metrics have an impact on marketers in choosing in where they should invest advertising budgets. 
Huge spike in growth
The network also revealed its advertising revenues increase 49% during the period to US$10.3bn. Mobile ad revenue now accounts for 88% of its revenue. 
Daily active users increased 16% year on year to 1.37 billion in September, and monthly active users reached 2.07, also a 16% uplift.
While its numbers are still strong, CEO Mark Zuckerberg said in the Q3 results that "preventing abuse" of its platform was the most important factor.
"Our community continues to grow and our business is doing well. But none of that matters if our services are used in ways that don't bring people closer together. We're serious about preventing abuse on our platforms. We're investing so much in security that it will impact our profitability. Protecting our community is more important than maximising our profits."
One of the pro-Trump Russian propaganda ads run on Facebook.
Russian links emerge
It has also emerged in leaked documents reported today that groups with close ties to the Kremlin funded large scale investments in Facebook and Twitter by Russian investor Yuri Milner with the New York Times reporting Milner's companies at one point owned close to 8% of Facebook.  
Milner is also an investor in a company owned by President Trump's son in law Jared Kushner.
There are currently investigations into whether sites such as Facebook and Twitter were used by Russia to meddle in the US election, and their responsibility in spreading disinformation through Facebook posts and ads.
There was a Senate Judiciary Committee on Tuesday last week which heard that more than 80,000 posts were made by a 120 pages from Russian-backed groups and reached millions of American citizens.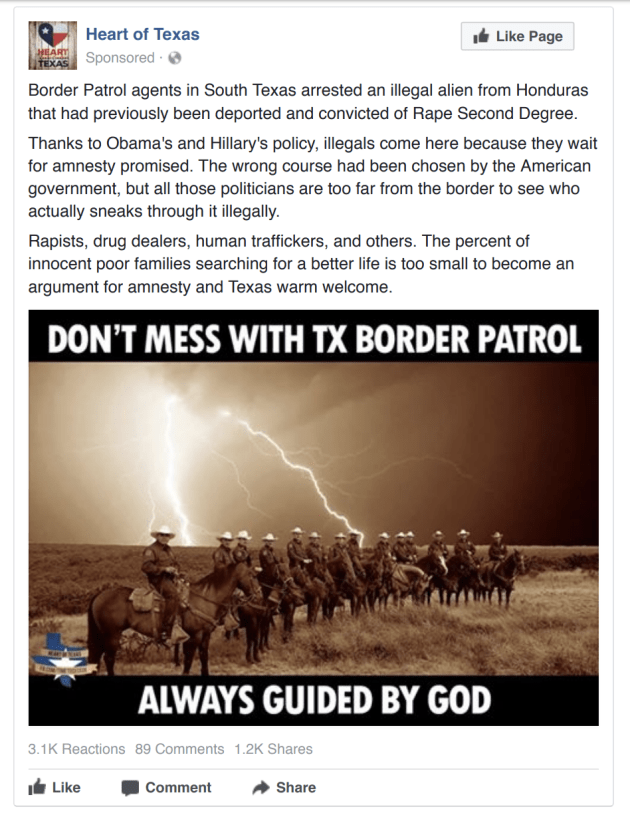 Another example.
Speaking to AdNews last week, Everson also told AdNews Russia and its alleged interference in the US election had been a big 'white elephant' for many of her meetings with industry heads in Australia, as it has been elsewhere in the world.
She said it was a priority for Facebook to explain "exactly what's going on" and demonstrate that it takes great responsibility in "protecting democracy".
"Starting right around the US election, before the US election, we were made aware of hacking that was occurring, people's emails, accounts, companies etc. We were very focused on protecting our users from that, and we did a really good job on that," she explained.
"That's what we were focused on. Right around the election, we started to get word from the US government, that there was potential nefarious behaviour going on from a state sponsored actor, and that could be in the form of advertising, and we started looking for where that activity could have occurred.
"It's not easy to find it, it doesn't jump out and say, 'Hi, I'm a nefarious actor from Russia'. At the time it felt like a bit of a needle in a haystack."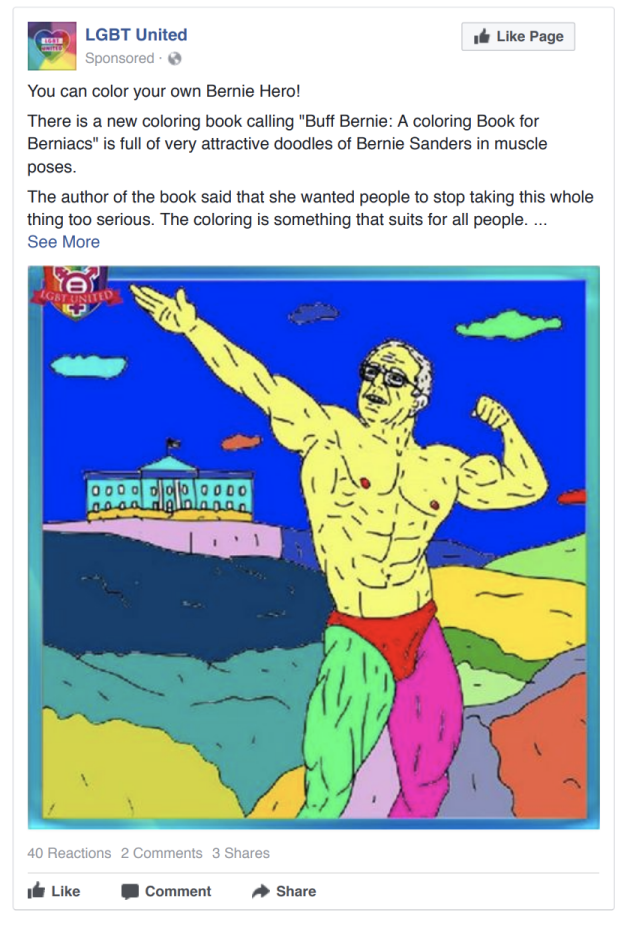 And another.
It then passed over the information it had found to Special Counsel Robert Mueller who was running the investigation.
"That was a big decision, because we have never handed over things like ads without the proper search warrants but we did because the integrity of elections and democracy [it critical]. Protecting the integrity of democracy is so essential to what we stand for as a platform, and we have leaders all around the world that utilise our platform, and we need to stand behind the integrity of it," she says.
She also moved to clarify that not all Facebook's Russian users or advertising partners should be tarred with the same brush and it has "tremendously good advertisers in Russia, good partners that run solid, good businesses".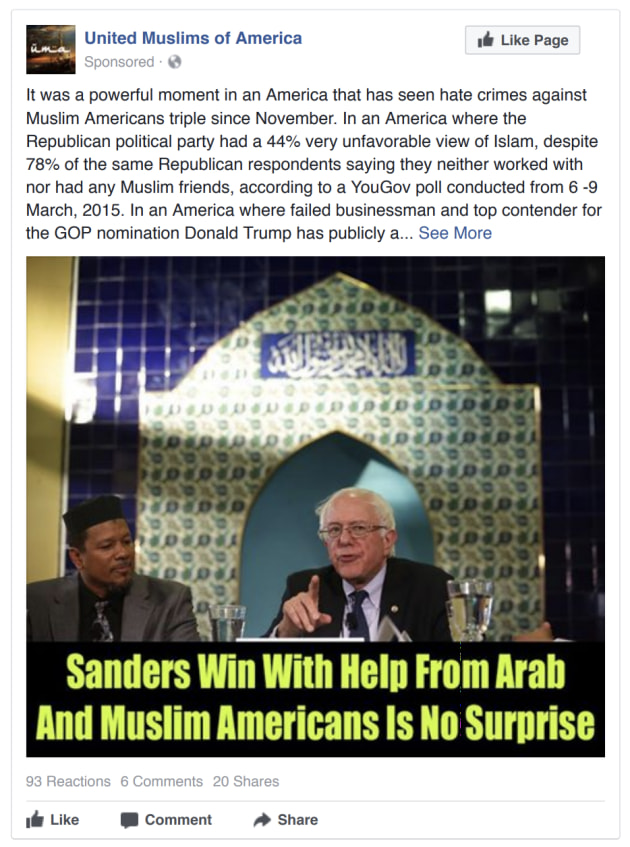 There were 80,000 ads similar to these.
Have something to say on this? Share your views in the comments section below. Or if you have a news story or tip-off, drop me a line at rosiebaker@yaffa.com.au
Sign up to the AdNews newsletter, like us on Facebook or follow us on Twitter for breaking stories and campaigns throughout the day. Need a job? Visit adnewsjobs.com.au.