In startups, the rule is to follow the money, not just where the dollars are ending up but also from where they came.
Advertising industry leaders Nick Garrett and Andrew Baxter have just invested in a software startup, Mutiny, and its WarChest platform, a way of quickly defining the value of media spend.
The level of investment isn't known but the product was valued at $12 million before new money came in.
The company, founded by admen Henry Innis and Matt Farrugia (both ex VMLY&R), addresses that big question from marketers: How effective have my ad dollars been?
Innis and Farrugia say they have the solution, an accurate, data-backed and credible answer to that often asked query.
WarChest is Mutiny's SaaS marketing investment analytics platform, combining econometrics, marketing automation, predictive analytics and machine learning.
The platform takes in a high pressure hose of data, including fundamental economic information such as the latest consumer price index, and makes recommendations on where to put your advertising dollar and what that dollar will return.
Co-founder Henry Innis: "If you look at the media market globally, it's probably one of the most inefficient out there. The fundamental problem around media is no one quite knows the value of their marketing investment.
"When we first started Mutiny, we were coming out of WPP, an environment where we were getting asked by a lot by clients: 'What is the value of what we're doing and how do we communicate that value effectively?'
"And marketers are under more pressure in the boardroom. We saw a real opportunity to help marketers start to craft that argument in the c-suite."
Innis, a self-taught software engineer, and fellow founder Matt Farrugia, with avionics engineering degree, saw the solution as an engineering one.
What they wanted to do was similar to Michael Bloomberg who in the 1980s created a platform with analytics about bonds. He essentially built a market to trade bonds, providing traders with accurate price data.
"What Bloomberg was able to do was to aggregate information and tell people what the value of the bond was," says Innis.
"In the same way, marketing needs an investment analytics platform that can aggregate the various sources of information and tell people what the value of a certain decision is.
"And if we can do that, we'll reinvent media and marketing from being this quite vague profession to a really financially important profession globally.
"And we've done it, we've proven it, the model works."
Co-founder Matt Farrugia: "The amount of conversations that we used to have with CMOs … will this work, is this working, what are the best channels, what's the value of brand marketing versus promotion driven?
"If you look at some of the most successful companies, they obsess about speed, and more so in this environment. If you don't have the ability to make decisions quickly you'll get left behind.
"With an agency background, I would sit there and the client would say, 'We're getting this report by X consultancy.' It takes six months to produce and more often than not it takes another three months to disseminate and organise meetings, present it, and understand it and then another three months.
"Before you know it there's almost 12 months that have gone by, from report, to presentations and then start talking about the actions.
"But you want to know in real-time, that's when decisions should be made."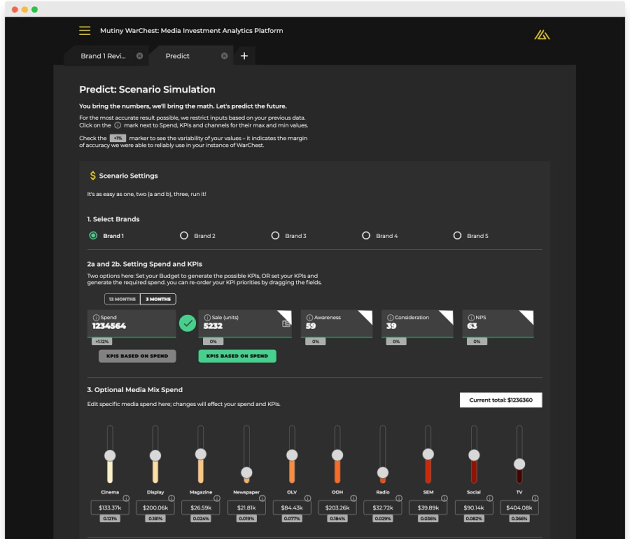 Adman and marketer Andrew Baxter: "WarChest answers an age-old marketing question – within my budget, what combination of marketing efforts drives the highest ROI. And in today's fragmented marketing landscape, that's an even bigger challenge.
"WarChest does that in close to real time via its unique and automated technology. There's not many marketers that wouldn't want to have a look at something like that."
Investor Nick Garrett, who formerly ran Clemenger BBDO, didn't hesitate to invest: "Most see data and creativity as opposing forces. But as any creative practitioner knows, proving the value of creativity is as important as believing in it. In Mutiny and WarChest I saw a business that would be able to industrialise this space and make a meaningful impact to our industry.
"I also just love the energy and passion Matt and Henry bring every-day to what they do and the scale of their ambition. I have learnt a lot and had a lot of fun working with them as an advisor over the last 18 months, so investing in something you believe in was a no brainer.
"I am excited to see them do something positive to create a category and reinvent analytics to support media and creativity rather than oppose it."
He told AdNews: "I've known the guys for a couple of years now. I think they're super smart. I love their enthusiasm.
"The ability to give clients more confidence, and perhaps be more pointed, in their strategy around communication and media strategy, is vital.
"I've spent most of my life on the creative side of the ledger, the advertising agency side, and anything we can do to support, bolster, encourage people to be creative by having a better business narrative and be strategic around media is a wonderful thing.
"It's giving people confidence to be more pioneering and bold in the way they approach communications." 
Henry Innis says the platform can tell the value of running a price discount on a product, whether that's driving the sale or whether that heavy lifting is being done by the ad itself. 
"We can tell you whether or not the weather is going to be driving the sale versus whether or not your competitors spending more is actually reducing your sales," he says. 
"We can tell you whether or not your brand is giving you more elasticity in your pricing ahead of your competitors and the price differential."
In real-time. And the data can be taken to the boardroom where the CFO can understand the numbers rather than trying to decipher marketing speak.
Matt Farrugia: "Advertising is proven. It can shift the dial and grow businesses. Our goal and mission is to empower those marketers and embed the capability so they can tell a story in a timely way that is expected from the c-suite. 
"A CFO manages a P&L, and has all financial tools and business intelligence systems to live track what money is going out of the business and what is coming in. 
"We saw the need to help lift the financial literacy within the marketing communities of organisations, so they can speak confidently around their numbers, to not just defend budgets and justify them, but also prove that what they are spending is helping grow the business and contributing to the bottom line." 
The conversation shifts from "Here's the media metrics we looked at" to "Here's the revenue we delivered back to the business."
Henry: "Suddenly the marketer goes from being someone who's trying to build credibility in the boardroom to someone who's dominating a boardroom."
And the future of Mutiny, the company Baxter and Garrett, both seasoned media industry figures, invested in? 
"We've run it profitably," says Henry. "We weren't raising this capital to fund our next six months of runway, we were raising this capital to bring some people into the fold, and to formalise a relationship that had already been there.
"We don't anticipate needing to raise capital unless it is on extremely favourable terms to us."
Have something to say on this? Share your views in the comments section below. Or if you have a news story or tip-off, drop us a line at adnews@yaffa.com.au
Sign up to the AdNews newsletter, like us on Facebook or follow us on Twitter for breaking stories and campaigns throughout the day.