Television is the primary form of media entertainment in Australia with a rise of SVODs and smart television sets increasing the amount of television watched as social media fatigue sets in, this year's Deloitte consumer survey has found.
TV is the most trusted platform for advertising after word of mouth and online reviews, well ahead of social media, news, magazines, radio and billboards.
There is a marked drop in the amount of live sport consumed among younger Australians as more people are watching sports content on demand.
For the first time, social media use and perception has dropped, particularly among older millennials (28-33), referred to in this study as social media pioneers.
The survey polled 2,000 Australians across different age demographics about their views on media consumption.
TV viewing up, ad influence strong
It found the average Australian watched 17.5 hours of TV content each week, up from 17.2 hours in 2015, with older Australians increasing their viewing the most; baby boomers watched 1.3 additional hours more.
TV ads have the greatest influence on advertising with 53% indicating a 'medium to high' influence, although this has dropped from 55% last year and 10 percentage points since 2013.
The fastest growing influencer on consumers' purchasing decisions, according to the survey, is social media, which is up to 36% 'medium to high' influence, a rise of 14 percentage points since 2013.
This places social just below newspapers (38%), radio (37%), billboards and posters (36%) and magazine ads (35%).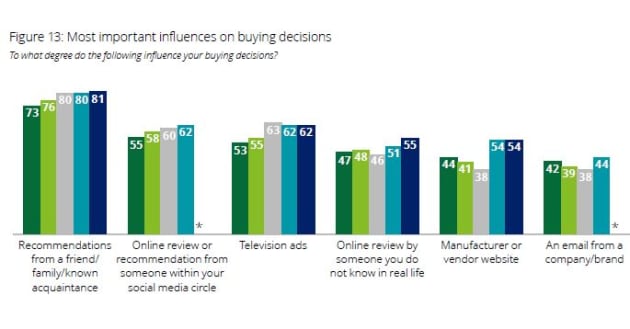 The power of social media is most pronounced among millennials, identified as influential for 52% of people aged 14-27 and 53% for those aged 28-33.
However, perceptions of companies' use of social networking sites have fallen significantly this year across the board, including the amount they were able to learn about a product, their perception of the brand and the extent of a positive impact on their decision to buy the product or service offered (see chart below).
Is social starting to grate?
It's not just how companies use social that is waning, people are increasingly being turned off by social with daily usage dropping dramatically among older millennials from 84% last year to 73% this year. This includes a huge drop in 'heavy users' among this group from 28% last year to 13% this year.
Twenty percent of respondents disagree that they enjoy the time they spend using social media and nearly half spend more time on it than they would like (46% of respondents agree).
Many social media users are going as far as to 'take a break', with 31% of respondents temporarily or permanently deactivating their social media accounts. This behaviour is most commonly seen among older millennials (46%).
Part of the reason for this, argues the study, is that people are too obsessed by curating their image on social media. 
Alarmingly, 29% percent of respondents admit to spending more effort maintaining their social media image and connections than they do in-person relationships. This behaviour is most prevalent among older millennials (43%).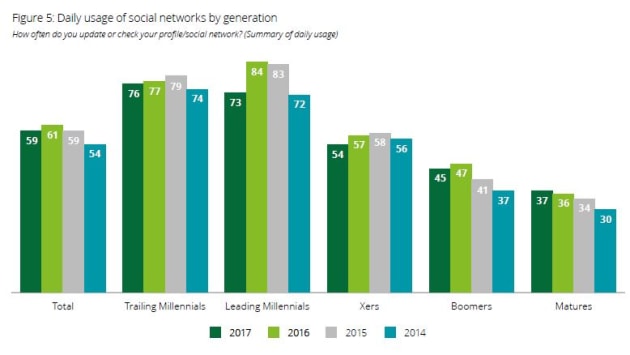 Aussies avoid online ads
Despite this, online advertising is still relatively unpopular with most Australian indicating they would take steps to avoid ads altogether, including a massive 77% percent choosing to skip an ad playing before a video if given the choice.
Half of the respondents would abandon a short video if they cannot skip the pre-roll ad and 48% pay more attention to an ad they can skip than one they cannot on mobile devices.
Many Australians would sooner pay for content to avoid ads for content, although this finding in at odds with results that show consumers don't want to pay for news. A major concern for online publishers is that 90% of Australians are reluctant to pay for news with so much information available on the internet for free. 
Brands and platforms must offer consumers choice or risk being turned away. Even worse, is the rise in ad blockers with its use up three percentage points to 31%.
"With Chrome and Safari together accounting for approximately 80% of the Australian browser market, the majority of Australian Internet users will soon be ad blockers by default," the study said.
"The next chapter of browser wars is taking shape as powerful tech giants take defensive positions to stymie adoption of alternative blocking technology – and in doing so, further control our online experiences and the ads we are exposed to."
Live TV up, live sports down
Australians perceive they are watching more linear TV programming this year, accounting for 44% of total viewing time versus 42% in 2016. The time spent on streamed or catch up television increased from to 24%, up from 22% in 2016 and 18% in 2015.
Although linear TV still dominates viewing, Australians say they are watching far less news and sport live – the two most important 'live' genres in television. 
This year, less than half (45%) of respondents indicated they most often watch the news at the time of broadcast (compared to 63% in 2015) and less than a third (29%) of respondents most often watch sport at the time of broadcast (compared to 38% in 2015).
The proportion of respondents who consider TV to be their preferred device for watching sport has dropped alarmingly from 55% in 2016 to 45% this year, perhaps driven by the growth in live streaming apps across major sports codes, such as AFL, NRL and Cricket Australia.
Reality TV is the only area of television that reported growth in live viewing, up from 17% in 2015 to 21% this year.
Fake news fears
Digital news consumption is slightly down this year with 37% reporting it as their primary source, down from 40% last year.
Unsurprisingly, this is led by millennials with 50% (younger millennials) and 57% (older millennials) using online sources compared to 24% of baby boomers.
Traditional sources of news have held steady and still dominate with 55% of users.
Respondents believe that in the next three to five years they will gain most value from 'fast' real-time, accurate news (46% of respondents), in addition to 'slow' news – deeply knowledgeable journalism that digs further into select topics (39%), indicating less appetite for quality, in-depth journalism.
There has been a shift away form social media as a 'source of news' with 14% going to social media to find their stories rather than 18% last year – even though all 'news' on social media comes from external publishers.
A growing number of Australians like to comment on news or special interest areas, up to 54% this year from 48% last year, primarily driven by Generation X (56%).
This democratisation of 'reporting' on social media, which
the report incorrectly labels as 'journalism', is challenging newsrooms, but also leading to the rise in fake news, a growing concern to many consumers.
Sixty-five percent of respondents who access news through online sources are concerned about being exposed to 'fake news' online and 80% believe they are capable of discerning it, with 76% claiming they take the time to consider the author and source of news.
This appears at odds with the amount of fake news that was circulated on social media platforms like Facebook and Twitter during key events over the past year. Facebook has already taken steps to tackle fake news by burying low quality websites so they are less like to appear on newsfeeds.
This was the first time Deloitte specifically asked questions about fake news in the survey.
Have something to say on this? Share your views in the comments section below. Or if you have a news story or tip-off, drop us a line at adnews@yaffa.com.au
Sign up to the AdNews newsletter, like us on Facebook or follow us on Twitter for breaking stories and campaigns throughout the day.