This article appeared in the AdNews April magazine. Subscribe here to make sure you get your copy.
Despite decades of brain-imaging studies, neuroscientists have been unable to define the circuitry involved in creative brilliance. To be fair, it often confounds the gifted themselves. 
Take the award-winning whiteGREY creative director, Ronojoy Ghosh, better know as Tin Tin Ghosh. Also a children's book author and renowned illustrator, TinTin reveals, without apparent irony, that inspiration for his naïf works of art flows from listening to death metal music. 
"As a kid my favourite band was Iron Maiden," recalls TinTin, 41. "And I still love listening to heavy death metal bands, like Obituary [hits include 'Chopped in Half' and 'Ten Thousand Ways to Die']. 
"It puts me in the zone for work. It's a kind of music therapy, but the pictures I draw are completely different from what I'm listening to. I don't know how it works. 
"My son, Shay, who's nine, is following in my footsteps. He loves an Indian thrash metal band called Kryptos, as do I. And he reads … in the car on his way to school, on his way back home. Any spare time he has, he reads — and he draws a lot, too." 
TinTin has been in the advertising industry for two decades, in India, Indonesia, Singapore and New Zealand before settling in Sydney 10 years ago. 
He worked at M&C Saatchi, Saatchi & Saatchi and Clemenger BBDO before joining whiteGREY in 2017. He has been involved with campaigns for some of Australia's biggest and most iconic brands, such as the Commonwealth Bank, Westpac, Optus and Qantas. 
In the process, his work has been recognised with numerous gongs, including a Gold at Cannes, and wins at The London International Awards, Caples, Adfest and AWARD. 
Success as a children's author has been more recent, borne of Shay's refusal to sleep until he was told a story every night. The storytelling created momentum that led TinTin into his "side" career. 
"I would read a lot of Oliver Jeffers's and Julia Donaldson's books to him," says TinTin. 
"Jeffers [a Northern Irish artist, illustrator and writer based in New York] has had a lot of influence on my work. I just love the simplicity of his stories and illustrations." 
TinTin's first book, Ollie and the Wind — described by publisher Penguin as a "beautiful story about playfulness, cooperation and friendship from a prolific new talent" — was published in 2015. 
In 2016, it was shortlisted for Book of the Year, Early Childhood, by the Children's Book Council of Australia (CBCA) and listed by the World Literacy Foundation as one of four books that teaches valuable life lessons. 
"A lot of my work comes from very personal spaces," says TinTin. "For example, Ollie and the Wind is about a young kid who's lonely and so uses his imagination to play. That was me for a few years, when I was growing up in Delhi."
His second book, No Place Like Home, features a polar bear who's grumpy because he doesn't know where home is. He isn't sure what home looks like, but he'll know it when he finds it.
"I've moved around a lot, lived in different countries, and never felt truly happy wherever I was until I came to Sydney ... the first place that's felt truly home for me."
This "prolific new talent" quickly caught the eye of international best-selling Australian children's author Mem Fox, who reached out to TinTin to collaborate on the 2017 book, I'm Australian Too, a celebration of our multicultural heritage, featuring families from countries as diverse as Italy, Greece, Lebanon, Syria, Vietnam and Somalia.
"I was on holiday, driving to Queensland, and got a call from my agent, saying, 'Hey, do you want to do a book with Mem Fox? They really like your work and feel you can bring the right emotion to the words.'
"Obviously I said yes but my mind was saying, 'How is that? Is this even possible?' Mem was amazing to work with. Generally [people collaborating on books] are not supposed to talk to each other too much because we'd never get anything done. But Mem and I were in regular contact. We'd just run away in our own world."
Collaborations with other authors soon followed.
His illustrations for Dear Grandpa — about the special relationship between a boy and his grandfather — with author Kate Simpson is a finalist for Picture Book of the Year 2020 in the CBCA Awards.
Closer to "home", he collaborates with whiteGREY colleague Jol Temple, another popular children's author who writes with his wife, Kate Temple.
"A few years back, Tintin was working with a mutual friend at another agency who introduced us over a meal of kung pao chicken, and suggested we should work together on a book," recalls Temple, whiteGREY senior copywriter.
"Kate and I had just finished the text for Are You My Bottom? [about a panda on a quest to find his bottom, which disappeared while asleep] and were on the lookout for a fresh style that could land extreme kawaii-cuteness yet still be a bridge back to classic storybooks. It was a fortuitous lunch.
"During the next few months, we workshopped ideas. TinTin was really collaborative and wouldn't hesitate to call with any thoughts.
"He's the embodiment of intelligence at play, merging a serious, design-led approach with a playful, comedic sensibility. He does this with an unmatched enthusiasm — both in advertising and in publishing. I also love that he does all these cute illustrations while listening to death metal.
"At WhiteGREY, I've been lucky enough to work closely with TinTin across Volvo and Panadol accounts. He never fails to champion a great idea, and has such a disarming approach with clients that he sells ideas that would fall flat if presented by others."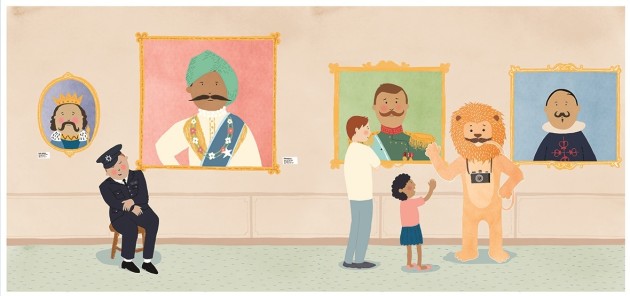 In all, TinTin has been involved with eight books to date, two due for publication this year: Bin Chicken, about an ibis, is a new collaboration with the Temples. The other is based on a true story about an Indian family who move to London with the lion cub given to them by a maharajah.
His two careers have occasionally collided, but in the most beneficial ways.
Book illustration, for instance, has been a byproduct of "doodling" in his day job.
"I've always been an illustrator, of sorts. I've loved drawing since I was a kid, and in advertising I develop my ideas through rough sketches. I always have these little squares on the go that I'm filling up with ideas for campaigns. It's helped me create my style for the books: naïf, simple, textural."
The careers also cross-pollinate: "I came up with a TV script once, which never made it in front of the client, but it ended up as my book, No Place Like Home. Then an idea for a book I had that never got published was nearly made as an app for a client."
However, TinTin's creative career almost ended before it started, while studying at the Delhi College of Art.
"I just felt my professors weren't in tune with advertising or design," he says. "They had a very old school way of thinking. I was always at the bottom of my class and would get comments written on my work which, let's just say, I didn't agree with. So I was like, you know what, screw this, I'm gone.
"Although I dropped out of university, I had a career advantage from the start — my whole family is in advertising. My father started a very famous agency in India, and then Indonesia. My brother works in advertising. His wife is in advertising."
TinTin might not have left with a degree, but he gained something more profound — a life partner, his former fellow student and now-wife, Niharika Hukku, a celebrated ceramic artist.
"My wife is an amazing talent and she has had a lot of influence on my work," he says. "Niharika actually used to work in advertising as an illustrator, but then she got really fed up."
So what about that other thing, the day job? TinTin describes his work at whiteGREY with passion. "Very rarely do you get a chance to do work which actually makes a difference in our lives," he says of the Volvo Living Seawall campaign, citing it as his proudest professional achievement.
Launched in January 2018, the seawall is Volvo Car Australia's joint ocean conservation project in Sydney Harbour with Reef Design Lab and North Sydney Council, using 50 special tiles to encourage and support native marine biodiversity.
The 55cm x 55cm tiles are constructed from concrete to mimic the root structure of the native mango tree, with tiny alcoves etched into the tile to give fish, filter-feeding organisms and other species a place to live as they would in a natural habitat.
Species such as mussels are important filter feeders that can help improve water quality by filtering out particulate matter or contaminants.
"There are 55 species now living on the tiles now, and the tiles will be there, helping to clean our harbour, for decades," says TinTin.
Another highlight has been the creation of the Ele-Tee, "a super cute T-shirt with one short arm and one long one that looks like an elephant's trunk". Profits from sales of them go towards the Sheldrick Wildlife Trust's work protecting habitats and elephants.
It follows on from whiteGREY'S Hello in Elephant campaign, a highly successful 2017 initiative with the Trust, one of Africa's oldest wildlife charities and a leading conservation organisation. Hello in Elephant saw the launch of a website using voice recognition technology, as well as input for text and emoji, to translate messages into the Elephant language, so the endangered species' voice could be shared and heard around the world.
Despite juggling two high-pressure careers, TinTin says he won't allow stress to get a foothold in his life or work.
"I can't get stressed as it affects my health," he says. "I try to take a positive approach, no matter what.
"Chad, our national ECD, and I have this motto: 'Happy Monday'. If you're not happy coming in to work after the weekend, if you feel a pit in your stomach on a Sunday afternoon and dread turning up to work, then something's wrong and we need to fix it. My style of working is a reflection of my bosses — we're open, have zero egos and are keen for a chat with anyone, anytime." 
FOOTNOTE: Despite obvious parallels to be drawn with the legendary Adventures of Tintin, about a boy reporter created by Belgian cartoonist Georges Remi under the pen name Hergé, it is not the source of TinTin's familiar monicker. "In India, everyone has a nickname. TinTin is mine — it means 'three three' in Hindi. My brother's nickname translates to 'two two' so it was a logical thing I should be called TinTin."
Have something to say on this? Share your views in the comments section below. Or if you have a news story or tip-off, drop us a line at adnews@yaffa.com.au
Sign up to the AdNews newsletter, like us on Facebook or follow us on Twitter for breaking stories and campaigns throughout the day.