Fox Sports has expanded its Fox League coverage with new magazine shows, talent and a new app.
Fox Sports says the Fox League channel, which is dedicated to screening rugby league matches and related programming, is focused on building out entertainment shows around NRL to produce a consistent slate of NRL content for fans.
New shows include Big League Wrap and Try Time, while popular radio personality Emma Freedman and Aussie actor and former player Matt Nable have been added to the Fox League team.
Foxtel CEO Patrick Delany tells AdNews the inaugural season of Fox League was a resounding success and helped drive new subscriptions for Foxtel, and he expects more of the same this year.
"The year before when we came with every game live and our own commentary we saw a massive boom, something like 25% up year-on-year," he says. "The response to Fox League has been huge. Last year we saw a really great surge in subscribers in and around league.
"What we find is usually things go in two-year cycles – people hear about something from a friend and then they execute. We expect this year to be even bigger."
Delany says the strength of the Fox League brand in its first year encouraged Fox Sports to develop a Fox League standalone app, which the pay TV network hopes will drive further interest in the game and new subs.
"Because it is free, 50% of the app users will be our subscribers while 50% won't be, which gives us an opportunity into subscription," Delany says.
"All of this also gives us data and that data is valuable in working to improve the experience of people that watch the channel and knowing who we need to target to grow our subscriber base."
'Integrations is where it's at'
Although subscriptions are the bread and butter of how Foxtel makes its money, an important and growing part of the pie are the commercial partnerships it has with brands. Fox Sports prides itself on 'ad-free' sports coverage and instead focuses on brand integrations.
"Integrations is where it's at," Delany says. "We find that brands want to be part of Fox League. From overall sponsorships, we then divide up each of the game franchises, not the games, for different sponsors as well as each of the shows."
This means that to grow commercial revenue around a sports code with a finite amount of live programming, it needs to expand its coverage through new shows in and around the game.
"We put a lot of emphasis today on the entertainment shows," Delany says. "If you want to have a channel you've got to hold the attention of a fan during the week and that's why we have such a diverse range of shows, a potpourri of things happening. All of them work really well together to grow that fan base."
New shows this year include Big League Wrap on Monday nights, an in-depth rundown of all the talking points from the weekend's action as well as news for the week ahead. Fronted by Sampson, Mick Ennis and James Hooper, the show will also feature regular appearances from new Roosters signing and Kangaroos star Cooper Cronk.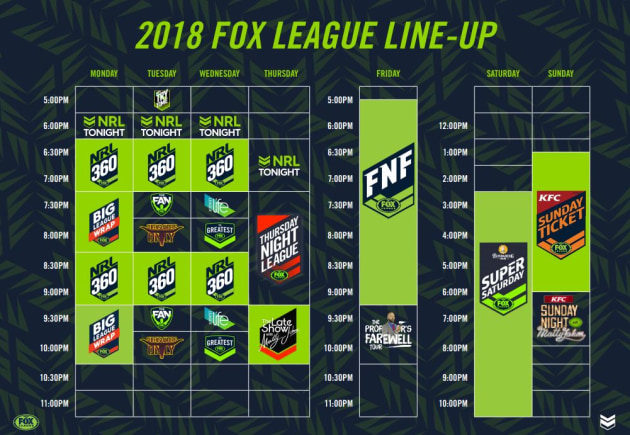 The Fox League schedule for 2018.
Another new show is NRL Try Time on Tuesday afternoons. Hosted by Lara Pitt. It's literally a 60-minute tryfest.
Returning shows include The Fan, League Life, The Greatest and hilarious stalwarts, The Late Show with Matty Johns and The Professor's Farewell Tour.
A key pillar of Fox League, particularly in the past year, is providing female skewed programming talent to the team.
This includes one of the game's top-rated presenters, Yvonne Sampson, as well as new presenter Freedman and returning talent Lara Pitt, Jessica Yates, Hannah Hollis, Megan Barnard and Emma Lawrence.
Sampson, Pitt and others front several shows and all of the come together to host League Life, a popular interview-style program that looks at the inspiring stories behind the game.
Matt Nable is another new presenter to join Fox League's line-up. He played for South Sydney Rabbitohs and Manly Sea Eagles before turning to acting (see full team below).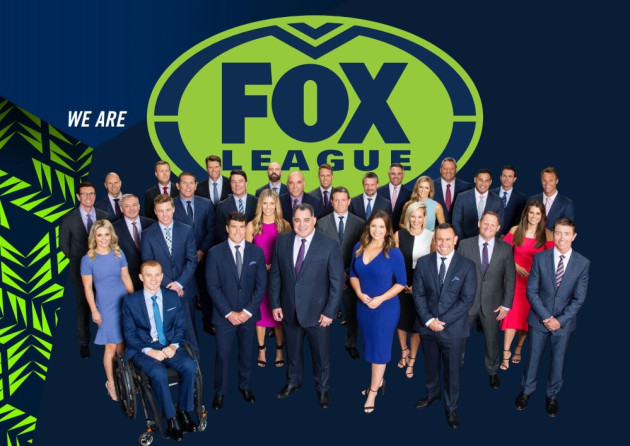 The Fox League team welcomes Emma Freedman and Matt Nable to its stable.
Another Sea Eagles fan is Delany. He tells AdNews that this year he most looks forward to traditional clashes at suburban grounds, such as Belmore Stadium, AAMI Park and Lottoland (once known as Brookvale Oval), where his Sea Eagles nest.
When AdNews asked Delany if the Sea Eagles had a chance this season, he responds: "Every year we live in hope.
"I had to shame myself last year because I thought we might have been wooden spooners and we ended up going quite well. We've just go to find that consistency of form."
Delany will be hoping Fox League's new schedule delivers the channel more consistency across the week and that it, too, performs better than he expected.
Have something to say on this? Share your views in the comments section below. Or if you have a news story or tip-off, drop us a line at adnews@yaffa.com.au
Sign up to the AdNews newsletter, like us on Facebook or follow us on Twitter for breaking stories and campaigns throughout the day.