Growth in spending on digital advertising slowed in Australia in 2019 to 7.1% compared to 11% in 2018, reflecting a downturn in the overall market.
Trade group Interactive Advertising Bureau (IAB) says total spend by brands and agencies hit $9 billion, up from $8.5 billion in 2018.
The latest IAB Online Advertising Expenditure Report, prepared by PwC, shows 45% of digital advertising was attributed to Search and Directories, 37% to General Display and the remaining 18% to Classifieds.
"We are seeing steady digital growth within a universally challenging advertising environment," says Gai Le Roy, CEO of IAB Australia.
"When we look at some of the notable drivers of this growth, it's clear that small and medium business investment in digital is growing at a higher rate than traditionally larger advertisers.
"There are also some key category shifts. Automotive is again the largest advertiser category for display, but for the first time it is also the largest video advertising category - taking over from FMCG as their spend softens."

In the 2019 financial year, all online revenue categories showed growth. Search and Directories was the strongest, up 8% in the twelve months to June. General Display was up 7.4% and Classifieds 4.2%.
Video and mobile continue to gain share of digital spend. The total mobile advertising market, inclusive of search and display, increasing by $1 billion (or 28.4%) to $4.6 billion.
Video is the fastest growing format of the $3.4 billion display market and now accounts for 44% of total display. 
Total video advertising was $1.5 billion, up from $1.3 billion in 2018.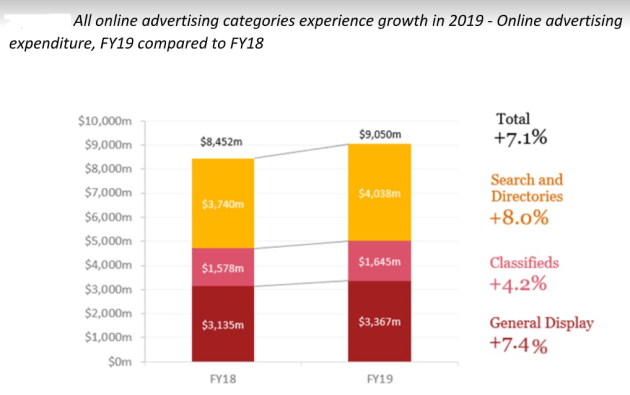 In the June quarter, online spending was up 5% to $2.3 billion.
Search and Directories grew by 10.3% to $1.16 billion, Display was up 4.3% to $864 million and video by 16.7%.
Classifieds were down by 5.9% with declining consumer confidence impacting listings.
With a share of 48%, video represents the largest share of general display expenditure for the June 2019 quarter.  Video's share of general display has grown steadily since September 2018. 
This is followed by content, native and infeed at 34% and banner/ standard display formats at 17%.
Each segment has a component of mobile advertising expenditure with mobile advertising making up 68% of total general display expenditure, an increase from 56% in the June 2018 quarter.
Almost half (49%) of general display advertising viewed on content publisher's inventory was bought by media agencies via an insertion order or non-programmatic method, down from 58%.
One third (33%) of general display advertising was bought programmatically, an increase of 4% on the previous quarter; taking share from media agencies.
With 47% of content publishers' video inventory being sold programmatically, video represents the general display type with the largest share sold programmatically either by real time bidding via an exchange or private market place.
connected TV (CTV) contributes significantly to this with 53% of content publishers' CTV inventory being sold programmatically.
Standard display and infeed/native/content for content publishers are still primarily purchased by agencies at 44% and 55% respectively.
The two advertiser categories that increased their share of display spend for the quarter were Government at 6.7% up from 5.1% last year driven by election spend and Travel which has gradually increased share over the last year to now represent 7.3% of display up from 5.7% last year.
Have something to say on this? Share your views in the comments section below. Or if you have a news story or tip-off, drop us a line at adnews@yaffa.com.au
Sign up to the AdNews newsletter, like us on Facebook or follow us on Twitter for breaking stories and campaigns throughout the day.