The death of so-called traditional advertising has been exaggerated and reportedly is making a comeback, taking back lost ground from pure digital plays.
A recent article in Harvard Business Review, Why Marketers Are Returning to Traditional Advertising, reported: "Pundits have long predicted the demise of traditional advertising. However, it is alive and well and headed for growth for the first time in a decade."
The article suggests that consumers, shifting even further online during the pandemic, are becoming numb to the constant flow of digital messaging and react more positively to traditional television commercials and print advertisements.
And the February 2022 CMO survey: "Traditional advertising spending (+2.9%) shows positive lifts for the second survey in a row, reversing a decade's budgets." 
Other data backs this. Gartner's just released 2022 CMO survey shows a more even split between online and offline ad spend, despite the surge to digital during the pandemic.
The CMOs indicated their 2022 budget was 56% online channels and 44% offline. Gartner says this is a "more equitable" division than in recent years.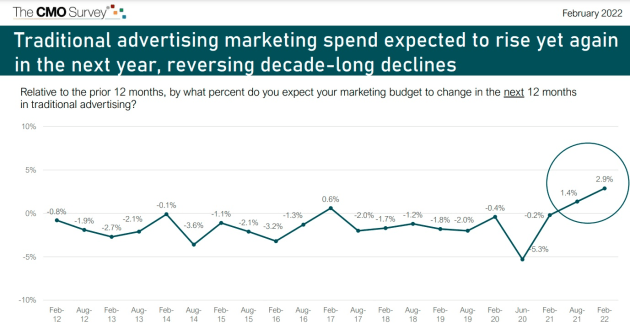 Ewan McIntyre, chief of research and vice president analyst in the Gartner for Marketing Leaders practice: "There has been a lot of discussion around COVID-19 shifting consumers to a digital first mindset.
"However, as Western Europe and North America relax pandemic protocols, customer journeys have recalibrated. Post-lockdown, CMOs need to listen carefully to their customers and pay attention to the channels they are using, as this more closely resembles a hybrid reality."
During a 2019 US advertising conference Procter & Gamble's chief brand officer Marc Pritchard was drawn on the notion that people dislike ads, and that fault for this lay at the feet of advertisers.
Pritchard responded by saying "we tried to change the advertising ecosystem by doing more ads, and all that did was create more noise".
Emma Montgomery, CEO, Leo Burnett Australia: "He's not wrong. Brands follow audiences, and as our media diet has proliferated this has increasingly been accompanied by the emergence of even more advertising formats to meet the market.
"Case in point, where Instagram took years to develop its advertising model, TikTok enabled ad support within months of launch. And after a slowdown in subscribers, even Netflix is now looking at advertising supported models to aid growth.
"With Aussie marketers back spending again, there is some evidence that so-called 'traditional advertising' is on their radars.
"2021 saw ad revenue back to 2019 levels in TV and digital, and ahead of 2020 benchmarks across radio, outdoor and cinema.
"But a growth in channel spend doesn't feel like the real story. The bigger issue might be the fact we even treat the marketing mix as separate worlds of 'traditional' and digital, with siloed agendas, contributing to more noise pollution than effectiveness.
"Marketers don't need more ad formats, they need more impact. Consumers don't discriminate between channels, experiences and activities the same way marketers and agencies divide up budgets, they add them up to build a perception of your brand that drives action.
"Everything a brand does communicates, but this must come in the form of a dynamic well curated ecosystem, not a channel plan. Success comes from connectivity, ensuring every opportunity to connect with our audiences is met with relevant, creatively interesting experiences that imprint positively on behaviour - including and especially when this encounter is an ad."
Karen Halligan, KPMG Customer Advisory partner, says the recovery in traditional advertising formats and in market advertising revenue growth is in part driven by delayed budgets due to COVID, but also by high market demand.
"Many brands are looking to reposition themselves with customers who may no longer have them top of mind," she says.
"While digital and data provides the opportunity for hyper targeting, the immediate need is for Advertisers to reach customers at scale, with cut through and with the right message.
"The highly fragmented digital ecosystem (with walled gardens) alone makes this a challenge. 'Traditional' channels -including Television - provide a great way to get out new creative at scale, and let's not forget the importance that strong creative can play in establishing brands.
"The pending demise of the cookie and the evolution of measurement methods has made brands really focus on how they can measure what drives ROI.
"With greater knowledge and data, marketers have been able to identify and isolate channel contribution and while digital advertising is still a top performer, greater accountability of advertising has been able highlight the role that other channels can play both in the short and long term.
"Whether this will continue into the future at the same rate is yet to be seen. Post-COVID activity could very well soften, and traditionally advertising revenue growth is strongly linked to the economy. With Australia set to experience rising interest rates and inflation we may see some consolidation of budgets in future."
Analyst Steve Allen, director of strategy and research at Pearman Media, says that digital has naturally been a large consideration for marketers for the past decade.
"Many have been a little biassed because, in part, this is a new medium they have grown up with, and thus are very familiar with," he says.
"After all, we do live in the digital age. However there has long been evidence that disrupting consumers in lean-in type media, disrupts and interferes with why the consumers are using and engaged with the space.
"The digital spectrum is so fragmented, that only a small percentage offer sizable reach potential, even of niche audiences. More often than not, use of digital does not seek to pursue absolute reach (as do for the large part traditional media) and control frequency.
"Some of the media marketing effectiveness rules, have been abandoned, or forgotten about in the digital spectrum. For the past half decade or so, marketers have come to a realisation on this.
"Many marketers primary focus over the mid to long term, remains brand building. In this regard they (as have we) have naturally taken time to understand how Digital performs and contributes for each Brand, in pursuing this goal.
"Media marketing is always evolving. This is just another turn in understanding what works best for each brand."
Henry Tajer, chief executive, The Influence Group: "The more things change, the more things stay the same. It's not surprising to see claims of higher growth, engagement and attention coming from what we call the traditional media.
"An important distinction that should also be made is that traditional media has undergone its own digital makeover which offers a whole lot more for advertisers to leverage.
"Higher levels of addressability and accountability have helped greatly. These trends also suggest that in a post-COVID market, the need for brand-led marketing is higher as brands reunite with their customers – and re-think their brand purpose and proposition to ensure they are still as relevant and prioritising customer demands around the planet, diversity and new living dynamics brought on by COVID protocols.
"The one thing not highlighted in the Harvard article is what we will see happened to media investment with looming inflation levels at such highs. Historically media (traditional media because digital wasn't around the last time inflation was an issue) has always inflated at a higher level versus CPI. That could be great news for media company shareholders."
Nick Keenan, Starcom's CEO: "It's an interesting question this one because while there is definitely some creeping disillusionment in the long term results generated by what I call 'traditional digital media' (see what I did there) and the pending deprecation of the cookie, we are not seeing marketers return to traditional advertising in the numbers reported in Australia.
"Quoting SMI's most recent 2022 report for the period Jan-April YTD which benchmarked advertising volume in digital media at +18% in 2022 vs 2019. The growth rate in the traditional digital media platforms compared to that of TV, newspapers and radio still remains significantly higher, with those three traditional media channels recording -4%, -41%, -10% respectively over the same term. These results show the great return to traditional advertising is not happening, at least not yet, not in our market.
"There have been increases in omni-channel spends within the digital media that is now offered within traditional media (as in truly traditional media) holding groups like Fairfax/Nine and Seven whose combined offering and multi-channel audiences are significantly improving.
"So, it is not to say that it won't happen. In the media buying game there are essentially two things left when we boil the media broth down (how awesome is MasterChef) and reduce the many media flavours to what matters most: Audience; and Inventory.
"The more traditional media players who are increasingly only classified in this bucket due to legacy have digitised their networks, and successfully so. If you build it, they will come right? Well, it's yet to happen on reflection of those SMI numbers, but that is counting yesterday's money.
"I'm sure those networks would like it to have happened by now, but you have to build the audience first and second make the combined inventory super easy to buy. Both of which has happened.
"In 2012, for this very publication I wrote an opinion piece called "Who ate all the eyeballs?". It called out that the digital scale in audience achieved way back when by big tech was going to significantly eat into traditional ad revenue because when it's all said and done, advertising chases the audience, and rightly so.
"Perhaps the fight back is on, aided by smart investment, digitising audiences from their more traditional formats and scale-building M&As to build smart, consolidated audiences in more contemporary platforms."
Jack Mason, managing director, advertising, Enigma: "With the recent market disruption, we've seen a bigger push from brands to lean on traditional channels when less reliance can be placed on face-to-face interaction to build trust and connection with a customer.
"Traditional media has always provided a level of gravitas and stability beyond digital channels – it's the same reason why so many digital service providers lean so heavily on traditional channels.
"Similarly, those clients who've been impacted by supply chain issues have moved away from retail and focused on protecting future demand through brand and brand as a service. This keeps them relevant, maintains fame for the brand and positions them to be top of mind when supply issues slow and retail activity as we knew it will return.
"The big question: is this a trend reversing or just a short-term shift in behaviour due to market conditions and uncertainty?
"In my opinion the pattern will revert and we'll see a continued push towards digital, but those who've built stronger brands through this period will be reminded that nothing beats traditional channels for brand building."
Will Harms, head of planning, Half Dome: "I'm surprised we are still having this discussion, to be honest. Traditional channels aren't dead and digital channels aren't the silver bullet, as always, both have a really important role to play in the media mix.
"I think the rise in attention planning has played a key role in our understanding that not all impressions are created equal, regardless of whether they are digital or linear. Hopefully, the concept's popularity will bring forward a more nuanced conversation that can take place on a channel-by-channel basis instead of us always ending back up at the binary digital versus traditional turf war.
"One only needs to look at the size of the 'traditional' investment of FAANG to see that the answer is always in the middle."
Angela Smith, chief brand officer, AFFINITY: "There is no doubt many advertisers and media agencies leaned into digital way too hard in the past. The appeal of new channels and platforms as a bright, blue water opportunity was, and continues to be, compelling as every new digital avenue presents itself - NFT, Metaverse anyone?
"And with every trend, there's the inevitable counter trend. Looking at overall market spending, you can see a clear increase in traditional channel activity in a post-COVID environment relative to the past couple of years, but we feel this is more from local brands continuously appraising where their needs and their market is at, as opposed to a response to digital clutter, cookies or ad fraud.
"At AFFINITY we've always advocated for a broad range of buying, reflecting a broad range of individual advertiser objectives and therefore strategies.
"At the end of the day choosing the right media channels to affect your marketing outcomes isn't a one-size-fits-all formula, it might mean a shift towards more 'traditional channels' in 2022 and beyond, but for some of our clients they're still kicking all their goals with a non-traditional focus."
Jasmin Bedir, CEO, Innocean: "Digital Marketing spend will continue to increase as first part data is continuing to grow in value for brands.
"Third party targeting options are shrinking and increasingly becoming ineffective to drive revenue and sales, so we see that significant portions of budgets are going into building and working digital ecosystems.
"Brand building is still as, if not more, important in times of supply chain disruptions, and traditional channels in combination with smart CX will continue to be the answer. Strong brand building measures in combination with strong first party data managed well is a recipe for success."
Have something to say on this? Share your views in the comments section below. Or if you have a news story or tip-off, drop us a line at adnews@yaffa.com.au
Sign up to the AdNews newsletter, like us on Facebook or follow us on Twitter for breaking stories and campaigns throughout the day.