Publicis Groupe, citing the uncertainties of the pandemic, can't yet get a firm grip on the full impact of COVID-19 on its business.
But the French group, the world's third-largest advertising holding company, has a plan to manage the fallout, as demonstrated by its latest results
The company, whose agencies include Leo Burnett and Saatchi & Saatchi, just released surprising second quarter numbers showing better than expected revenue and a less severe hit from the coronavirus.
Organic revenue -- widely used as a measure of fiscal health for advertising companies -- was down 8% for the half year and 13% in the second quarter. 
But this was far better than consensus market expectations with analysts forecasting a 20% drop.
The French company reported a 9.7% rise in net revenue to Euro 4.77 billion for the six months to June.
On the basis of this result, investment banks have started to re-rate the advertising sector as a whole, putting a more bullish view on recovery prospects and lifting forecasts for other holding companies.
Publicis' share price jumped 8%, causing a domino effect, lifting the share prices of other stock exchange-listed advertising groups. 
Barclays analyst Julien Roch, describing Publicis' performance as "admirable", says the company is well above advertising trends. However, he says the recovery could well be uneven across the sector.
Publicis CEO Arthur Sadoun says the June quarter could well be the low point of the advertising trough.
However, he says the uncertainties mean it would be premature to say whether revenue in the second half of the year will be better or worse than the first six months.
"Some sectors, but also some countries, will recover faster than others, and clients will react differently," he told analysts in a briefing.
"When it comes to margin, in the first half, we were quick to adapt our cost structure when the crisis began."
And Sadoun says margins at Publicis -- at 13% of net revenue for the first half --will be higher in the second half even with several factors having a negative impact.
"First, some of our operating expenses will resume as countries reopen," he says. "Second, we will continue to invest in our model."
Sadoun says Publicis is committed to limit the impact of client budget cuts by aggressively pursuing growth and accelerating a new offering for clients.
"We will adapt our costs to the evolution of the revenue and monitor our financial resources on a daily basis," he says.
But he knows the virus and its economic and social consequences will be with the world for a while.
He says this makes it difficult to give specific guidance for the second half of the year.
"What I can tell you is that we are confident in our ability to weather this crisis as well as we did in the previous one," he says.
"Thanks to the profound transformation we have put in place in the last years, we are very well armed with strong fundamentals. "
Sadoun names fundamentals to weather the crisis:
The products and services that our clients need in this new world
A platform organisation to work in a hybrid environment
A robust financial backbone to get through this difficult period
A slide from the Publicis' briefing of market analysts: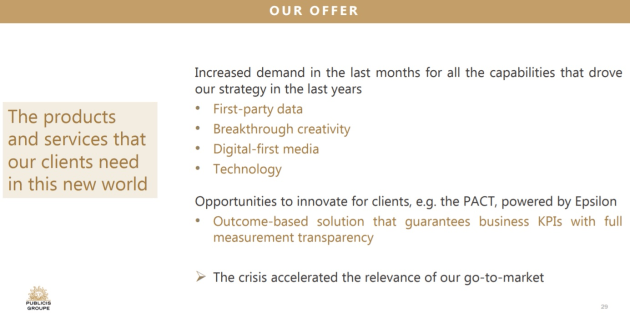 Sadoun says the crisis has actually accelerated trends the market already knew.
"What we have seen, and that is going to be a permanent change, is the need for our clients to really shift to personalisation at scale and deliver valued experience on an individual basis at scale," he says.
"This means that what we are observing at the moment is an increased need for first-party data even more than before and our ability for our clients to really build a direct relationship with their customer.
"We are seeing, which is a good news for our industry, a will for breakthrough creativity because it's becoming tougher to justify your price in a difficult economic situation."
"So this is actually putting a positive pressure on us.
"And on the top of that, there is still a need for the right technology to deliver those experiences."
From the presentation to analysts: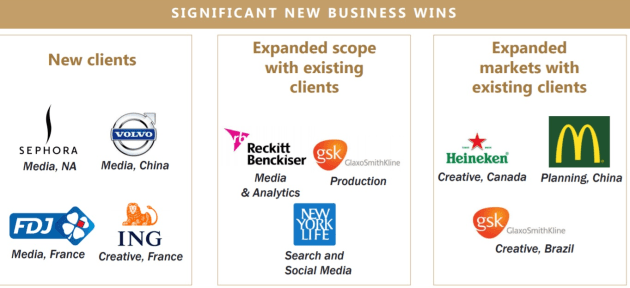 Have something to say on this? Share your views in the comments section below. Or if you have a news story or tip-off, drop us a line at adnews@yaffa.com.au
Sign up to the AdNews newsletter, like us on Facebook or follow us on Twitter for breaking stories and campaigns throughout the day.