The advertising industry loves a quick cliche.
But which ones are most in use at the moment?
Agency offices ring with the sounds of collaboration, as dynamic teams seek leverage to accelerate the business, with a good ROI, through disruption and the empowerment of employees.
The trick is to have a manifesto with a full-service cutting edge. 
All the words and phrases in bold above are cliches used often in the advertising industry. Collaboration came out on top. Many would argue that as a single word it is not offensive but its overuse puts it firmly in the "come up with another way of saying that" category. 
AdNews asked a group of industry insiders to list cliches they've heard more (or too) often. 
No doubt many will have their favourites but this exercise is not definitive. There will be many overused phrases not included here. 
A quick word here in support of cliches. A cliche used in a casual conversation can cut through. Everyone knows the meaning of: As mad as a cut snake. Its use imparts meaning quickly.
However, cliches committed to the written word are sloppy and imprecise.  
The list of those phrases compiled by AdNews came in at 104 words. 
The next problem was to work out which are used most. The only sure way to do this would be to put monitors in every agency office in Australia.
With limited time and resources, AdNews went to the Factiva database instead.This is a deep resource of news articles from around the world which grows by millions of words each month.
While this isn't an indication of the spoken word, Factiva is a very good resource on the occurrence of phrases in contemporary writing.
Here's how often we found certain phrases within 12 months of data:
And the top 25 most used phrases (with the numbers of times they appear in 2019):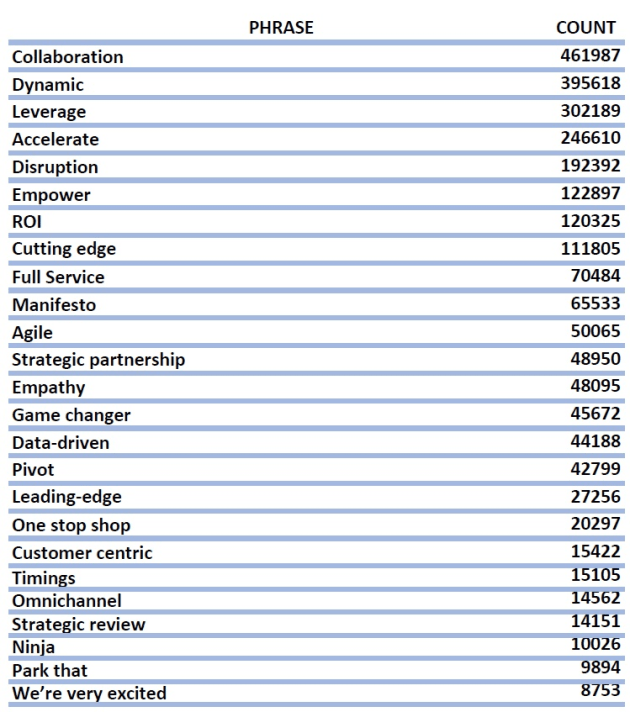 (EDITOR'S NOTE: many thanks to Sam Sarfati for compiling the scores)
Have something to say on this? Share your views in the comments section below. Or if you have a news story or tip-off, drop us a line at adnews@yaffa.com.au
Sign up to the AdNews newsletter, like us on Facebook or follow us on Twitter for breaking stories and campaigns throughout the day.