Sledging Stuart Broad is a national past time, but Sportsbet is putting up $20,000 into the bargain to encourage more of the sweet science.
While there's the usual pre-Ashes discussion on whether the sledging has gone too far, Sportsbet is encouraging punters to take their best shot at the poms with a social media campaign designed to "hit the poms in the crown jewels".
The betting agency is running a competition in conjunction with agency Loud&Clear to encourage Australians to sledge the poms from the comfort of their own couches.
During the upcoming campaign, people will be able to post their sledges on the Sportsbet "Pommel" website, or via Twitter and Facebook by using the #pommel hashtag.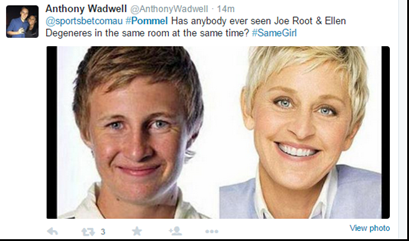 While sledging Stuart Broad is a reward in its own right, Sportsbet is putting $20,000 into the bargain.
Sledgers will be given a red ball, which will then be fired into a giant 'box' pinata. Should the punter's ball be the one which cracks the box, they'll walk away with $20,000.
"Beating famous sledges such as the great Denis Lillee asking the portly Mike Gatting to move out of the way of the stumps because he couldn't see them, will be hard to beat, but if you want to have a crack at Joe Root's surname or Alistair Cook's dodgy batting, here's your chance," Sportsbet PR manager Will Byrne said.