Agencies aren't going anywhere but that could work in favour of publishers, believes Digiday editor in chief Brian Morrissey.
"Agencies are like cockroaches, they never die," he said, speaking at the ADMA Global Forum held in Sydney yesterday.
Morrissey predicts agencies will start buying publishers as they look to bolster their content offering.
He said publishers are now sitting on the roster of the world's biggest brands - and creative agencies are taking notice. For example, he said, Vice is now on Mondelez' creative roster.
Morrissey was speaking on the media commoditisation sparked by the dominance of Facebook and Google and how publishers can fight back against the digital duopoly.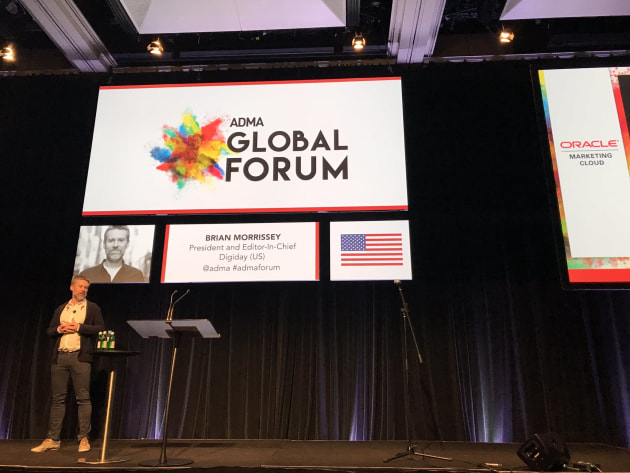 Brian Morrissey
"These days you can't tell media properties apart…You don't have a brand because you're not differentiated at all," he said.
"Publishers are dependent on Facebook and Google for their traffic, but are then trying to compete against them for advertising. And the reason they can't is because digital advertising is now about scale - and who has the most data and the biggest audience?"
While the power of the digital duopoly has meant the demise of many media companies in Australia and globally, Digiday has grown from six people to 70 in only a few years.
It now makes US$17 million in revenue each year.
The main way Digiday has been able to buck the trend is through a diversification of revenue streams, with a big focus on events, subscriptions and using social media as a marketing channel to convert audiences to a direct connection.
Later speaking to AdNews, CEO of independent agency Atomic 212, Jason Dooris, said like all middlemen, the media industry is hypersensitive and vulnerable to disruption.
"We are in the business of maintaining and reinventing our clients' brands. It goes without say that we should be able to do this for ourselves," Dooris said.
He says like dinosaurs, if agencies "fail to evolve, adapt and change we will die", but like 'cockroaches' they are being more resourceful.
"Clearly they [cockroaches] are doing something right - like being super resourceful, apparently they will even eat your eyelashes," Dooris adds. 
Have something to say on this? Share your views in the comments section below. Or if you have a news story or tip-off, drop us a line at adnews@yaffa.com.au
Sign up to the AdNews newsletter, like us on Facebook or follow us on Twitter for breaking stories and campaigns throughout the day.