In the first six months since its commercial restructure, Fairfax has seen a lift in ad revenue and a strengthening of client relationships, according to chief revenue officer Matt Rowley.
Speaking to AdNews, Rowley could not reveal specific numbers around revenue as there are restrictions in place with Fairfax being a publicly listed company, but says "there's a lot of positivity" surrounding the restructure within the company.
"I think we've managed to move the dial on a number of areas, which has potentially surprised people and challenged their perceptions of what's happening in media," Rowley says.
"From a monetisation perspective, advertisers are starting to relearn the influence our papers have on the Australian public and we are starting to see the positive impact of that on our business."
The commercial restructure, introduced in December 2017, saw category specialists head-up sales teams for its 10 core advertising segments, moving away from an agency team structure.
The four biggest teams are centred around the key verticals of banking and finance, travel and tourism, auto, and retail.
Fairfax has lured big names in the publishing and marketing space to lead the teams, such as former Volvo CMO Oliver Peagam for the auto vertical, and most recently, former Mastercard marketer Anthony Dumont who heads up the banking and finance vertical.
Having these vertical specialists has given Fairfax's commercial teams more clout with clients, Rowley says, with teams of up to 12 in each category also giving the publisher greater resources to execute more intricate campaigns.
When the commercial restructure was revealed, Rowley outlined tech and telco, sport, luxury and the energy and resources verticals as new areas of focus. Six months later, and he says the growth in client executions in these teams has risen by around 20-30%.
"We're no longer waiting for business to come to us. We're out there talking to the market and we have a greater understanding of their business," Rowley says.
Commercial restructure is driving better client relationships and sales, Rowley says.
In the travel sector, Tripadeal is a client that had never worked with Fairfax prior to the restructure, but in the last few months, the travel team has won multiple briefs for the online travel agent.
"Tripadeal was never a client before and now they are running full-page print ads most weekends," Rowley says.
"It's one of a few wins I don't think we would have got if it wasn't for the new structure."
Rowley, who joined Fairfax 12 month ago, attributes the success from moving away from a 'one size fits all model' to customising its commercial approach to the specific needs of clients in each category.
He does, however, admit the downside to such a personalised offering is that it creates more work.
"It's tougher and it's probably less efficient, but it's definitely paying off," he reveals.
He also admits the work is never done, with Fairfax currently working on new products, tweaks to the current model, and evaluating its branded content proposition.
Is the model a threat to media agencies?
In the past, Fairfax structured its commercial team around media agency groups, with a team dedicated to GroupM and Dentsu media agencies. Now, it's forming direct relationships with the client and increasingly cutting out the middle man, but Rowley says agencies have welcomed Fairfax's new approach.
"Our biggest fear both internally and externally was around what it would do to our agency relationships. But there hasn't been those major blow-ups that maybe people felt would happen," he explains.
"Maybe it's partly the world has moved on and realised they need to able to work in a three-way partnership because things are more complex.
"Clients want more, and agencies are under pressure so if you can work together in a partnership I think it helps them too."
Faster websites need faster ads
As part of the new commercial strategy, The Sydney Morning Herald, The Age and The Brisbane Times were relaunched earlier this year with sleeker websites and reduced ad units.
For The Sydney Morning Herald, Fairfax's flagship title, traffic has increased 9.9% month on month since the relaunch.
While the initial results are positive, it is still working out some of the functionality of the new site. Fairfax has found that because the sites load so quickly, the ads are taking longer than the content to load, which is an issue it is currently working through with its media agency partners.
"The new sites are driving engagement rates that are four or five times higher than industry average," Rowley says.
"We're still working through helping clients and agencies to think differently about how to use the ad units because, to be fair, for five or 10 years they've had the same ad units and they've become familiar with those. We need to educate more about our new ad units.
"That's part of the problem with being first. You've got to try and bring people with you and we're right in the middle of that."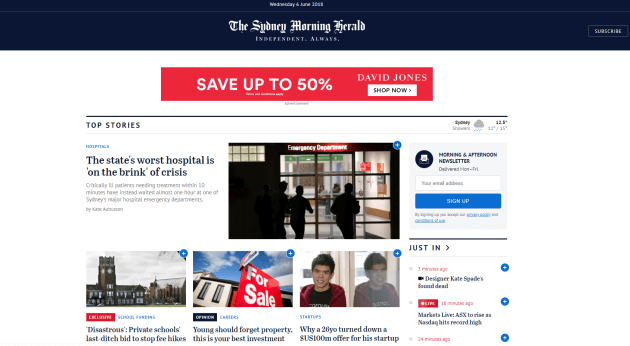 The Sydney Morning Herald overhaul has seen a lift in traffic, says Rowley
The viewability/engagement trade off
Publishers have been held to a viewability standard of around 70-80%, but Rowley believes agencies and clients need to re-evaluate this figure and consider ad engagement.
"A viewable ad that doesn't engage anyone isn't worth anything," Rowley says.
The rich media units may often have a slower loading time than a basic MREC because they have more components and that shouldn't be viewed as a negative, he says.
"The market is starting to realise that not everything with a viewability of less than 70% is bad, and actually, if it's engaging people, it may be a trade-off that you'd make."
Rowley says clients are starting to see engagement as a better benchmark, but media agencies may have to change their perspective.
As for the next six months? Rowley says there is more to come in Fairfax's tech stack, its partnership with Google, and its commercial line-up.
"We've made massive changes and we're just starting to see the fruits of those," he adds.
Have something to say on this? Share your views in the comments section below. Or if you have a news story or tip-off, drop us a line at adnews@yaffa.com.au
Sign up to the AdNews newsletter, like us on Facebook or follow us on Twitter for breaking stories and campaigns throughout the day.